Leroy Merlin is a French company founded almost 100 years ago, specializing in home improvement. Including construction, interior design, decoration, DIY and gardening. With a strong presence in Europe, including France, Spain and Italy.
Leroy Merlin is a major player in the retail and eCommerce sector, and a recent survey revealed that Leroy Merlin is the favorite DIY brand in France. Making it one of the strongest marketplaces in the home and garden sector.
The benefits of selling on Leroy Merlin
3rd largest marketplace in the DIY / home and garden sector.
430 stores worldwide, including 141 in France, 130 in Spain and 50 in Italy.
France's favorite brand in 2022 (source: EY-Parthenon).
19.2 million unique monthly website visitors.
Conditions to sell on Leroy Merlin's marketplace
Be a professional seller in the home sector.
Customer satisfaction must be your priority.
Master the delivery and the B to C relationship (customer service, delivery, after sales service).
Be registered in the Trade and Companies Register.
Respect Leroy Merlin's quality guidelines.
Where will my ads be displayed on the Leroy Merlin's marketplace?
Your products will be listed on Leroy Merlin in the categories that correspond to your products within Leroy Merlin's categories.
Product titles and prices are displayed along with additional information such as images, customer ratings and the seller's name if it is not Leroy Merlin. Additional product information can be found when the user clicks on the product image.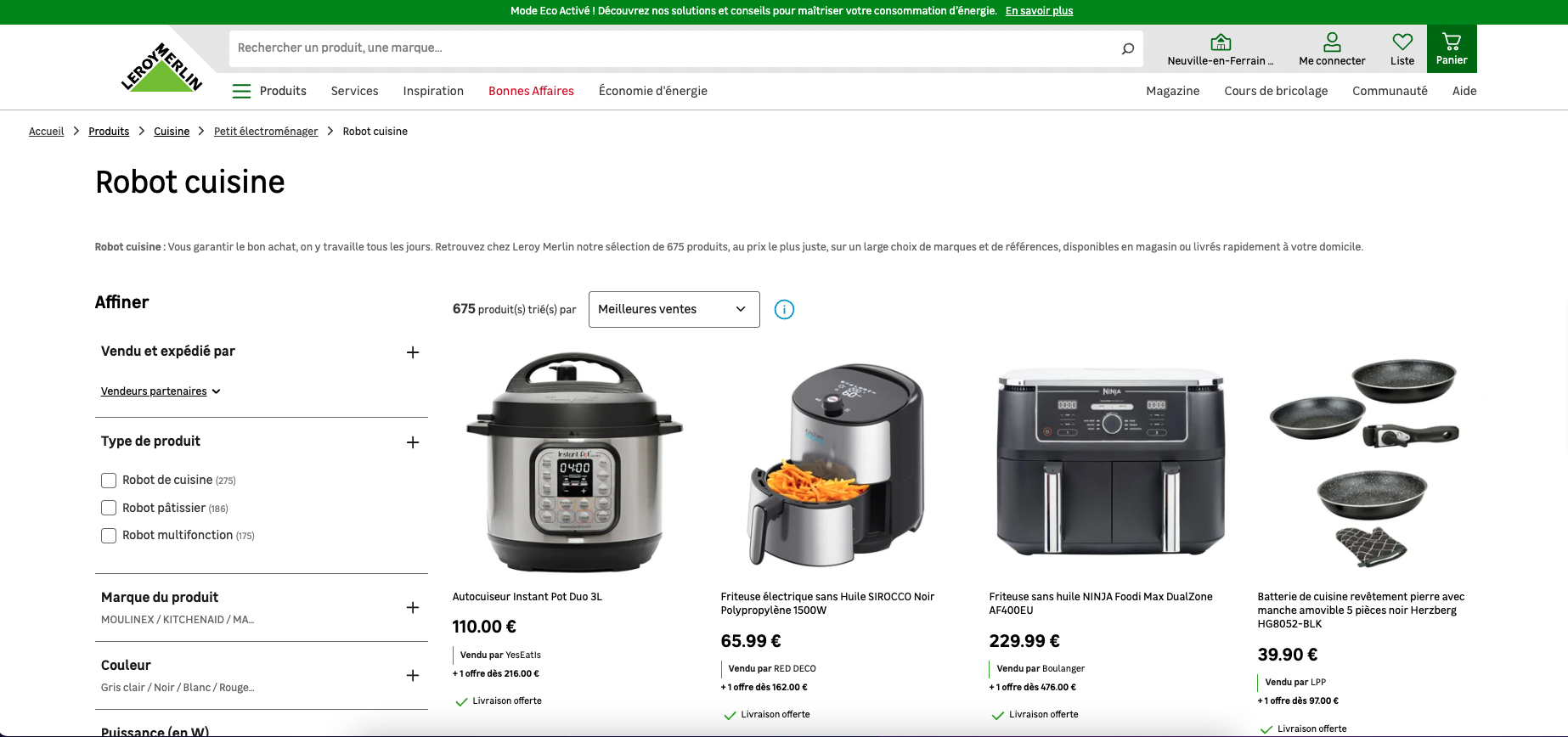 Benefits of using Channable to market your products on Leroy Merlin:
Market your products in 3 different countries all in one tool via leroymerlin.fr, leroymerlin.es and leroymerlin.it.
Simplified API integration: connect directly to the marketplace and send your product data and updates in real-time to the platform.
Marketplace management: optimize, enrich and manage your product data centrally for all your marketplaces.
Order connection: synchronize your orders between Leroy Merlin and your online store.
Ready to implement your online sales strategy? Get started with Leroy Merlin now.