Performance Max(PMax) is Google's new way to streamline and simplify advertising across its platforms. The new system is a goal-based campaign type that helps link you to customers across YouTube, Display, Search, Discover, Gmail, and Maps. It's set to replace Shopping this autumn.
You may not have heard of Performance Max yet, but it's here to stay – and it will transform how your business advertises online.
In this article, we explain the Google ad changes, describe what you need to know, and provide some performance Max Campaigns best practices to help you maximize your digital marketing.
What is Performance Max (and why should I care)?
In the world of digital marketing, Google is a monster hoovering up $54bn in Q1 for 2022 in advertising revenue for parent company Alphabet – that's up 22% on 2021 figures.
Google enables advertisers to reach customers across its channels, including YouTube, Display, Search, Discover, Gmail, Shopping Ad inventory, and Maps – but the process isn't always straightforward.
Performance Max is Google's attempt to eradicate these errors, automating and optimizing cross-channel digital advertising.
"Performance Max is a new generation product and, in our experience, while it works in a similar way to Google's Smart Shopping, it does have a number of key additional features specifically around audience targeting and analysis which allow for a more granular approach to the shopping product, ideal for clients who are looking to take segmentation and shopping to the next level," says Amanda Walls, the founder, and Director of Cedarwood Digital.
While advertisers can – and in some cases, should – still manually work with each channel, Performance Max makes it easier by focusing activity around a marketing objective and conversion goal. The system automatically decides the optimum placement for your ads. It can pull images, videos, copy, and other content to create bespoke ads for each channel.
"Performance Max campaigns put your business goals front and center and allow our 'automation to target your business goals above all else. This is crucial in order to maximize performance from Google Ads!" Say the guys at Google.
Put simply, PMax aims to maximize your ROI and ROAS across multiple channels.
PMax is part of Google's plan for the future and will replace Smart Shopping and local campaigns by autumn 2022. Will it deliver the results advertisers wants?
Yes, says Daniel Tjondronegoro, CEO of Beatgrid, the cross-media ad tech platform. "In an increasingly fragmented digital landscape where cross-device ad spend is in constant global growth, brands value the existence of top-level campaign performance tools like Google Performance Max campaigns, to help them maximize conversions and value while finding new and better users."
Read on if you're interested in learning how to work with PMax.
Benefits of using Google Performance Max
PMax aims to simplify and streamline the process of advertising across multiple channels. But does it work?
According to a Google case study, the system helped automotive firm MotorK grow qualified leads by an impressive 24%.
Naturally, Google's not going to be critical of its own platform, but on paper, the system does appear to offer some exciting opportunities.
Some of the benefits for businesses of all sizes include:
Driving better results across your campaigns

Conversion-focused optimization

Less manual work

Maximizing the conversion value, having the opportunity to associate a ROAS

Higher profitability, better return rate, and better conversion
Some industry experts warn that PMax campaigns could operate as "black boxes", giving digital marketers little or no information about campaigns and budget allocation.
The risk here is that you cannibalize your audience, attributing results to PMax campaigns that they haven't earned.
There are some technical questions too, that Google must answer before PMax achieves its potential. However, Google works iteratively, and we can be confident that they'll iron these out sooner rather than later.
Building Performance Max campaigns that deliver
PMax campaigns are different to set up than other campaigns. You'll need to work through the stages set out below.
Select your campaign objective(s)

Choose a campaign type

Select conversion goals

Set budgets and bidding

Adjust the campaign settings

Manage asset groups

Add extensions
Don't worry if these seem unfamiliar; if you're already advertising on Google, you'll find many of the stages easy and intuitive. Let's start working through them.
Select your campaign objectives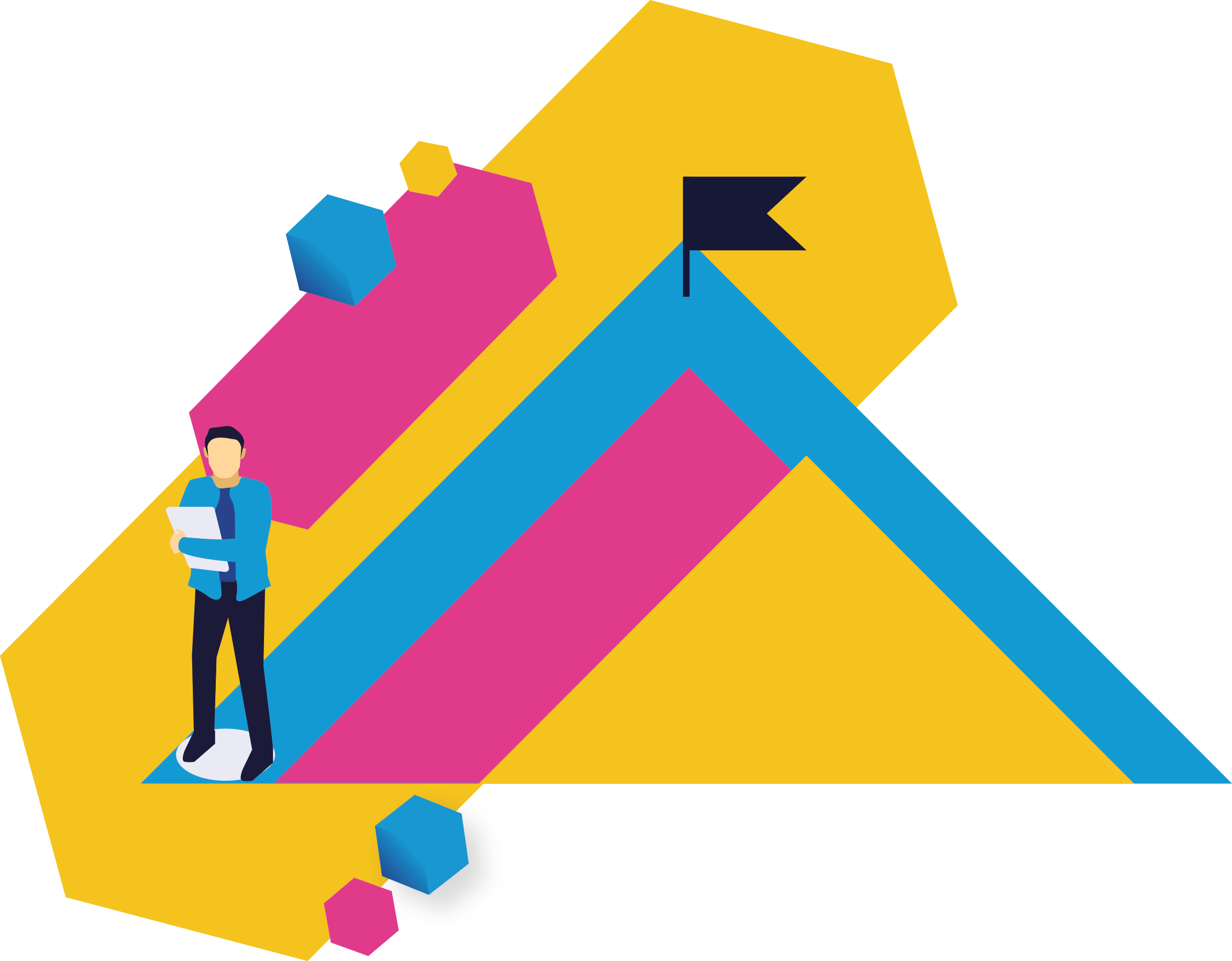 When creating your PMax campaign you'll need to choose a campaign objective.
You can select one from the following options:
Sales
Leads
Website traffic
Product and brand consideration
Brand awareness and reach
App promotion
Local store visits and promotions.
You'll also see that Google offers an additional choice:
Create a campaign without a goal's guidance
OK, so it's not the clearest description, but it basically means that you can choose a campaign first without having recommendations based on your objectives.
Digital expert Ian Spencer has some advice for product sellers.
"You should also consider whether you want to sell all your products, or just those with the biggest ROI or margin, as selling low-priced, highly competitive items through CPC can lead to high sales, but low profits, so you should identify this aspect first, and then use split testing to see whether low margin items can work from a ROAS point of view."
Choose a campaign type
On this dashboard, you'll be able to see the whole range of Google campaign options, including Performance Max campaigns. Select PMax and head to stage 3.
Select conversion goals
Now, you'll need to select the conversion goals for the project. There's an extensive list here that covers pretty much every service or sales situation you can think of.
They're split into three types:
Online sales
Lead generation
Offline sales
Here are the subcategories for each: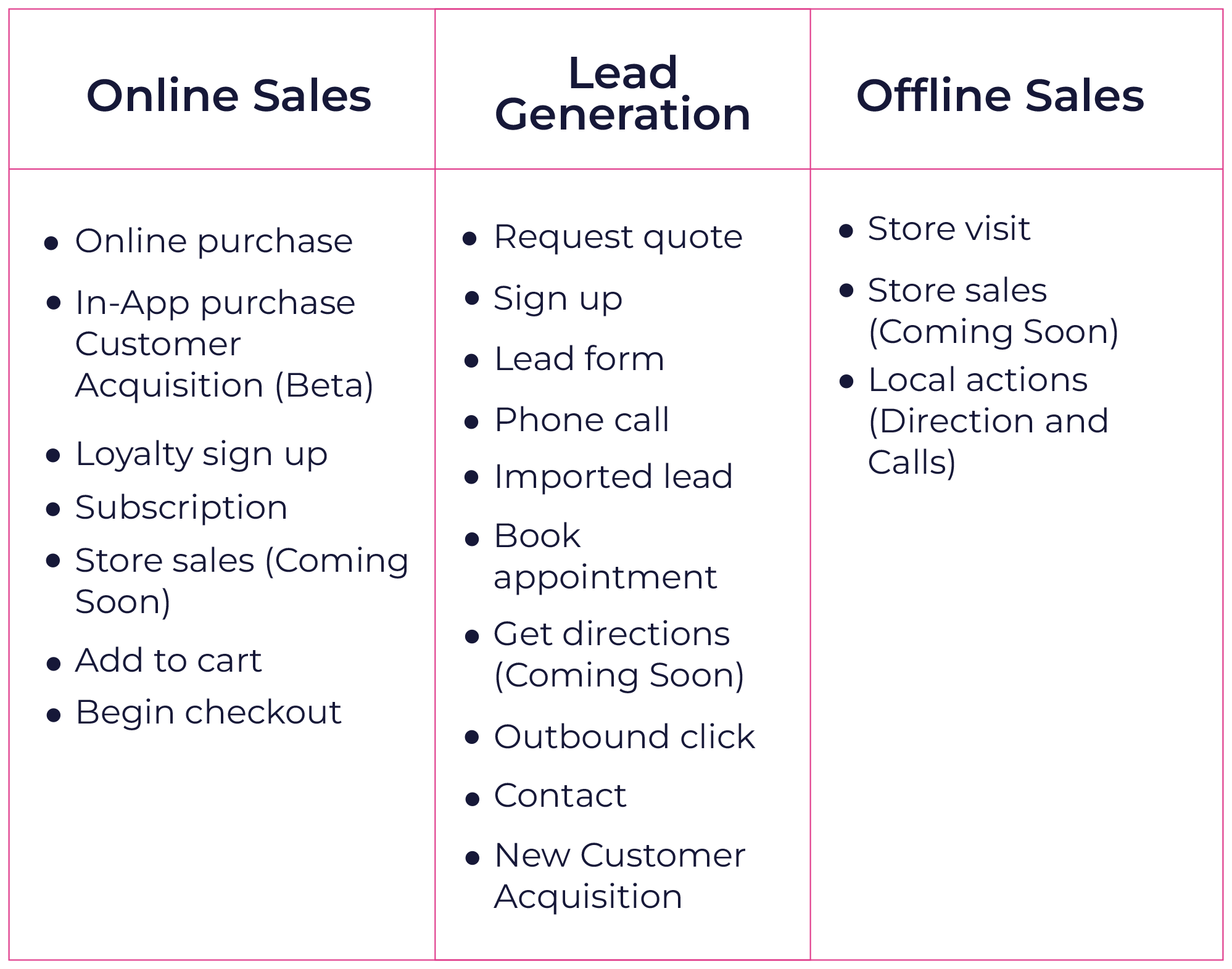 It may be tempting to select several options, but the experts advise you to limit the number only to the essential ones.
This will ensure your campaign has the greatest impact and that you're only spending money on outcome-focused activity.
It's easy to get rid of any unnecessary goals by clicking the three dots and choosing to remove them.
Set budgets and bidding
Once you've narrowed down the selection of your goals to the essentials, it's time to set campaign budgets.
Experienced digital marketers will have their own bidding strategies, which will take some trial and error on PMax campaigns.
For those with less experience, Google offers some detailed advice here. You can use Google's smart bidding strategies to help you maximize your budget and reach the highest number of conversions and achieve the highest ROAS.
"One key area of Performance Max that seems to offer opportunity is the ability to bid higher for new customers than returning customers - while returning customers are valuable especially from a remarketing perspective, the ability to tailor bids better between the two allows for more granularity at different stages of the funnel," says Walls.
As with any online advertising, it's critical to set budgets and boundaries, so you don't run up an unexpectedly large bill.
Adjust the campaign settings

Campaign settings enable you to adjust and optimize your campaign. You can select different locations and languages.
You can also choose Final URL expansion. This option enables you to add Dynamic Search adds to your site. What does that mean? If you allow it to, Google can delve deeper into your site identifying URLs that more closely match the search intent of the audience.
If there are certain pages you want Google to avoid, you can add them as extensions. If you've ever worked on Google Ads campaigns before, you'll understand how critical it is to review and refine them, something we explore in our section on how to optimize PMax ads.
Manage asset groups
PMax campaigns use a single source of assets to create ads across multiple platforms. This internal form of feed management will use your assets to create compelling ads.
At the most basic level, you'll need to provide:
Headline: 3-5 headlines
Long headline: 1-5 long headlines
Description: 2- 5 description texts
Images: at least 1 square and one landscape image
Logo: at least 1 square logo, others are optional
YouTube video: up to 5 videos of min 10 seconds (you don't have to provide this, but if you don't Google will create its own video which you will have no control over!)
This list is the basic stuff you'll need to provide, but remember your potential clients and customers may be served adverts on multiple ads across channels so you'll want to ensure variation in your ad set-up.
To achieve that, you'll need to provide multiple images, headings and headlines, descriptions, and more.
To help you, Google has created a detailed guide with all the information on the assets you need for PMax campaigns.
Lastly, you'll need to set the audience signal. This is information on custom segments, your own audience, and any interests and demographic details you want the system to include.
Add extensions
You've set your goals and uploaded the assets; now you'll need to set your ad extensions. We're not going to explain what extensions are and how to use them, as it's likely you're already doing this through Google Ads.
Our advice is to spend time identifying appropriate extensions for each channel to capture as much of the market as possible.
Reporting and management
"When it comes to setting up a PPC campaign – and especially with the new PMAX campaigns with Google Ads – you simply must have the correct conversion tracking in place," says Stronger Bones' Ian Spencer. "The new AI-based systems rely heavily on the data fed back, as, without accurate conversion data and sales volumes/amounts, the system cannot self optimize."
Google provides a simple snapshot approach to see its assessment of your ads and assets. For each campaign, there are four potential asset performance values:
Low: low performing against all other assets of the same type across properties.
Good: assets perform well enough
Best: one of the highest performers of all assets
Pending: not enough data yet (you'll need > 5,000 impressions per asset)
Should you trust Google's score? The score is automated and is based on its assessment of how successful your ad will be. If you're dealing with a specialist subject, then your expert insight may overrule the algorithm.
Alongside asset performance, you'll also see Ad strength. This isn't about the quality of your ad but about how complete the asset group is. You can see whether each ad has everything, such as an image, video, headline, and description.
Any gaps are easy to spot, and if you've followed our guide, they are easy to fix. What happens if you aren't able to provide a video? Google will do it for you. That's right, PMax will automatically generate a video.
Are they any good? You can decide for yourself (but we recommend you create your own or risk damaging your brand).
I'm using PMax – should I stop running search campaigns?
At this moment, no. PMax is still in its infancy, and while it has huge potential, you shouldn't turn off your current campaigns. Instead, we recommend running them in parallel, making tweaks and updates to the campaigns as you run them.
"I think it's definitely worth trialing as there will be clients where substantial benefits can be gained and also it's great to be prepared ahead of the September deadline," Walls says.
One quirk of the system is that the PMax campaign takes priority over other campaigns you may be running,­ including all Shopping campaigns.
According to the experts, PMax is the future: "The performance marketing future will be determined by these kinds of highly automated audience targeting and ad creative analytical tools with a focus on optimizing ad campaigns to drive significant ad ROI on ad spend," says Tjondronegoro.
How should I create compelling PMax campaigns?
PMax is an intelligent platform, but you'll still need to put in the work.
Naturally, Google wants you to put your faith in PMax, creating what Wouter Veenboer describes as an "easy" campaign.
But digital marketers want more control- so he recommends three PMax campaign options in a detailed post on performance max retail campaign approaches.
Here's how they break down:
Easy – for the small retailer, not necessarily savvy with ads.
Medium – for medium retailers wanting to take back control but not having to build and maintain a very complex campaign structure.
Advanced – for bigger and more savvy advertisers (big advertisers and best-in-class agencies).
Conclusion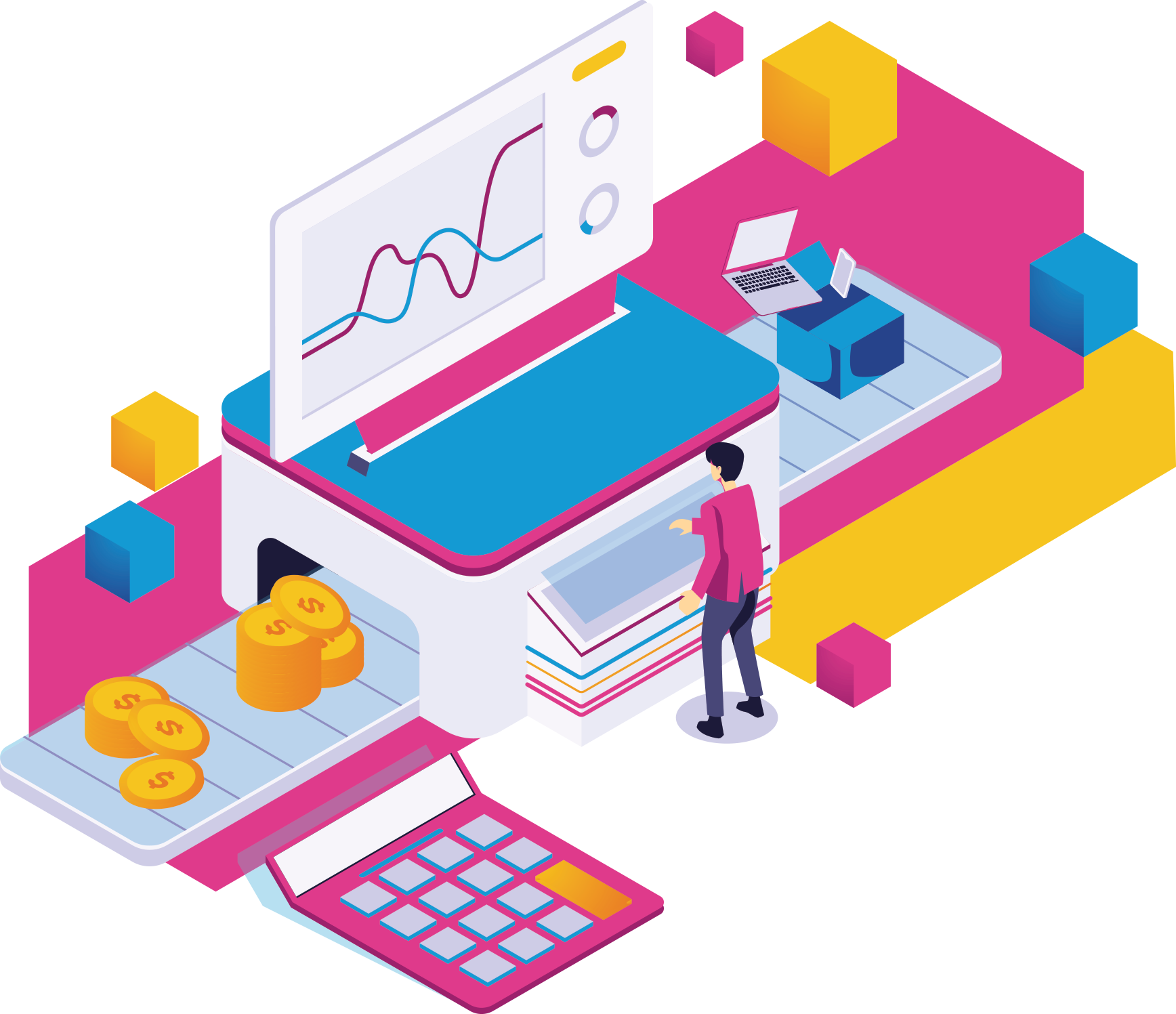 Performance Max campaigns pose challenges for digital advertisers, but if you can crack it then it could deliver great results for your company or clients. If you're new to creating PMax campaigns, then following the advice here should help you create ad sets that provide a great ROAS.
At Channable, we're working on incorporating PMax campaigns into our platform. We're aiming to make creating, implementing, and analyzing PMax campaigns as easy as possible. Expect an update soon!