As a seller, leveraging Amazon is a complicated process with many nuances, but also rewarding because you're showcasing your products to the whole world. Sellers have to make the right decisions, carefully list their products, and capture the opportunities Amazon provides.
This article discusses how to win the Amazon Buy Box and gain some of the biggest opportunities to boost sales by using Amazon's Featured Offer (formerly known as Amazon Buy Box) and finding the sweet spot in your Amazon pricing strategy.
We will provide all the key factors and nuances of Buy Box so that you can make the right adjustments to your Amazon profile to reach a broader audience and generate more revenue.
What is the Buy Box on Amazon?
Earning the Buy Box is a powerful option to increase visibility for your products and, in return, boost sales for your eCommerce business. The Buy Box is the "Add to Cart" button where customers can directly add the item to their cart.
It's placed in the right-hand sidebar on the product pages of Amazon. The "Add to Cart" button is placed right above the "Buy Now" button in the sidebar. Amazon claims that Buy Box helps customers find the best prices between products and sellers by easily accessing the best offer while comparing others in the "Other Sellers on Amazon" and "Used & New" sections.
While the Buy Box offers the best deals to customers, it is also an opportunity for sellers to provide the best service to claim the Buy Box and drive sales.
If a customer prefers to make their purchase through the Buy Box, they can easily add it to their cart with the "Add to Cart" button or click "Buy Now" to finalize the purchase instantly.
The Buy Box is an automated component based on specific criteria. Not all sellers are eligible to place themselves at the Featured Offer (Buy Box) position.
This position is a result of an accumulation of both technical and operational scores which Amazon rewards sellers with the Buy Box.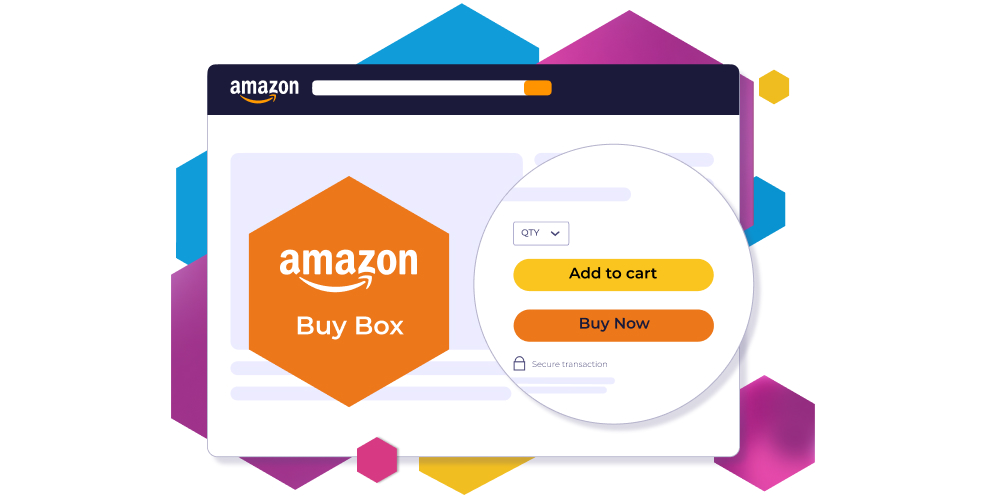 Why is the Buy Box Important to Amazon Sellers?
Amazon is the 5th most valuable company in the world. Amazon has dominated and revolutionized the eCommerce market. Their annual net sales revenue was $513.98 billion in 2022 according to Statista.
While Amazon's market share is enormous, every seller has an opportunity to take a slice of this giant opportunity. Obtaining the Buy Box will help you to increase your revenue substantially. Because 82% of Amazon sales go through the Buy Box and the number is even higher for mobile purchases.
On mobile apps, it's more user-friendly to use the Buy Box and directly purchase rather than comparing other alternatives.
Learning how Amazon's algorithm is tailored will allow you to optimize your performance and relevant data to better reach the Buy Box.
Unfortunately, there is no simple solution to winning the Amazon Buy Box such as having the lowest price or being a best seller. However, Amazon's machine learning algorithm considers a variety of factors, such as competition in the marketplace, time-sensitive campaigns, product data, categories, and individual seller ratings.
Simple and consistent actions can help you compete for Buy Box. You can focus on delivering a seamless customer experience, preparing seasonal themes like back to school, Valentine's Day, Cyber Monday, beforehand and restocking your inventory if needed, and increasing your seller rating will help you to win Buy Box.
All these different factors serve to same purpose, which is better customer satisfaction which also Amazon prioritized. When a seller starts to improve one of those factors, it creates a domino effect and increases the overall service quality too.
The Recent Changes in the Amazon Buy Box
This is not about changes in the Amazon Buy Box criteria and eligibility requirements. But to highlight the fact that Amazon changed the name of the feature from Buy Box to Featured Offer around the second half of 2022, so to not confuse things too much we will now refer to the Buy Box as "Featured Offer."
Amazon even changed the wording in their YouTube videos and blog posts, as well as in the Seller Central. Additionally, you can take these nuances into account when you aim to achieve a Featured Offer spot.
Rising Competition
Amazon has recently experimented with buying options and user journeys. Rising competition between sellers on specific products keeps prices competitive, but it can also confuse sellers.
Amazon spokespersons say that using the right Amazon pricing strategy can help sellers win the Featured Offer and get ahead of the competition.
Say Goodbye to the Perfect Order Percentage Score
Previously, Amazon took into consideration sellers' "Perfect Order Percentage Score" metrics. That metric affected sellers' performance as well as their eligibility for the Buy Box.
Currently, Amazon recognizes the Shipping Time metric more than others. Referring to how fast order can be fulfilled and delivered.
The Price Wars Have Started
Prices of goods and services are inflated all around the world. This has also affected product pricing on Amazon and turned into hot competition among sellers.
Providing the lowest price with the maximum value is the key. But while doing this, keeping your shop profitable is key to a balanced Amazon pricing strategy. When your product catalog reaches a certain volume, it will be hard to manage your prices manually. Using a Repricer can help you to create automated rules, instant price adjustments and keep you ahead of the competition.
There Might Not Be a Direct Correlation Between Amazon Buy Box and Prices
There is a general misconception that Featured Offer (formerly Amazon Buy Box) listing a product with the lowest price among competitors will ensure being on top. But this is just not true as there are a lot of variables taken into account to decide which seller is No. 1.
This idea was falsified by Northeastern University, which conducted a study about Amazon's pricing strategy and showed that not the best prices are guaranteed to land on the Featured Offer.
Besides those mentioned topics, Amazon's overall standards for the Featured Offer remain still, but a lot has changed in the eCommerce trends. These trends shape both the industry standards and user behaviors.
Being aware of the shifts will help you to optimize your products and approach to customers. These trends and social signals may help your success on Amazon because these aspects are also considered by Amazon's algorithm.
Collecting positive, reviews and feedback from customers.
Delivering exceptional customer service and prioritizing customer experience.
How to be Eligible to win the Amazon Buy Box
Not every product category supports the Featured Offer (formerly Amazon Buy Box); for example, books aren't eligible for this feature. Criteria can vary for each category, but here are a few general factors that can affect Featured Offer selection:
Amazon Account: Sellers need to have an active professional selling plan and an account in reliable status.
Competitive Prices: Featured Offer prices are generally equal to or lower than market prices.
Deliver Exceptional Customer Service: There are several metrics to evaluate your customer service, such as Order Defect Rate, Pre-Fulfillment Cancellation Rate, Late Shipment Rate, and Valid Tracking Rate.
Stocked Inventory: Running out of stock can block sellers from the Featured Offer status.
Fast Delivery: Fast delivery commitments can attract more customers. However, products also have to be delivered within the promised timeframes.
Product Condition: The Featured Offer is only for new and like-new goods.
How Your Amazon Pricing Strategy Helps You Win the Buy Box
Amazon prioritizes the best prices to deliver the best customer experience. However, for sellers, this approach is not about lowering the prices below profitability. When you're building your Amazon pricing strategy, you should consider a different approach for each product. There are three different methods to handle your Amazon pricing strategy:
Manual Repricing
Rule-based Pricing
Algorithmic Repricing
To bypass all this hassle and manage your products from one cohesive dashboard, you can use the Repricer that gets you ahead of the competition. You can set specific thresholds and limits to automated pricing for each item.
One of the advantages of having an algorithmic pricer tool is that it handles everything in the same dashboard, not only the price, but the product, data, and performance as well.
Repricer in Action
Choose your competition strategy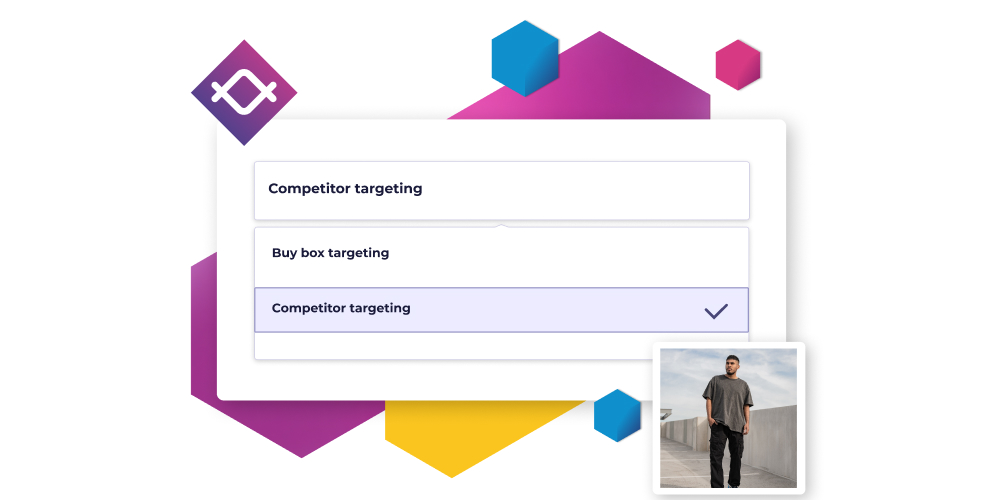 Set maximum & minimum targets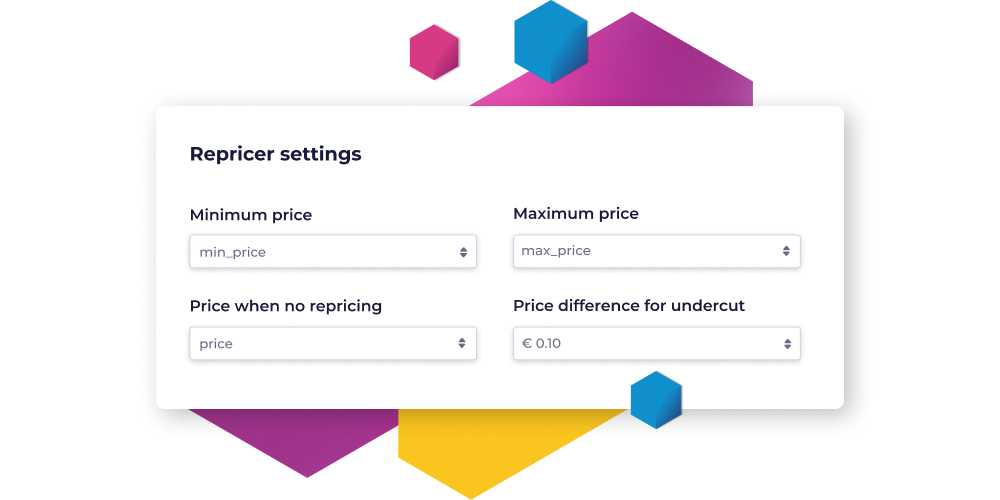 Select your competition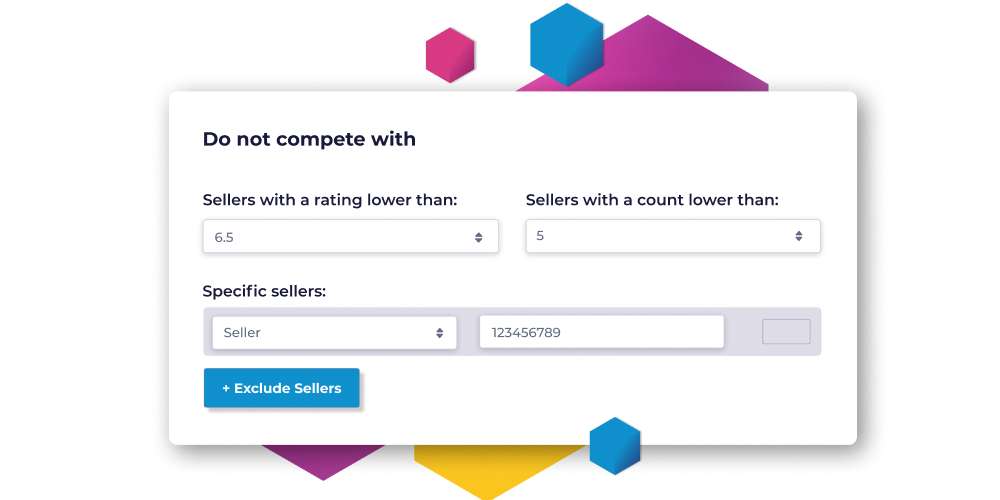 Set your repricing conditions
Conclusion
There is fierce competition to achieve a Featured Offer spot among sellers on Amazon.
But there are many ways to obtain and secure this position. Sellers should provide exceptional customer experience, competitive pricing, and impeccable delivery.
Using complementary tools like a Repricer can also help optimize your Amazon pricing
strategy.
And always keep in mind, that there are new opportunities to seize, and Channable is there to help you scale and reach new heights!