In the world of online selling, Amazon is a monster, with almost 2.5 billion visits every month. The cost of living crisis affecting Europe means customers are more cost-sensitive than ever. Amazon retailers face an ongoing battle to review and refresh prices and maintain seller performance to secure their place in the ultra-competitive online sales market.
The solution is Amazon Repricer.
Amazon Repricer frees retailers from the laborious manual task of scanning and updating prices with an intelligent algorithm that does the work for you. But, it can do much more – optimizing your offer and refining your processes. It's an essential part of any strategy that aims to secure your products a position in Amazon's product feed and Buy Box.
Meet Amazon Repricer: The future of automated pricing
Amazon prices can change daily – sometimes in seconds ­– as sellers vie for a position. Retailers need confidence that their prices are competitive and that takes a lot of time. Manually checking the prices is almost impossible when your inventory grows above a certain limit. And even then, who wants to have to check Amazon every day? (Nobody, that's who.)
"If you're selling on Amazon, you know how important it is to stay competitive on price. But manually repricing your products can be time-consuming and tedious," says Brandon Wilkes, Marketing Manager at The Big Phone Store UK.
The bigger your inventory, the larger the problem. So, what can you do? Amazon Repricer is an automated tool that scans the market for the latest prices and matches, or increases your bid to ensure the best position for your product.
"Amazon Repricer automatically adjusts your prices to match (or beat) your competitors," says Wilkes. "That way, you can focus on other aspects of your business, safe in the knowledge that your prices are always competitive."
Many people see a repricer and think of their prices entering a race to the bottom. This is not the case. You're still in control and able to decide what your minimum price is so you still make a desirable amount of margin. In some cases, Amazon Repricer could also up your prices – increasing your margin!
The system saves you time by automating processes but it can do much more…Amazon Repricer can help you tackle the biggest challenge of them all: winning the Buy Box.
Winning the Buy Box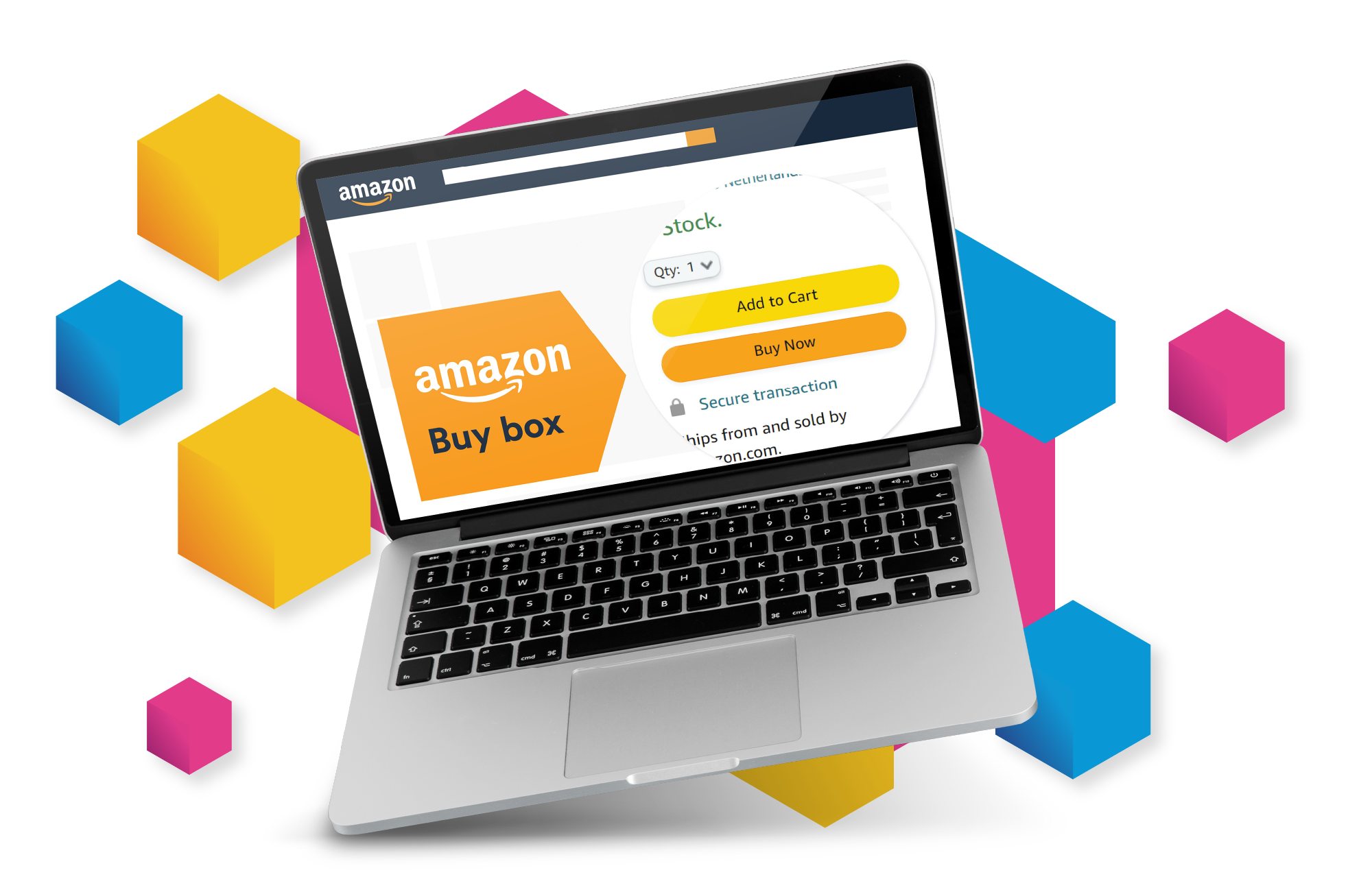 Amazon's little yellow Buy Box holds incredible power. An estimated 82% of transactions go through this box. The fact is that retailers who hold a position in the box will earn more than competitors.
We're sure you know, but customers shopping on Amazon have two options in the Buy Box: Buy Now or Add to Basket. In some cases, Amazon will win the button itself (naturally), but not for every product.
So, how does the Buy Box work? Amazon is, naturally, tight-lipped about the intelligence inside its system, but there are three elements:
Buy Box eligibility
Seller performance
Pricing
Retailers need to provide Amazon with a complete story about your performance, including the speed and efficiency with which your product is delivered to the clients, measured by your seller performance rating.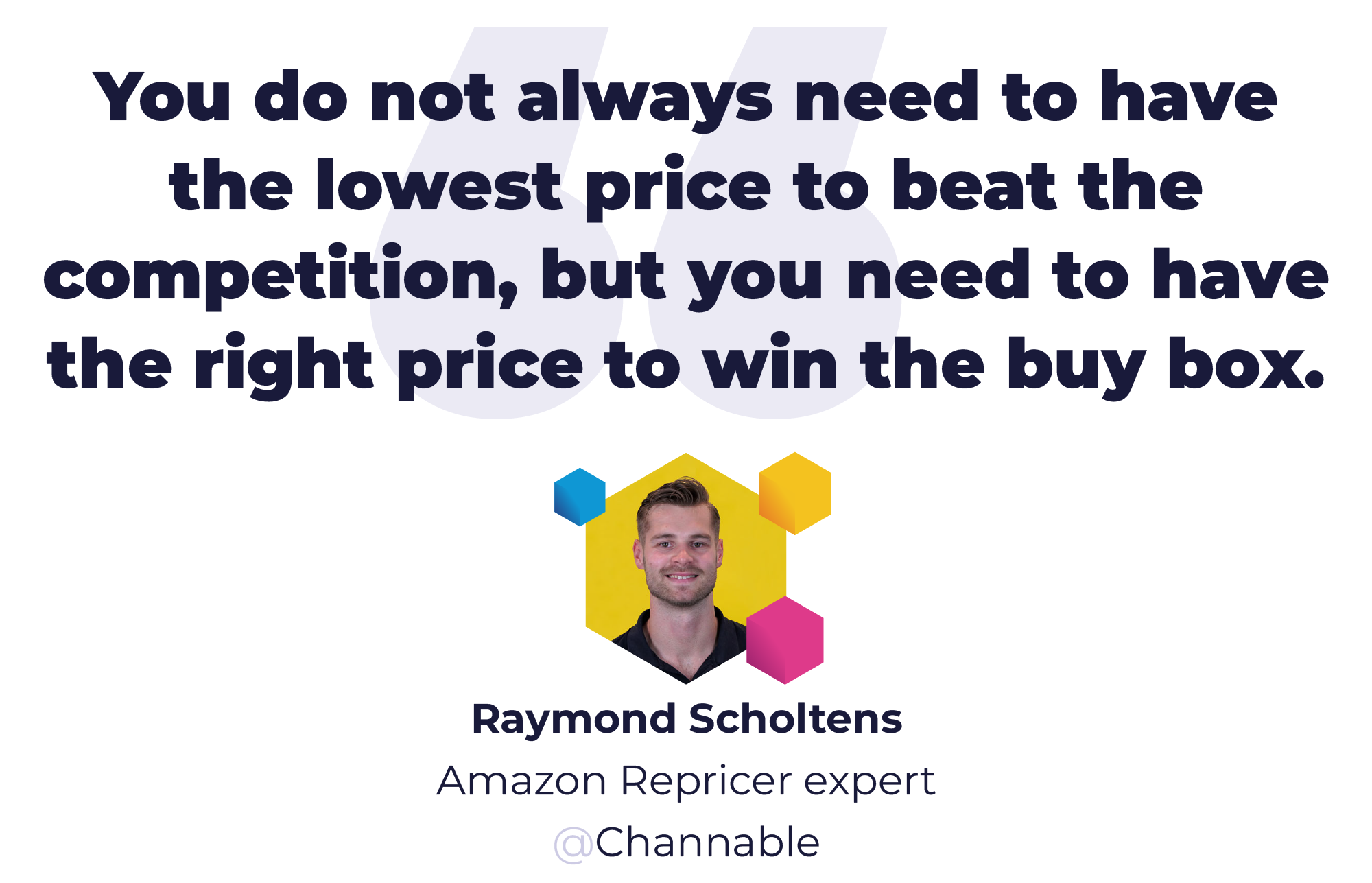 Amazon will look at multiple factors to put a product in the buy-box. It will assess how quickly you can deliver your product to the customer. They will look at how customers rate you as a seller and of course the price.
You will have to create a good process to quickly ship your products to the customer and be of good service so you will get positive reviews. These are all important factors but the price is the one you can start optimizing for maximum revenue on Amazon right now."
A Buy Box position isn't a guarantee of success. For popular product categories with many sellers, Amazon rotates the buy box occupant. In other words, the buy-box is shared and not given to only a single seller.
Amazon's algorithm balances the three aspects above to decide who occupies the Buy Box. For example, a seller with a high performance may occupy it for 30% of the time, one with a lower price could secure 20% of the Buy Box, for example.
While Amazon Repricer may not guarantee you'll win the Buy Box all of the time, you certainly can win it some of the time – and given the global traffic, this can still add up to a substantial increase in revenue. Winning some of the time is better than winning none of the time.
5 reasons to support your strategy with Amazon Repricer

So, by now you should understand what Amazon Repricer can do for you and your business, but here are five reasons why every retailer should include Amazon Repricer in their strategy.
1. Get a slice of the Buy Box
We'll say it again, but with 82% of Amazon purchases made through the Buy Box, if you're not using Repricer, you're missing out on a huge section of the market. For more details about the importance of the Buy Box, see above.
Want to know more about the benefits of advertising your products on Amazon.
2. Inform pricing decisions
The built-in features of Repicer enable you to gain critical insights into competitor pricing. "You can use data from Amazon to make informed pricing decisions.
With Repricer, you can access Amazon's data on pricing trends and competitor pricing," says Wilkes. The system provides real-time access to a huge amount of data that you can use to optimize operations and refine pricing strategies.
"You can test out the impact of setting a range of min and max pricing of your product on Amazon Repricer to check for how it will fare among competitors," explains Simon Brisk.
"The Amazon Repricer runs a market simulator in the background predicting customer behavior trends and sales predictions to help you set up optimal prices for maximum profit."
3. Optimize inventory
Amazon Repricer can help you to optimize inventory management and ensure you're not stuck with excess stock. This is particularly important for retailers selling seasonal stock that, if unsold, can take up significant warehouse space. "Amazon Repricer can help you make smarter decisions about how to price your products," says Wilkes.
On the flip side, if you secure a position in the Buy Box be sure you'll face other challenges. "Make sure you have enough inventory to cover your sales," says Carl Jensen, the founder of Compare Banks. "Sellers cannot exceed their monthly limit of units sold."
4. Reduce manual tasks
Before Amazon Repricer, someone would need to manually check each price and update them in Amazon. That's OK if you're a small seller with an inventory of 500, but what happens when you get to 5,000 or 50,000?
Prices can change in seconds, and it's impossible for a human to manage inventory pricing quickly enough. "I really like how Amazon Repricer takes care of the fluctuations by automatically adjusting prices accordingly," says Simon Brisk of Click Intelligence.
5. Build a platform for growth
Using Amazon Repricer enables you to scale-up your selling, adding new products and optimizing your pricing strategies in seconds.
"If you had to devote man-hours to fill that demand, you would seriously neglect other facets of your company, which would negatively affect everything as a whole," explains Daniel Gray at thermal imaging company Smart Scouter.
With Amazon Repricer, however, you may direct your concentration in another direction and let the rules or algorithm handle it; you can then relax knowing that you haven't missed a single change in price."
How to drive growth for your products more efficiently and effectively
Amazon Repricer is a simple system that can work for every type of reseller. We can split Amazon resellers into three categories:
First-Party-Sellers (1P) Manufacturer sells inventory directly to Amazon, and then Amazon sells them to consumers. Appears with the label "Ships from and sold by Amazon.com".

Third-Party-Sellers – (3P) Sellers sell directly to consumers via Amazon Marketplace Appear with the label: "Fulfilled by Amazon" or Shipped from and sold by [Seller]"

Hybrid Sellers (1P+3P) ­– Brands and manufacturers use both 1P and 3P models to sell their products.
The type of seller you are will influence your buy box strategies. (Hybrid resellers must obviously mix-and match strategies according to how they sell products.)
It's critical to understand how your relationship affected your pricing strategies and your opportunity to achieve a Buy Box position.


First-Party-Sellers (1P)
Third-Party-Sellers



Buy Box Eligibility



Need to have a professional
Amazon Vendor Central Account
Items must be "buy box eligible"
Must sell new items


Need to have an active and professional Amazon Seller Central Account
Items must be "buy box eligible"
Must sell new items





Seller Performance


Amazon-sold products are always treated with perfect seller performance


Sellers must optimize their seller performance themselves, which can be difficult to control and takes time





Competitor Pricing


Since Amazon sells the products, no way to control the price for consumers


Is able to compete with instant price adjustments to increase buy box share



It's clear that third-party sellers have an advantage here. "Make sure your Repricer is configured to take into account both your minimum and maximum prices," says Wilkes.
"By automatically adjusting your prices in response to changes in the marketplace, you can maximize your profits."
And that's what every business wants, right?
When is Amazon Repricer the right solution for you?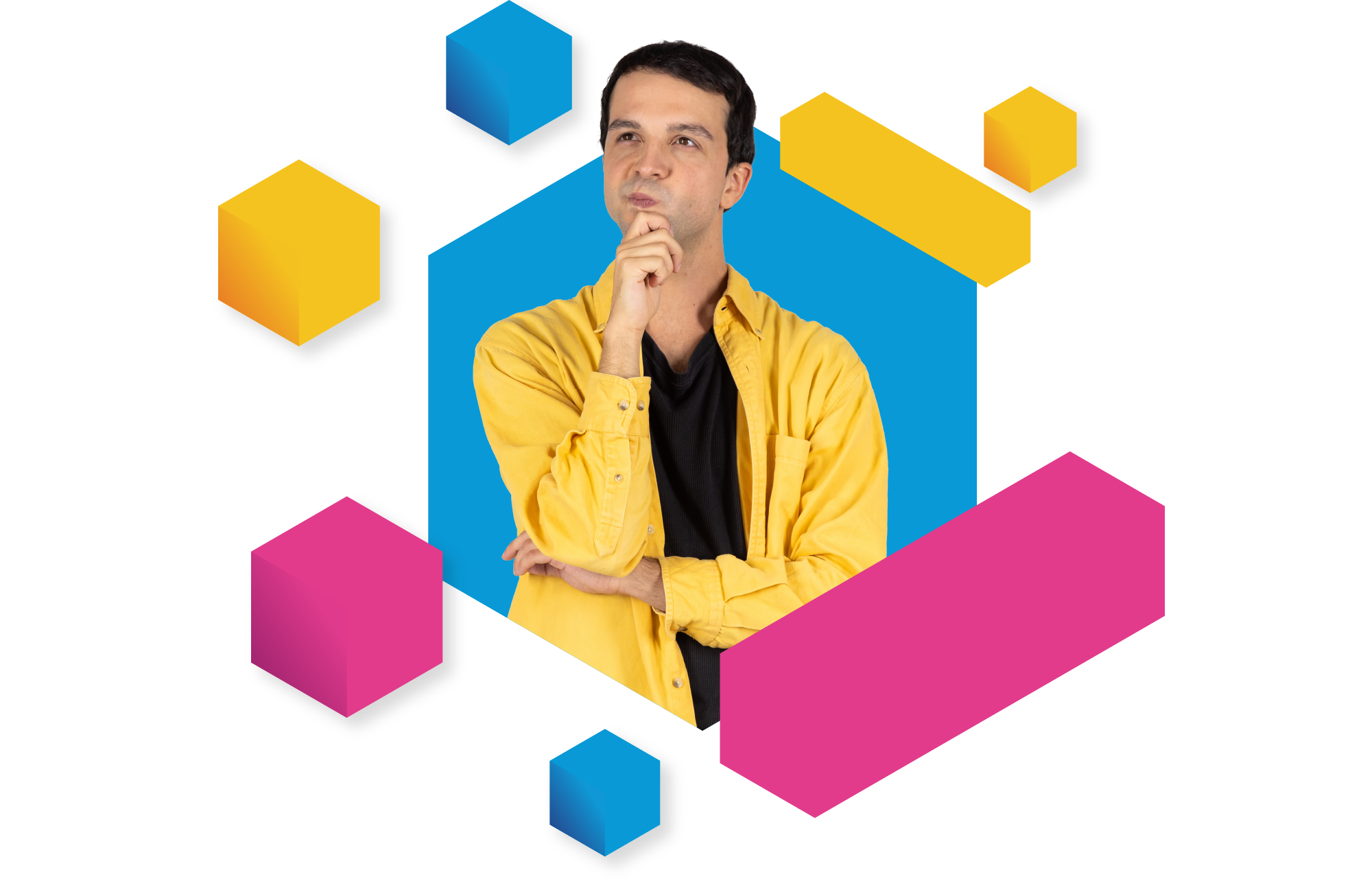 Amazon Repricer is an affordable and effective solution for businesses of all sizes. If you're considering investing in Amazon Repricer, ask yourself these questions:
How many products do you sell on Amazon? If you only sell a small amount (500 or fewer, for example) then Amazon Repricer may not deliver the benefits you need. However, for those with larger inventories. Amazon Repricer can help you smash sales targets.
How price-sensitive are your customers (and what margins are you making)? Selling on Amazon is a margin game, but you need to ensure you're making a profit at the price you're selling. Be sure to set and stick to minimum prices.
How robust are your supply chains? Let's say you achieve a position in the Buy Box and start selling like mad. Can you manage to restock and resupply quickly enough?
Can you manage demand? Seller rating is central to this. If you can't fulfil orders, you'll see your seller rating plummet, which can have a massive impact on your ability to sell and scale-up. Do it too often and you can kiss goodbye to your place in the Buy Box.
Can you afford Amazon Repricer?
If you sell significant numbers of products on Amazon, the question isn't whether you can afford Amazon Repricer, but whether you can afford not to use it. The most cost-effective and efficient way of implementing Amazon Repricer is with Channable.
Channable can give any business the best chance to win the buy box with real-time price adjustments. Our all-in-one marketplace integration platform makes it super-simple to set-up, optimize and manage sales across Europe and the US. You'll save time automating strategies for all your items and maximize profitability.
Would you like to learn more about the benefits of introducing Amazon Repricer to your business? Contact us today.