If you're one of over 200 million businesses active on Meta's Facebook and Instagram, you already know what it takes to market and sell your products on two of the world's biggest social and eCommerce platforms. You need to make sure your inventory is up to date and your product descriptions entice users to stop scrolling and start clicking.
What exactly are supplementary feeds?
Available on the Facebook and Instagram Shopping app, Meta's supplementary feeds add to the product information already supplied by the primary data feed in your Meta catalog.
Your primary feed includes mandatory attributes like content ID, title, description, availability, condition, price, link, image, and brand. The supplementary feeds complement your primary feeds by enhancing or updating your existing product information. Using the same content ID, new information is assigned in a supplementary feed to a product in your main feed.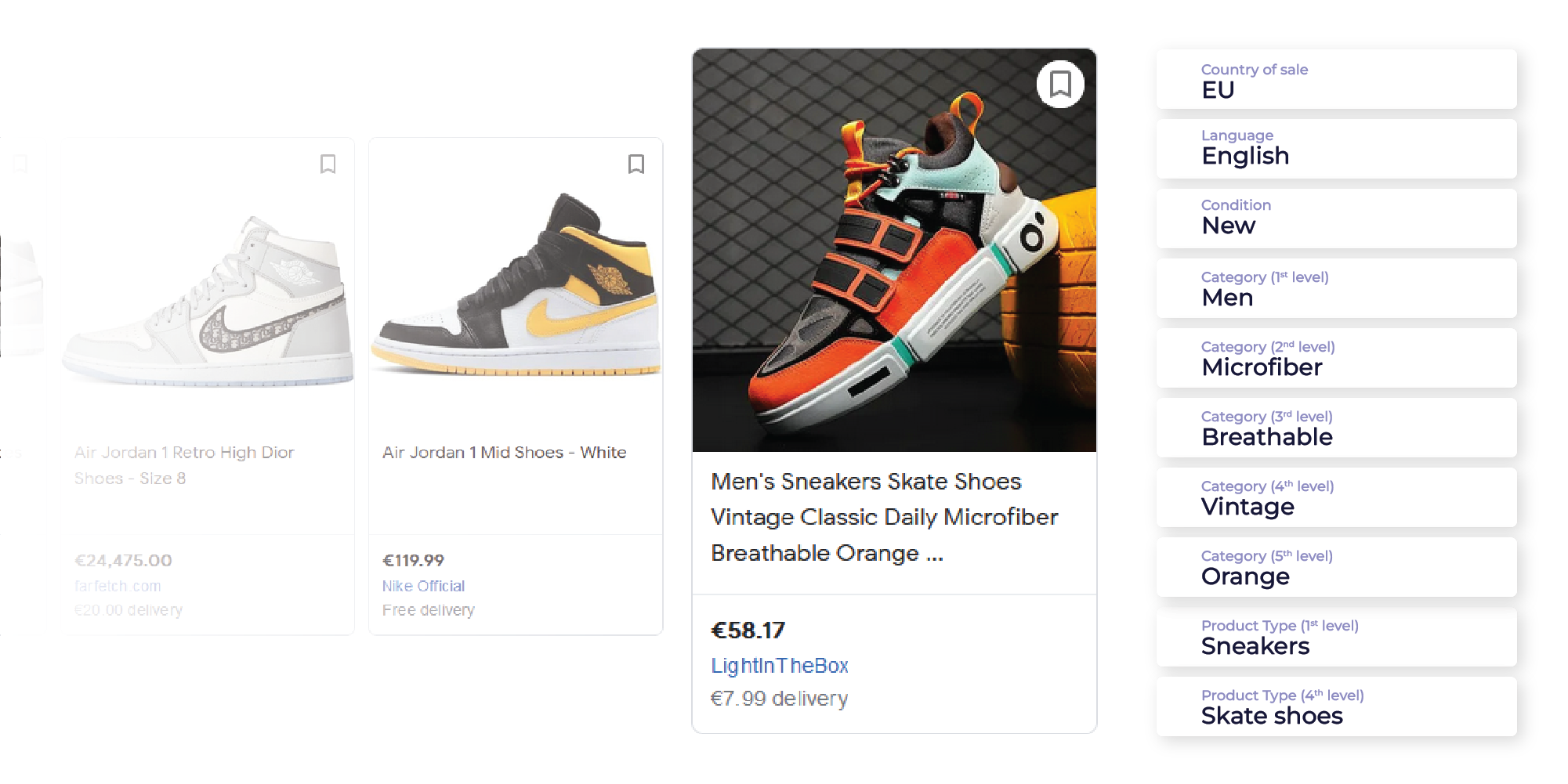 A supplementary feed can support up to 23 additional fields, including: Google product category, Facebook product category, category-specific fields (e.g., home, health & beauty or electronics), color, size, material, gender, age group, video, country of origin, and GTIN (global trade item number).
Because it's meant to support, not override, your main feed, a supplementary feed can't modify or delete your existing product fields. It's also not designed to be used as a standalone data feed.
How can supplementary feeds help my business?
When it comes to your eCommerce catalog, the more detailed your product feed, the better the shopping experience. Supplementary feeds make it easier for shoppers to filter and sort through your catalog so they can quickly locate their preferred item. The better the experience, the more likely it is you'll convert a lead to a sale.
How do I add and manage a supplementary feed?
To use the new supplementary feed tool, you must have an existing Facebook Marketplace catalog through Commerce Manager, the tool for all sales activity across Facebook and Instagram. Don't have a catalog yet? Here's a great place to start.
There are two ways to add supplementary feeds to your Meta catalog:
If you have a small inventory, create a file using a Meta template and then manually upload it to Commerce Manager.
If you have a large inventory, create and add a file from a partner platform like Channable using the app integration.
Here's how to make product updates:
After the integration is set up, you'll be able to see the latest synchronizations from your partner platform in Commerce Manager. To update or correct any product information in Commerce Manager, make your edits right in the partner platform. All of the product updates you make will automatically sync to your catalog in Commerce Manager.
Optimize your success with Channable
Channable has a number of features to help you maximize the power of Meta's supplementary feeds. As one example, our if-then rules let you systematically filter, modify, and improve your product catalog listings with just a few easy clicks. Another feature, the quality score, guides you in creating clear and robust descriptions to boost product visibility and make it easier for your customers to find the products they want.
Here's a screenshot showing you how to assign a gender attribute using an automated if-then rule. By adding gender information, you'll help your customers filter product selections based on gender to locate their preferred items. The gender attribute is often used along with attributes for size and age group.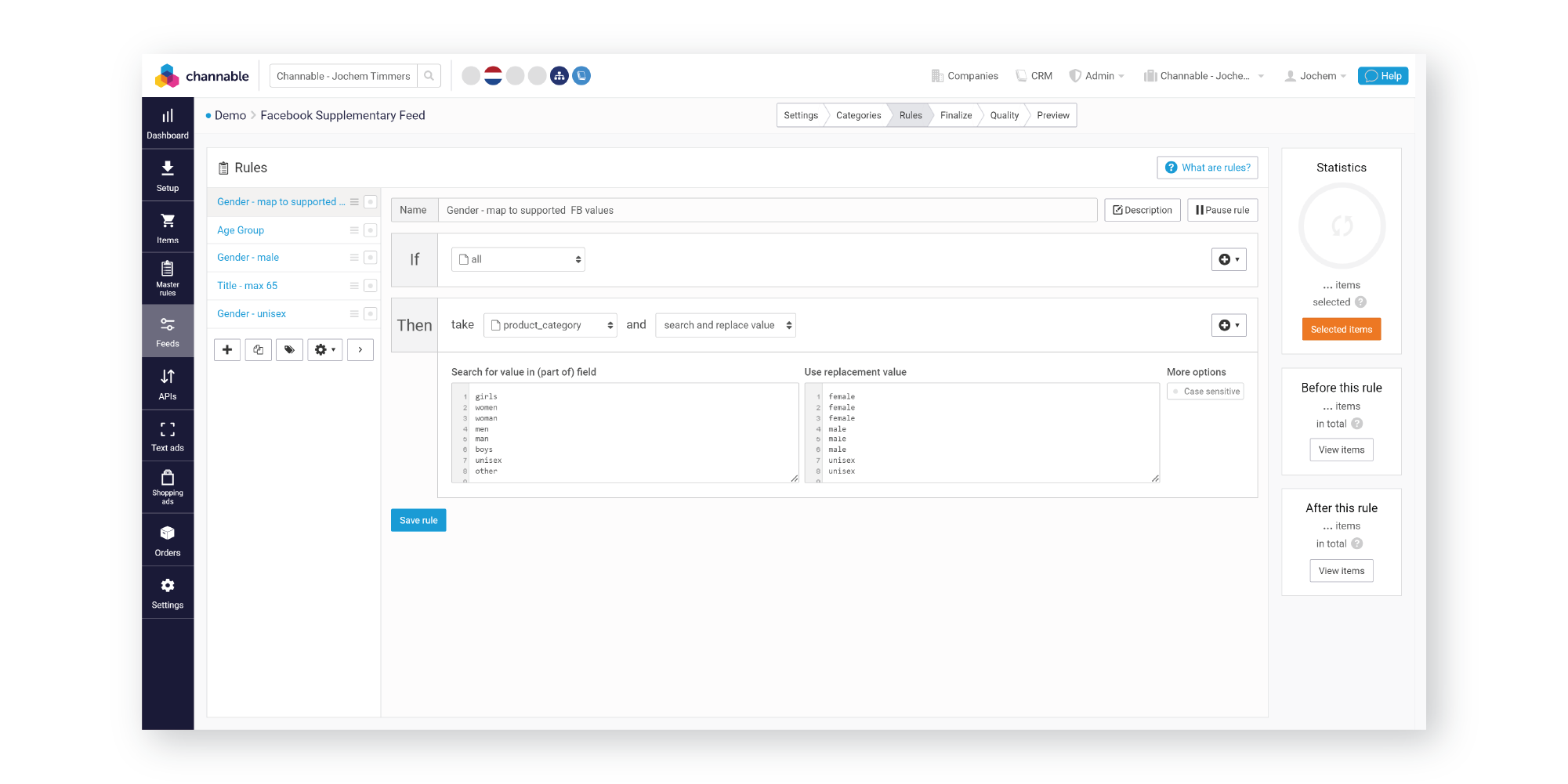 This screenshot shows our quality score feature, which is unique to Channable. Your quality score will let you know how well you've used the supplementary fields to enhance your product feed.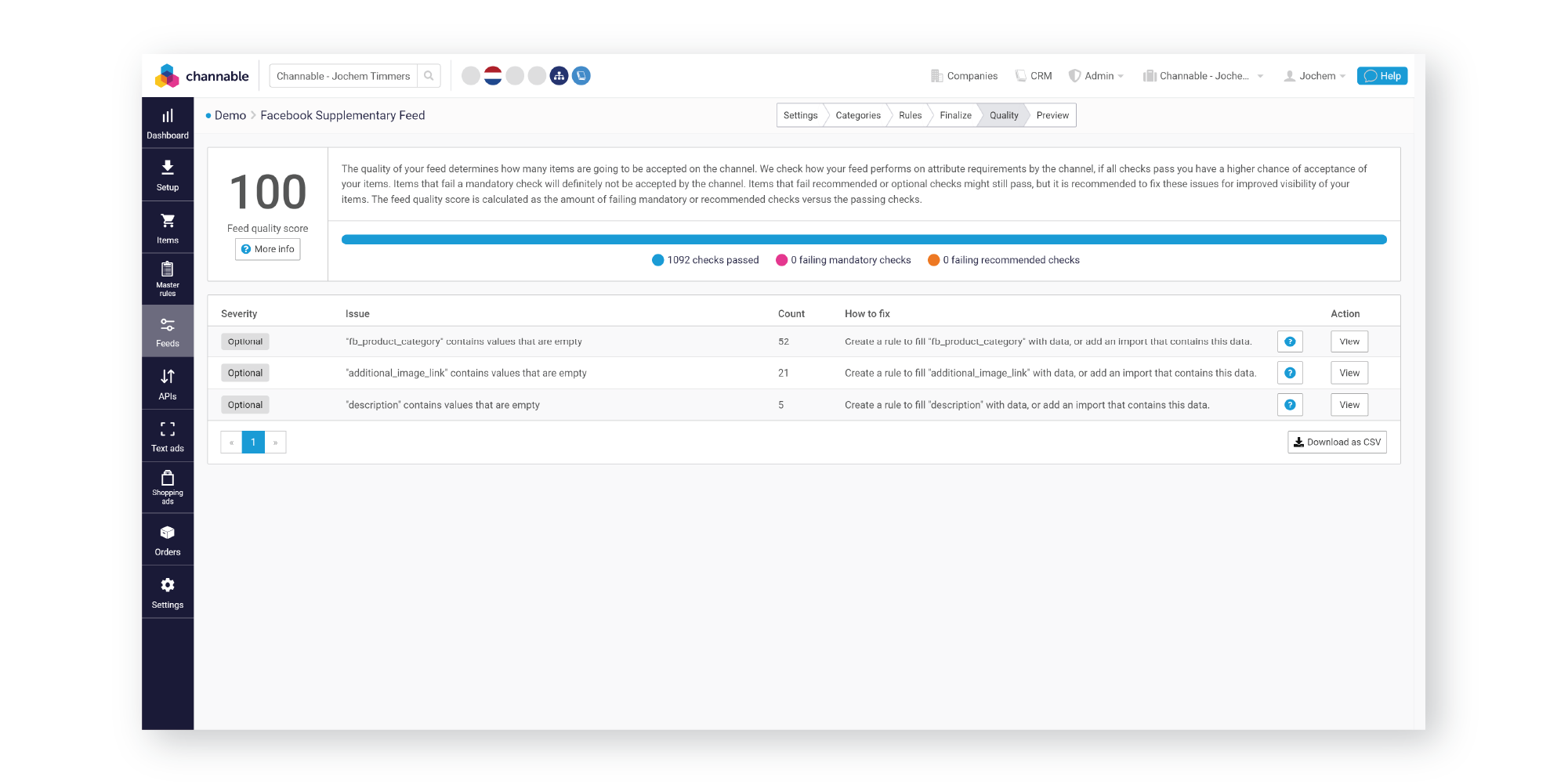 Helping you understand Meta's supplementary feeds is just one of the many ways Channable empowers you to take control of your digital marketing. To learn how to set up and manage Meta's new tool using Channable, check out the step-by-step tutorial on our Help Center.
Meta's Facebook Marketplace is used each month by over 800 million consumers across 70 countries. Introduced in 2016, it's proven to be one of the most effective eCommerce platforms for businesses of all sizes and industries.
By using Facebook Marketplace, businesses benefit from:
Extended reach: eCommerce retailers can get their brands and products in front of more customers.
Personalized customer experience: Facebook Marketplace surfaces the products consumers want most while helping retailers target the right customers.
Pro tips for a better feed strategy


Although it probably won't be possible to use all 23 supplementary fields for each product, you should try to include as many as you can. Remember: The more product details, the better. These fields are especially important: description, images, Google product category, Facebook product category, category-specific, color, size, and GTIN.



With Channable, you can seamlessly update your feeds on a weekly, daily, or hourly basis. Our recommendation is to update your catalog hourly if you can, or at least once a day.
The bottom line
Meta's new supplementary feeds add yet another tool to your eCommerce toolkit. If you want to reach more shoppers and future customers on the global marketplace, you'll need a robust, up-to-date catalog. Meta is committed to helping you get the most out of your eCommerce growth opportunities — and so is Channable.
We're here to help eCommerce thrive.
Channable is the all-in-one platform for smarter digital marketing. Our solutions are user-friendly and empower customers to create the campaigns they need, manage their feeds with ease, and seamlessly integrate their marketplaces.



If you want to talk more about Meta's new supplementary feeds, reach out to one of our eCommerce experts.