If we've learned something from the past couple of years, it's that change is the only constant— this is true of strategies we assumed we'd stick to, expectations we have of our workflows, and the way consumers shop, buy, and interact with brands.
So, how are brands adjusting to these new changes in an ever-evolving digital-first world? And what's trending in the world of retail to embrace this shift?
Here at Channable, we're always looking for the latest strategies, insights, and trends that shape the retail world.
This is why a couple of months ago, we attended Shoptalk in Las Vegas, US, one of the world's biggest e-commerce events. Shoptalk is where thousands of retail changemakers come together every year to create the future of retail.
The Shoptalk agenda covered the latest technologies, trends, and business models, as well as the rapid transformation of what consumers discover, shop for and buy—everything ranging from apparel and electronics to beauty and grocery.
What did we learn from the event and how can European brands and agencies benefit from these up-and-coming ways of selling online? Read on to learn all about it.
Trend #1: Exploring new forms of digital selling
As a brand, staying on top of the latest forms of digital selling will be pivotal to your success in the coming years. This is why being where your customers are shopping for products and services is essential. Here's what you can expect in terms of formats:
Social commerce
Social commerce is the strategy you can tap into to market and sell your products via social media platforms. Sales through social media channels worldwide are expected to nearly triple by 2025 so this is definitely an opportunity many brands should leverage.
To get started, you can use platforms like Instagram, Meta, Pinterest, and TikTok as each of them offers a unique set of features to place your products in front of potential customers.
A Statista study shows that 30% of e-commerce companies are already selling on social media and 12% plan on selling on social media platforms in 2022.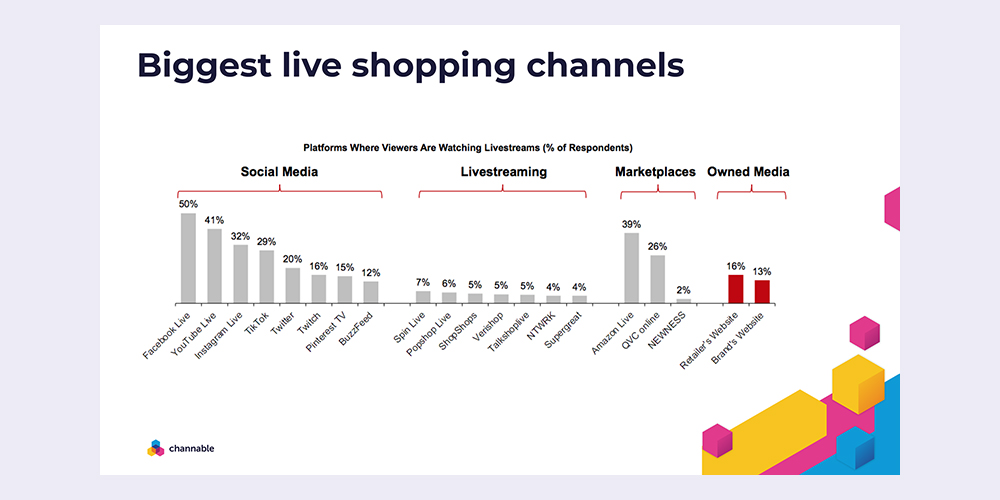 While online marketplaces and shopping sites are created as shopping spaces, social networks also provide an opportunity for brands to create a community.
As influencers engage with their online communities, they are leading the way in this regard. As a result, e-commerce companies are increasingly collaborating with them to market their brands.
This is particularly true for Gen Z, who expect a convenient shopping experience catered to their digital lifestyle.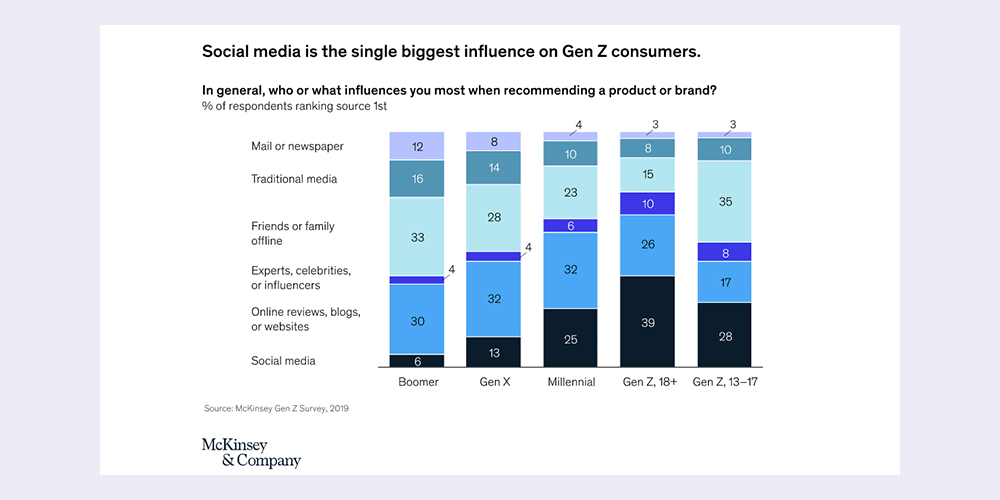 Experts in marketing and retail talked about this topic at Shoptalk, focusing on understanding consumers' preferences and behaviors, and how they shape product and marketing decisions.
Live commerce
Already well-established in Asia, live commerce, also known as live shopping, is now predicted to become more prominent across other regions including Europe. Live commerce enables brands to sell their products online through live video while shoppers interact with them in real time.
The movement has been pioneered by the Chinese retail giant Alibaba in 2016 when they launched Taobao Live, opening a new chapter in retail.
While the Asian market is already advancing quickly in this space, it's important to look at how retailers like Alibaba have managed this innovative approach – they simply linked up an online livestream broadcast with an e-commerce store to allow viewers to watch and shop simultaneously.
Ever since, live commerce has quickly established itself as a key tactic in sales campaigns for key events like Valentine's Day or Singles' Day—major shopping events in China—and, as a reliable way for increasing customer engagement and online sales.
"In 2020, the first 30 minutes of Alibaba's Singles' Day pre-sales campaign on Taobao Live generated an impressive $7.5 billion in total transaction value. Today, the value of the Chinese live commerce market is expected to reach $423 billion in sales by 2022," states McKinsey.
Similarly, Amazon Live is also using the same model through their free live streaming app that's aimed at brands and influencers who want to interact with shoppers in real time.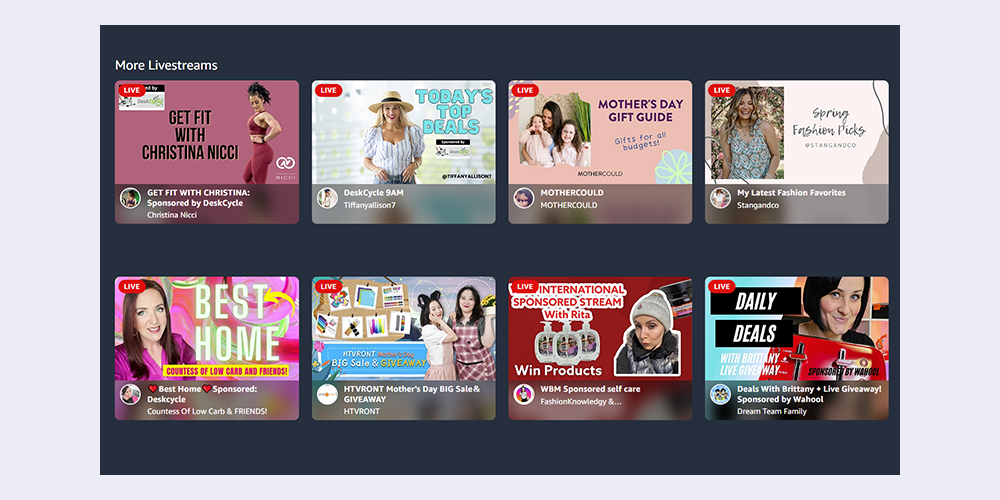 We already know that videos are a key format in the buying process: 96% of users turn to videos to learn more about a product, while 88% of users are convinced to make a purchase after watching a video. Combine that with an influencer or personality with an established community, and you've got yourself an engaged audience for the right market.
If you're keen to experiment with this format, livestream shopping events are already mainstays on platforms like Amazon, TikTok, and Meta.
For instance, in 2020, Walmart streamed their "Holiday Shop-Along Spectacular" on TikTok in collaboration with 10 popular creators. The event had a bigger audience than expected and helped the retailer increase its TikTok follower base by 25%.
What does this mean for other regions in the world?
Tapping into live shopping while continuously using deep learning through social media listening, data analyses, and behavior tracking can really create a new "phygital" experience, where there is no longer just a physical or digital world, but a completely connected one.
The reason why many brands continue to move their marketing budgets in this direction is simple — digital advertising offers a scalable and direct way to reach consumers online.
So as a marketer, you're presented with a challenge: How do you benefit from the reach provided by digital advertising without disrupting your potential customers' shopping experience?
This is why retailers are looking to incorporate even more video content into their marketing and advertising strategies in 2022.
At Shoptalk, Connie Chan, General Partner at Andreessen Horowitz referred to this phenomenon as "Shoptainment," the overlap of videos on social media made to entertain and an opportunity to make a purchase.
On the other hand, Google is also betting big on this trend. Google sees YouTube and Google Shopping as their most important shopping platforms to provide an immersive and seamless shopping experience.
In the future, it's most likely that text ads won't get priority anymore as Google will focus more on putting visual, image, and live video shopping and advertising at the forefront.
The bottom line? As the online consumer journey will get longer and will include more touchpoints, managing this whole journey will be more effective if it's done in a more automatic way.
Trend #2: The cookie-less future is (almost) here
As Google states, cookie tracking has become more and more invasive.
But first, what are cookies, really? According to WIRED, the technology in question is called FLoC, or Federated Learning of Cohorts. It aims to give advertisers a way of targeting ads without exposing details on individual users by grouping people with similar interests together.
Third-party cookies have always been crucial as they serve personalized ads, and retargeting, and enable advertisers to conduct a detailed analysis. While they are not perfect, they offer an easy way to capture usable data. Losing cookies will have massive consequences on audience sizes and targeting ability.
As third-party cookies deprecate in 2023, marketers face many challenges in creating hyper-targeted, measurable digital marketing campaigns.
But retailers are experimenting with how to replace cookies, and there are alternatives outside of Google's Floc.
In the future, Google intends to use artificial intelligence (AI) modeling to understand users, identify the ads with the highest conversion level, and identify which users are the most valuable.
AI modeling, however, requires a lot of information. Google will need more "signals" to identify users and conversions. And the most valuable signals will be each customer's personally identifiable information (PII). This consists of customers' last names, email addresses, and physical addresses.
What does this mean, practically?
A Hubspot article explains: "If someone looks for your product on Google, then clicks on your ad, and goes to your website, Google now has all the information it wants. However, without cookies, it's no longer possible to store the anonymous identifier for that user. If that same user returns to your website later and converts, there's no way to connect the original ad viewed to the conversion."
With Google pushing back the implementation of its privacy changes to 2023, advertisers will have time to start planning and testing alternatives. In general, there seem to be six major alternatives considered by advertisers:
First-party data from other sources such as physical stores, your own website, etc

Location and contextual targeting

Traditional media channels like the TV will play a bigger role

Blockchain

AI technology like building your brand's marketing strategy on proprietary post-purchase question streams
Trend #3: - Creating highly personalized customer experiences
We're heavily experiencing a culture of change for many retailers who've long held a mentality anchored only in brick-and-mortar shops.
As a retailer, you need to create an interwoven journey that's relevant to your target consumer — and define your channel ecosystem, in a way that provides a personalized experience along that journey.
For instance, Care/of, a subscription service that delivers a portable package of high-quality daily vitamins to its customers, has come up with a lifestyle quiz for their customers in which they receive a personalized list of daily vitamins and water-soluble supplements.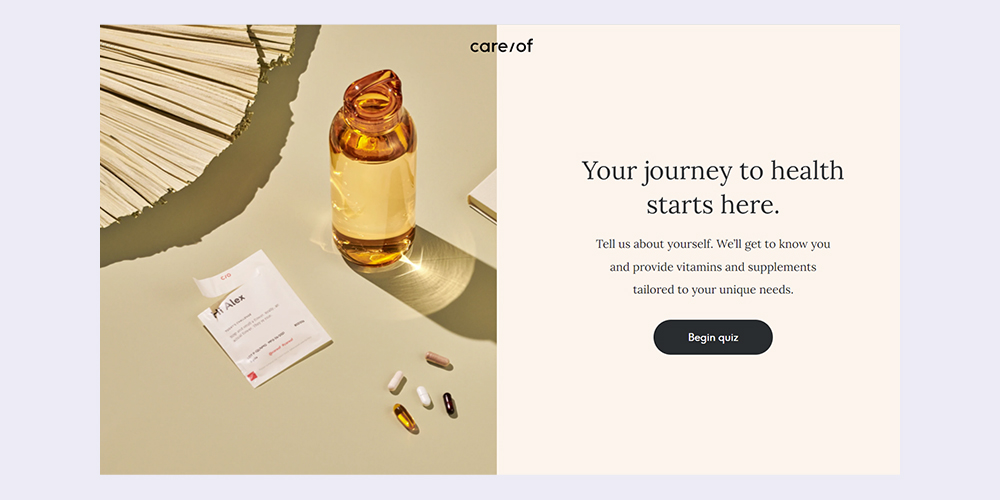 Care/of presents detailed information regarding the reasons behind its vitamins and supplement recommendations in an entertaining, personalized, and engaging way, but the final decision about the consumption amount always stays with the clients.
Start creating personalized experiences that speak directly to your audience – think quizzes, on-site interactions, and other snackable formats – that can help you get to know your audience better and offer them the experiences they want.
Retail media advertising provides a straightforward way to shop, especially when the ads are relevant to consumers' interests and purchase behavior.
Retail media is becoming increasingly relevant today. Not only is it growing rapidly but it's also estimated to account for 25% of all digital spending by 2026 (=$100B). Retail media dollars will be shifted or generated from:
Organic growth in digital ($24B)

A shift from other digital channels (11B)

A general shift in trade ($21B)
Retail media is experiencing significant growth across the US, EMEA, and APAC because it fits perfectly what a retailer wants, what a consumer wants, and what an advertiser wants – all in one package. And for advertisers, retail media also gives access to first-party data owned by the website owner.
Take Walmart, for example. Walmart's retail media network is second only to Amazon's in terms of volume and revenue, with 150 million customers visiting either Walmart or its online portal every week.
According to Walmart Connect, 35% of shoppers research items on their website before buying them in a physical store. Their omnichannel approach, which closes the loop between the app and physical stores, enables brands to accurately attribute in-store conversions to digital campaigns.
Trend #5: - Managing product data is essential
Providing a personalized and localized (visual) shopping experience is key, and social platforms already allow brands to do this. For that, however, managing your product data is important.
Combining different types of data will become highly important to provide a truly personalized and localized experience (e.g product, behavior, and COVID data).
When you start advertising through third parties, such as comparison sites and affiliate networks, you will notice that compared to what you have on your webshop, these platforms require your product information in various formats.
This is why modifying your product feed information to match requirements is key. However, if you want to make use of several third parties, this requires multiple, different product feed configurations. This can become overwhelming so ensure that the product data you manage is always done in an automatic way.
From improving productivity and scalability to reducing mistakes and getting your products to market as soon as possible, being on top of your data will be a key strategic element to look out for this year and beyond.
Takeaways
The dimensions of e-commerce are increasing fast – and implementing these up-and-coming strategies will play a key role in keeping up with this momentum.
Instead of banking on ads alone, leading companies are investing in more interactive activities to create a more engaging relationship with their customers.
At the same time, the consumer journey is no longer linear either – what starts online can end up in-store and the other way around. Therefore, understanding and defining your omnichannel approach will become increasingly vital as we move through 2022 and beyond.
With these strategies, you can start increasing your revenue and retention and impact your brand awareness by always staying top of mind.
Want to create more engaging shopping experiences for your customers and learn the latest strategies in the industry? We're always sharing articles and insights on the blog. Check it out!