Online sales play an increasingly significant role in retail. In 2021, e-commerce accounted for nearly 20 percent of retail sales worldwide. Forecasts show that by 2025, the online segment will make up close to a quarter of total global retail sales. As a result, marketers must use every trick in the book to create exposure and deliver sales across multiple platforms.
But advertising across channels can quickly become impossible to manage manually effectively. The more products you sell, the bigger the problem.
The solution? Introducing feed management into your digital marketing strategy.
What is feed management?
Feed management or product feed management is the process of filtering, enriching, and optimizing product data to sell products on multiple platforms in a seamless way.
Feed management enables you to add additional data to your descriptions so, you can enrich product information and use a rule-based system to filter content easily. You may have heard of feed management described in several ways, including product, shopping, or product feed management. To avoid confusion, they're all the same and do precisely the same thing.
As a result, you benefit from better visibility for your brand, business, products, and services. At the bottom line, it'll boost your ROI and improve your ROAS.
Feed management is a transformative tool to help you achieve your eCommerce goals. Integrating into your overall approach can prove a valuable source of competitive advantage in an increasingly challenging environment.
This in-depth guide explains what feed management is, how to use it, and why it's critical to reach your customers this way. You'll learn how to optimize your digital marketing with feed management.
Feed management beyond the data
Digital marketing is, on paper, a simple process: a user searches for a product or service, sees your ad or product listing, clicks on it, and becomes a customer.
That's the theory, but it doesn't always work out like that in practice.
"When you dig into the data and start running experiments, you quickly learn that effects of online ads are not what you might expect.," says Sinan Aral in the Harvard Business Review
We're becoming conditioned to hate ads, warns Tiffany Hsu in the New York Times It's not because we don't want to buy more stuff. We do. It's because some ads are poorly targeted, full of inaccurate information, incorrectly formatted, or just plain bad.
Every marketer must spend time ensuring each ad is as effective as possible. But when advertising on multiple channels, this can be a huge challenge.
"I see a lot of brands running standard campaigns without much thought and usually with a limited budget on each channel, reducing the reach and impact they can have," says digital marketing expert Kevin Wiles. "They're often working with a limited budget on each channel, reducing the reach and impact they can have." This principle is also true for non-PPC product listings.
That's just the start. If you don't follow the strict rules set out by channel owners, such as Google, they'll pull your ads – creating a huge amount of work to get things right.
"It's worth spending the time going through your merchant feed to fix any violations, any warnings (such as missing GTINs), or anything holding your traffic back," says ​​Tom Jenane, a digital marketer at ethical start-up Natures Health Box
That's not all. If your ads are deemed misleading or fraudulent, you could face legal action. Sure, if you've got a big enough team (and the budget to match) you can manage this yourself. But surely there must be a simpler way?
The solution is feed management – and here's why.
Feed management basics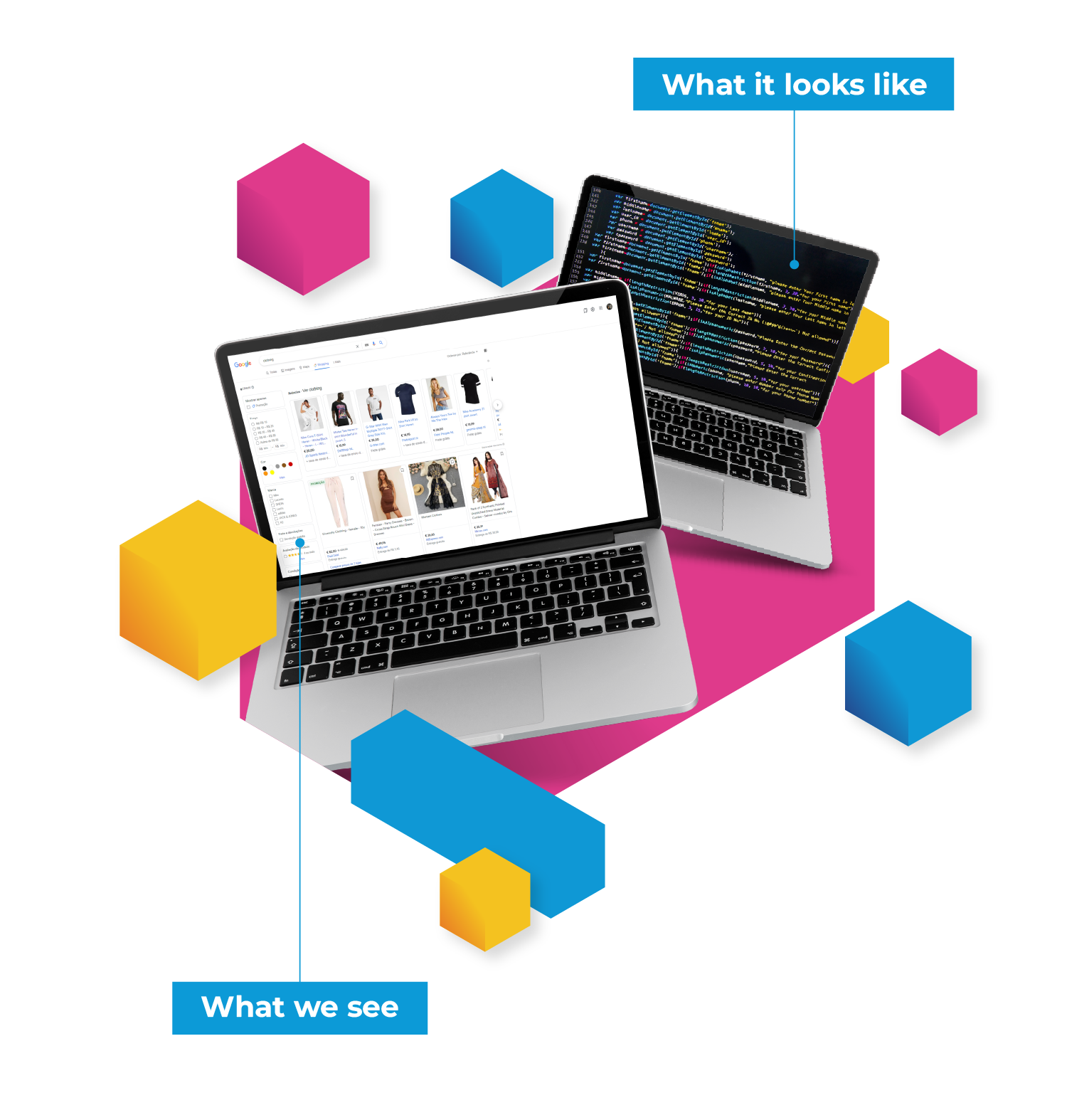 When you start advertising through third parties, such as price comparison sites, marketplaces, or affiliate networks, they'll ask for product information in a specific format.
Let's go back to basics and list some of the essential parts of any digital ad:
Title: Product name
Description: What the product or service is and what it does
Price: How much does it cost
Category: The department or category of the product
Availability: Whether it's in stock or not
Quantity: How many you'll get with each order
Extra information in bullet points: Any key features or selling points for the product or service
Other key attributes: Material, size, color, EAN/GTIN number, and basically any information you want to communicate to the customer about the product
A product feed or data feed is a digital file containing an overview of the products or items you want to advertise online. If you already manage an online shop built on an eCommerce platform like Shopify, Magento, or WooCommerce, it's easy to extract this data file as an XML, CSV, or text file.
In an ideal world, you'd just copy the data across channels. However, in most cases, your product feed won't precisely match what the channel provider wants.
So what do you do? You can manually export your product catalog to various channels, but you'll soon find this becomes impossible to manage. The task gets bigger and more complex the more channels you have.
"Staying true to your brand, maintaining its authority, and keeping your messaging consistent while developing channel-specific creatives that tap into the conventions that drive performance in each channel is a challenge," says Samuli Pehkonen, co-founder of ethical clothing brand New Standard. "It takes deep knowledge of each channel and a lot of resources for creative development to drive cross-channel performance."
Managing multiple ad networks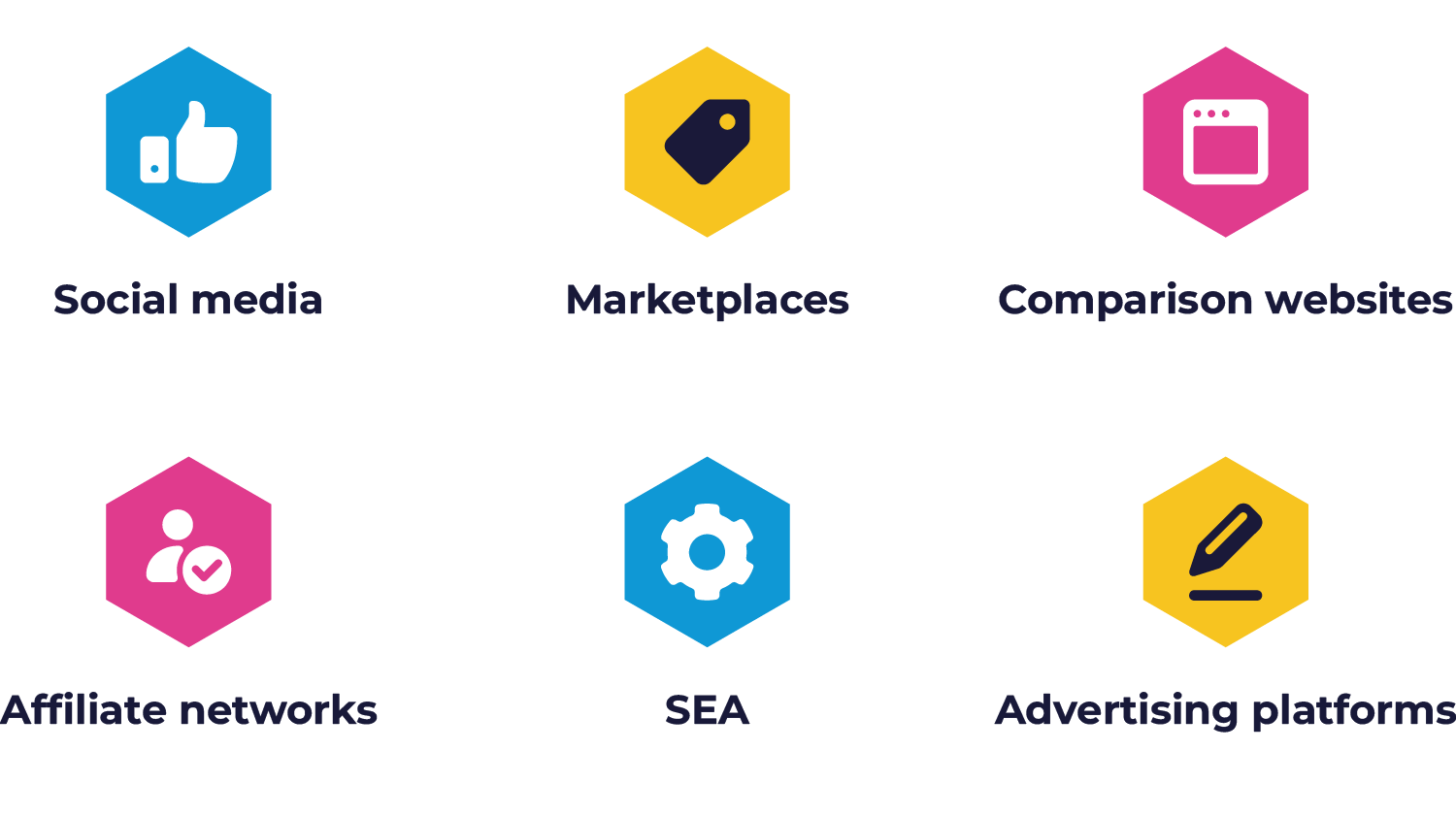 When preparing your ads for different channels, you'll see that each channel (Google Shopping, Facebook, TikTok, etc.) has unique requirements for product feed information.
"Managing large amounts of products over several advertising channels is a huge challenge," says digital marketing expert Ian Spencer. Working with healthcare disruptor Stronger Bones, he's faced with difficult decisions on optimizing ads to compete with some of the UK's largest spenders. "I'm always searching for solutions like feed management that can save time and money while improving ROI and ROAS."
Don't worry; you've already done the hard work when creating your product descriptions and store listings. The key here is to optimize the product information to ensure it meets each channel's precise requirements.
Why? Firstly, doing so will ensure your store listing is displayed correctly and doesn't break any rules. Secondly, the better your product listing, the more likely you will get a click – impacting your CTR.
Three different types of fields for each product feed listing:
Required fields – These are the mandatory fields you'll need to complete for every listing
Optional fields – Additional information that can help your customers understand your product better, including things like product type, price, or delivery information
Custom fields – Some channels enable you to add custom data fields to provide extra information on your product
Here are some quick links to popular advertising channels. You'll find details on the ad specs they need. Dig into the detail and you'll see that there's little commonality among them.
Can you see how confusing it is to manage the complexity?
Feed management tools are online software that takes all the hard work out of optimizing your product data and its listing.
The software is available in the cloud, and it's super simple to use. You just upload your original data file, and it optimizes descriptions to meet the requirements of each channel.
But it's not just about filling a box.
A crucial part of any solution is feed optimization. The more data you provide, the better the channel can understand what you're selling and match your products with visitors' search queries.
"When the number of SKUs is going up, I see a clear need to be able to optimize and administer our product feeds," says Pehkonen. "I'm especially interested in solutions with great data optimization potential when we get there."
Feed management tools enable you to add additional data to your descriptions, enrich product information, and use a rule-based system to filter content easily.
You may have heard of feed management described in several ways, including product, shopping, or product feed management. To avoid confusion, they're all the same and do precisely the same thing.
If you're happy to manually manage, edit and update every product listing you have to meet the requirements of advertisers, then no. For everyone else, especially retailers with a significant amount of SKUs, the answer is yes.
"Usually, different campaigns are put together and rolled out across various channels without a proper strategy," warns Princely Bibi, Senior PPC Specialist at Coast Digital. "Customers usually don't have the right kind of assets required across various channels."
Feed management can fill this gap. The software automates one of the most boring and time-consuming parts of digital marketing. It also reduces manual errors, ensuring that each product listing is active immediately.
Selling online is big business, so many eCommerce companies can have huge numbers of products advertised over multiple channels. Feed management can automate and optimize this process, making it faster and better.
5 reasons why you need feed management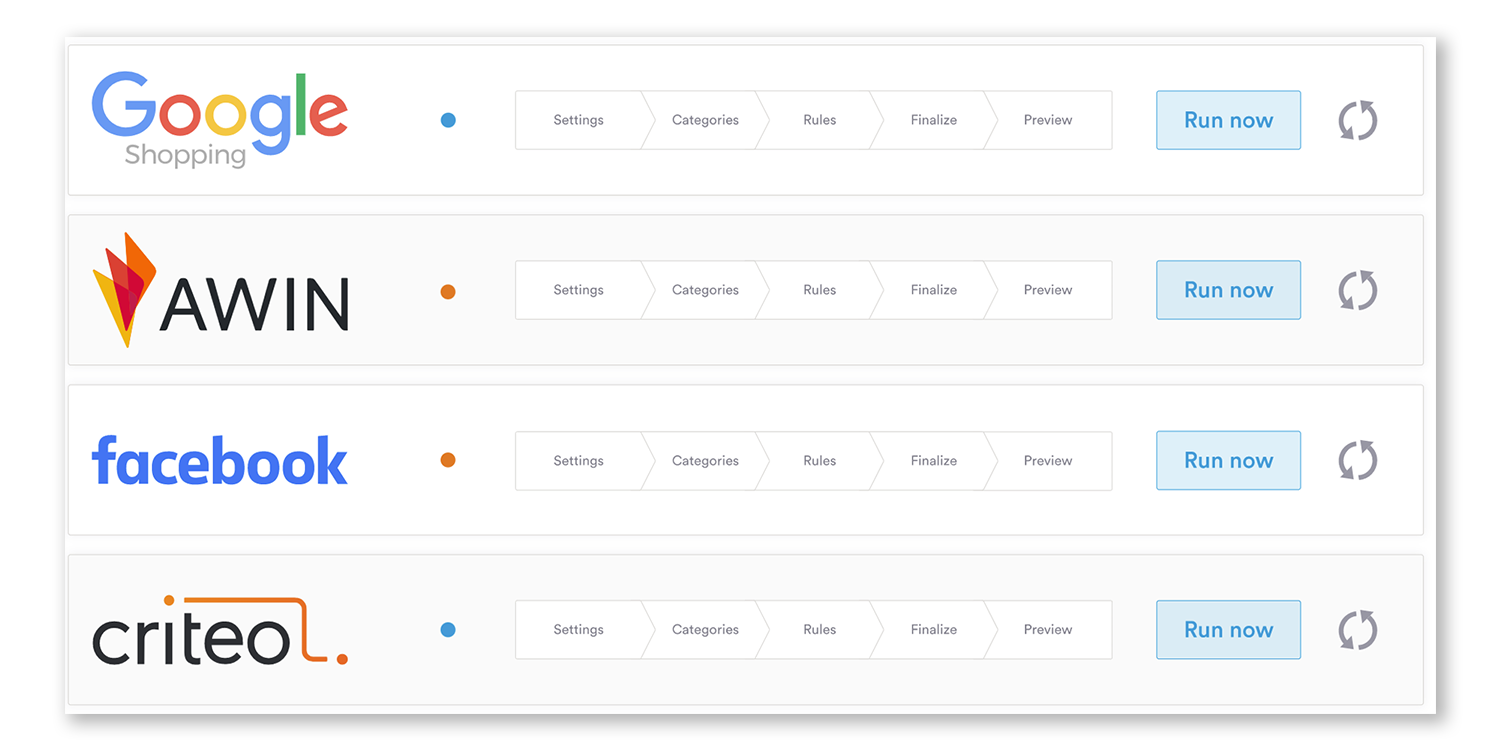 If you're still managing digital ads on each channel individually, here are five issues you could be facing. Are any of these familiar to you?
1. Failing with formats: Every channel has its requirements and policies, and you must meet them all to sell or list your products. If you use your product data feed, listings could be poorly formatted, badly displayed, and inaccurate.
2. Time and money troubles: Without an automated system, you'll have to list your products one by one, which can take a massive amount of time and resources. Do you have the staff or the budget?
3. Stock availability struggles: If your inventory isn't accurately displayed on each channel, you could oversell products. This can lead to disappointed customers and damaging reviews.
4. Problems with portals: You'll need to log in to several seller portals, which can take significant time. The bigger your business and the more products you sell, the greater the resource requirement
5. Data disasters: Manual mistakes in raw data can lead to product listings being rejected, resulting in no sales
Can Channable help me overcome these challenges?
Yes! Channable is designed to make feed management simple, leaving you to focus on the fundamentals of your business.
Thousands of customers use Channable to increase the quality of their data feed, meet the exact needs of all channels and automatically update all product information. The result is a more efficient, effective, and focused organization that enables it to deliver an exceptional customer experience.
There are five key areas in a feed management tool that can optimize your feed management:
Product listing and categorization
Product feed optimization
Data synchronization
Order management
Data governance
Let's look at each in order:
Easy product listing and categorization
Feed management tools enable you to organize your products, matching the categories of the various export channels.
Channable can even generate these categories instantly using the built-in smart categorization functionality. It can help save enormous amounts of time spent setting up new feeds and can maximize your visibility on a channel allowing you to reach more customers.
Powerful feed optimization
Unless you're confident with code, if you want to update your product feed you'll typically need to work with a developer. But not anymore. Feed management tools contain simple "if-then" rules allowing you to control product listings. These will be automatically applied to any new added to your online shop.
This way you can precisely control the flow of products to each export channel and modify all the information at the same time. You should also receive instant feedback after each rule is applied to your product catalog.
Top-quality data feeds
Exporting a high-quality, consistent data feed will increase your online visibility. How? By ensuring the fields you provide are those that are required.
Feed management tools can ensure your listings meet all specifications for channels. The feed management tool stays up-to-date with any changes, refreshing and re-supplying your listings to ensure there's no downtime.
Feeds & APIs
Manually managing stock levels can be time-consuming and tricky, which is why automating it with API connections is a simple solution. APIs provide an automatic and continuous exchange of information between the marketplace and your online shop.
If you're using a feed, you can schedule when you want stock data to be updated. With APIs, you don't need to schedule anything – your product data is synchronized in real-time. Every channel and customer can see what's in stock and what's not, maximizing your sales.
Optimize your feed (or your competitors will)
The automation of online marketing is critical to optimizing productivity. Feed management tools can help businesses of every size – from single stores to those with several warehouses – to manage product catalogs and sales channels.
Even if you're not ready to take the step, your competitors are – and they'll experience the benefits for their businesses.
Channable can help you optimize your product feeds for your targeted channels – enhancing your relationships with customers and improving conversion rates.
Want to know more? Learn how to select a suitable feed management tool with our guide covering How to find the perfect product feed management tool.