To save your budget, we've analyzed the tactics of the best-performing sellers. Some of them are basic, and some are new. Read the article to learn seven ways to increase your store visibility and revenue on top marketplaces!
1. Check if your products match a chosen marketplace
It would be challenging for a handcraft products reseller to succeed on Newegg. That's because each marketplace has a different audience, products, and rules. For example:
Etsy is a place for vintage and handcrafted products.

eBay is best for selling refurbished or used items.

Newegg is perfect for tech.
So, make sure you start at the right place. Here is a short guide for you on how to choose a marketplace that matches your products:
Do you sell to businesses or consumers? Depending on that, you may need features like bulk orders or quantity discounts.

The products you sell are new or used?

Where are your competitors? Think about a general product category, but not your competitors' names.

Compare the fee structure of different marketplaces. Is there a listing fee? Do you have to pay a percentage of the final sale price? Do they offer discounts to professional merchants?

Compare the logistics and seller support services.

Does a chosen marketplace have a good reputation?

What kind of security does it provide?
Test them to find out what works best for you.
2. Keep your pricing up to date
Pricing isn't a decision you only get to make once, especially in the marketplace. Whether you have a cost-plus, competitors', or value-based model, it needs regular updates to stay competitive. For instance, Black Friday SaaS deals or Amazon prices change every 15 minutes.
So, here is a list of factors to consider during your following research before repricing:
Your product's value and a business's total operating cost.

The revenue target you have set.

How much your buyer personas can spend on your products?

Your brand positioning. Do you belong to the premium segment?

Does your product or service have enough market demand at the price point you're aiming for?

Pricing of competitors.

Trends in the market.
That sounds like a lot of work. Good to know that marketplaces allow businesses to adjust their prices automatically based on algorithms and machine learning, taking competitor pricing into account.
While it isn't designed for every business, there are many companies that can benefit from it. Sure thing, there are third-party services to automate your pricing updates.
3. Optimize product page content
Product info is a vital element of your store's success. Just imagine a champagne lover who would purchase this sweater: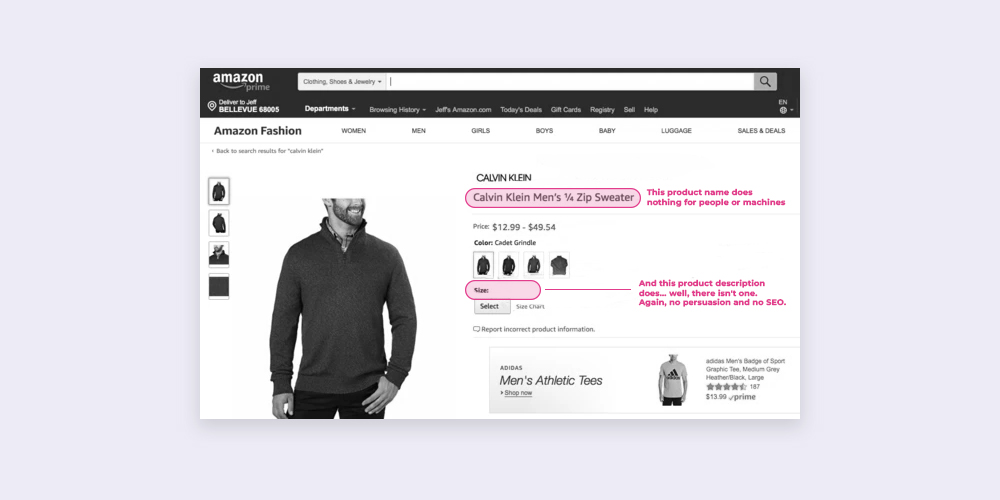 The sweater material and size are a mystery since there's no description.
We're sure your products have great content. But there is always room for improvement. Thus, here are expert tips to make it even better:
Does your Call-To-Action button sound clear?

Are your product photos high-quality?

Do they fit a product description?

Do they highlight the essential parts of a product from multiple angles?

Can your shoppers zoom product photos?

Do you link photos to product variants (scents, colors, etc.?)

Do you provide all possible details of your product materials, origins, features, etc.?

Is your product page well-branded? In addition to logo and graphics, consider your copy tone of voice.

Do you highlight the value of your product for customers? What is the problem it solves?

Is your copy easy to read? Does it have long paragraphs or cliche?

Do you have an FAQ section?

Are there any social proofs on your product page? It is about customer testimonials with photos from Facebook, Instagram, or Twitter.
There are basics of how you can improve your product page. Check if your product page meets them.
4. Provide Superb Customer Service
81% of consumers say a positive customer service experience increases their chances of making another purchase. Ensure you meet their expectations:
Opportunity to contact you on the preferable channel: socials, live chat, email, etc.

Reply within four hours to email, and even less on other channels.

Both self-service and human support opportunities. So provide FAQs, a Q&A section, help articles, IVR system as well as a live chat or a phone number to support shoppers.

Meeting the mentioned shipping deadlines.
Some marketplaces even publish customer support guidance to help their sellers. Here's Walmart's example, but you can follow them on your marketplace too:
| | |
| --- | --- |
| DO | DON'T |
| Reply to customer queries within two days, including weekends. (It depends on the marketplace.) | Sound robotic. Personalize your messages to a human-like conversation. . |
| Listen to customers, and show that you care when solving their issues. | Overpromise, or mislead. |
| Use ready-made templates to reply faster. Check your grammar. | Provide customers with inaccurate contact data. |
| Check your spam folder. | Ignore the marketplace message center. |
In addition, look through your marketplace guidance. It can include specific requirements.
5. Offer payment methods according to a region's preference
E-store visitors are more likely to go through with their purchase if they can pay using the preferred method. Just look at the list of BestBuy options: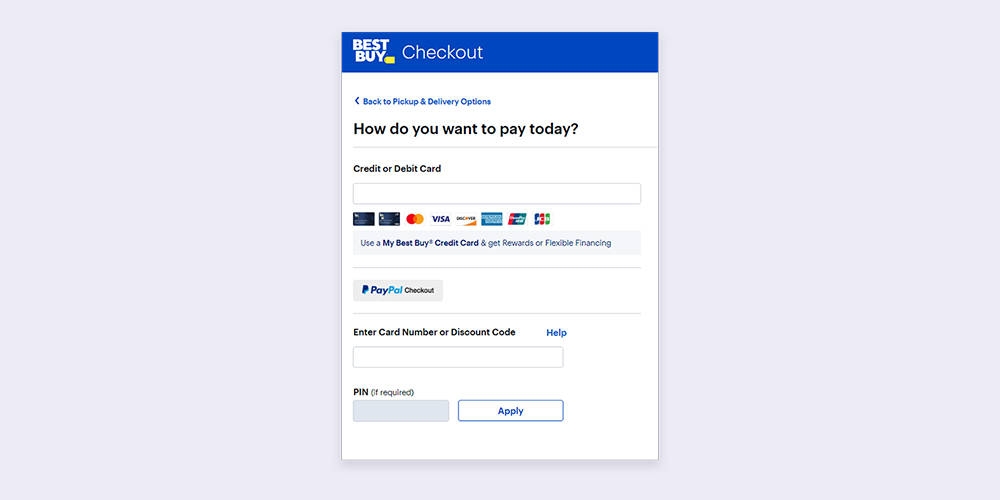 There are debt and credit cards next to the PayPal system.
Now check if your consumers can make payments in the way they prefer. For example, maybe you provide only a debit/credit card option when they use Apple Pay mostly.
It is easy. Analyze your customer base shipping addresses and combine that info with regional payment systems preferences stats. For example:

Supporting payment methods aligned with shoppers' preferences is extremely important when you sell globally. Good to know, marketplaces provide you with the relevant info automatically.
6. Categorize products
Take a look at these sleeping bag categories. There are filling and shape ones that should be in the filters list instead.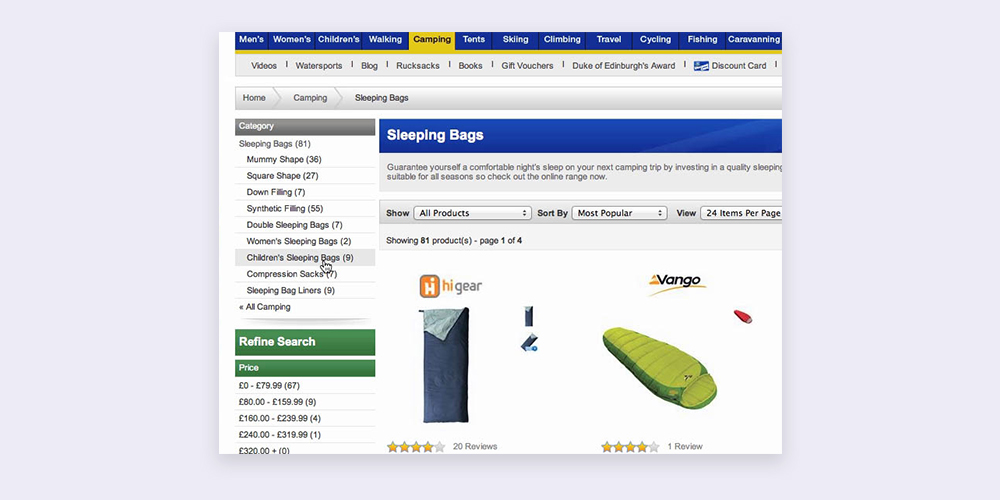 Such an over-categorization led to an 80% site abandonment rate.
This is only one of the categorization issues that may influence your sales. So, check if your taxonomy works at the best possible level. Here are some tips to help you:
Avoid duplicated categories like "sports" and "athletic" apparel.

Automate your product attributes organization to prevent category misidentification.

Rethink your hierarchy structure if your main product categories exceed 15.

Implement geo-categorization if there are locations you don't ship some products to.

Guide shoppers with a product quiz.
Sure thing, you can check it all manually. But if there are thousands of items in your store? Good to know there are automated product categorization solutions with up to 97% accuracy to help you.
7. Provide an opportunity to buy directly from any socials
The easier it is to buy your products, the more sales you have. What is more, it is one of the most effective lead generation strategies as a big number of users are active on social media these days. That's why businesses tend to shorten the sales cycle.
One of the best ways to do that on a marketplace is by integrating it with your socials and providing shoppable content. Here is how it looks: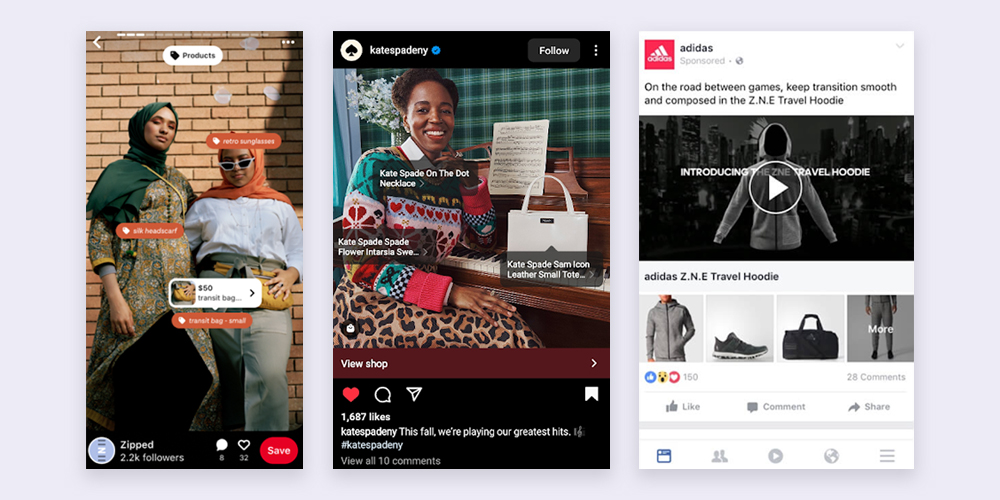 The tap on the Pinterest story or Instagram post will show a link to a marketplace product page. In addition to the mentioned platforms, such a feature is available on Facebook, Snapchat, and YouTube.
Final Words
The digital landscape of online marketplaces can seem threatening to new sellers. However, with just a few tips and tricks incorporated, you can add value and get quality sales at launch.
It's just a matter of assessing your needs. Then, you can efficiently drive promotions and marketing campaigns on social media to increase sales.