Why Do Customers Choose Competitors' Products Over Yours, Despite the Better Value for Money?
You run an online shop, and since you are conversant with e-commerce trends, you have chosen to send your products to online marketplaces to expand your customer base.
You put a lot of effort into putting things up, and your products have been listed on Amazon or Google Shopping for a while now, but you're starting to feel disappointed by the number of orders you're receiving. It's annoying.
Why do customers choose your competitors' products over yours, despite yours offering better value for money?
Let's see what could be the source of the problem:
1- Your Products Are Not Well Categorized
Your women's jeans will not sell if placed in the kid's caps category because the right customers are not seeing them. Plus, if a consumer still chooses to click on them, you'll have to pay for a pointless click.
2- You Are Exporting Every Single Product
Less can sometimes be more. Your conversion rate will increase if you only submit 150 of your best-performing products to marketplaces rather than all 1,200 of them (half of which you've never sold). Reduce the number of ineffective CPCs by concentrating on the products that have the best chance of selling.
3- Your Shipping Costs Are Too High
In an atmosphere where e-commerce is becoming increasingly competitive, merchants are fighting to offer the best service possible to draw online customers. Potential customers will slip through your fingers if you provide the same item at the same price as your competitors but charge extra for delivery.
4- Your Products' Titles and Descriptions Are Not Optimized
You lowered the price of your Dr. Martens shoes from €170 to only €110 two weeks ago, yet sales are still not growing? Online customers are really into discounts, so why don't they seize the opportunity?
In this instance, you may have optimized the title or description of your product improperly. The length of the title is crucial, as is the selection of the appropriate keywords. Choose your keywords wisely, then use them in your titles and descriptions.
So how can you make this better?
Now that we've discussed the potential causes of the decline in sales of your products, all that's left for us to do is provide you with a solution!
To save your budget, we've analyzed the tactics of the best-performing sellers. Some of them are basic, and some are new. Read the article to learn seven ways to increase your store visibility and revenue on top marketplaces!
12 Strategies to Optimize Your Marketplace Sales in 2023
1. Check if your products match a chosen marketplace
It would be challenging for a handcraft products reseller to succeed on Newegg. That's because each marketplace has a different audience, products, and rules. For example:
Etsy is a place for vintage and handcrafted products.

eBay is best for selling refurbished or used items.

Newegg is perfect for tech.
So, make sure you start at the right place. Here is a short guide for you on how to choose a marketplace that matches your products:
Do you sell to businesses or consumers? Depending on that, you may need features like bulk orders or quantity discounts.

The products you sell are new or used?

Where are your competitors? Think about a general product category, but not your competitors' names.

Compare the fee structure of different marketplaces. Is there a listing fee? Do you have to pay a percentage of the final sale price? Do they offer discounts to professional merchants?

Compare the logistics and seller support services.

Does a chosen marketplace have a good reputation?

What kind of security does it provide?
Test them to find out what works best for you.
2. Keep your pricing up to date
Pricing isn't a decision you only get to make once, especially in the marketplace. Whether you have a cost-plus, competitors', or value-based model, it needs regular updates to stay competitive. For instance, Black Friday SaaS deals or Amazon prices change every 15 minutes.
So, here is a list of factors to consider during your following research before repricing:
Your product's value and a business's total operating cost.

The revenue target you have set.

How much your buyer personas can spend on your products?

Your brand positioning. Do you belong to the premium segment?

Does your product or service have enough market demand at the price point you're aiming for?

Pricing of competitors.

Trends in the market.
That sounds like a lot of work. Good to know that marketplaces allow businesses to adjust their prices automatically based on algorithms and machine learning, taking competitor pricing into account.
While it isn't designed for every business, there are many companies that can benefit from it. Sure thing, there are third-party services to automate your pricing updates.
3. Optimize product page content
Product info is a vital element of your store's success. Just imagine a champagne lover who would purchase this sweater: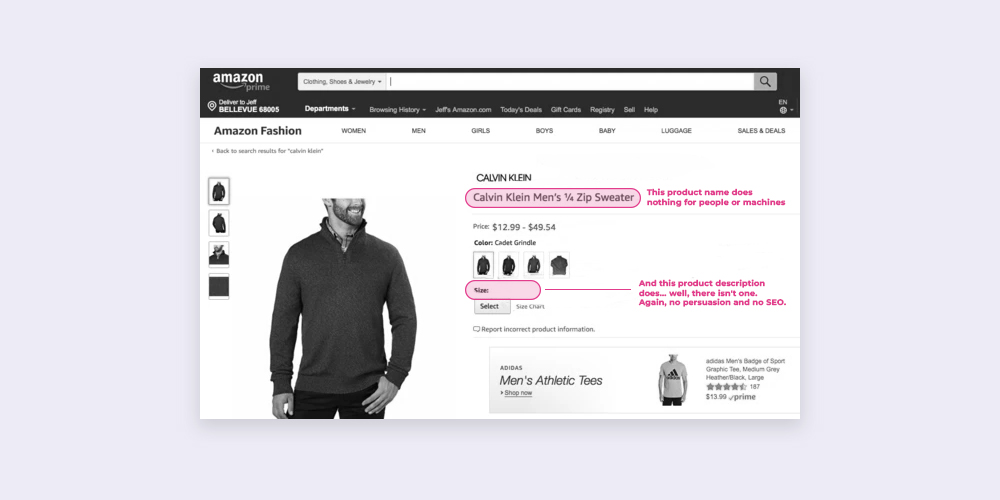 The sweater material and size are a mystery since there's no description.
We're sure your products have great content. But there is always room for improvement. Thus, here are expert tips to make it even better:
Does your Call-To-Action button sound clear?

Are your product photos high-quality?

Do they fit a product description?

Do they highlight the essential parts of a product from multiple angles?

Can your shoppers zoom product photos?

Do you link photos to product variants (scents, colors, etc.?)

Do you provide all possible details of your product materials, origins, features, etc.?

Is your product page well-branded? In addition to logo and graphics, consider your copy tone of voice.

Do you highlight the value of your product for customers? What is the problem it solves?

Is your copy easy to read? Does it have long paragraphs or cliche?

Do you have an FAQ section?

Are there any social proofs on your product page? It is about customer testimonials with photos from Facebook, Instagram, or Twitter.
There are basics of how you can improve your product page. Check if your product page meets them.
4. Provide Superb Customer Service
81% of consumers say a positive customer service experience increases their chances of making another purchase. Ensure you meet their expectations:
Opportunity to contact you on the preferable channel: socials, live chat, email, etc.

Reply within four hours to email, and even less on other channels.

Both self-service and human support opportunities. So provide FAQs, a Q&A section, help articles, IVR system as well as a live chat or a phone number to support shoppers.

Meeting the mentioned shipping deadlines.
Some marketplaces even publish customer support guidance to help their sellers. Here's Walmart's example, but you can follow them on your marketplace too:
| | |
| --- | --- |
| DO | DON'T |
| Reply to customer queries within two days, including weekends. (It depends on the marketplace.) | Sound robotic. Personalize your messages to a human-like conversation. . |
| Listen to customers, and show that you care when solving their issues. | Overpromise, or mislead. |
| Use ready-made templates to reply faster. Check your grammar. | Provide customers with inaccurate contact data. |
| Check your spam folder. | Ignore the marketplace message center. |
In addition, look through your marketplace guidance. It can include specific requirements.
5. Offer payment methods according to a region's preference
E-store visitors are more likely to go through with their purchase if they can pay using the preferred method. Just look at the list of BestBuy options:


There are debt and credit cards next to the PayPal system.
Now check if your consumers can make payments in the way they prefer. For example, maybe you provide only a debit/credit card option when they use Apple Pay mostly.
It is easy. Analyze your customer base shipping addresses and combine that info with regional payment systems preferences stats. For example: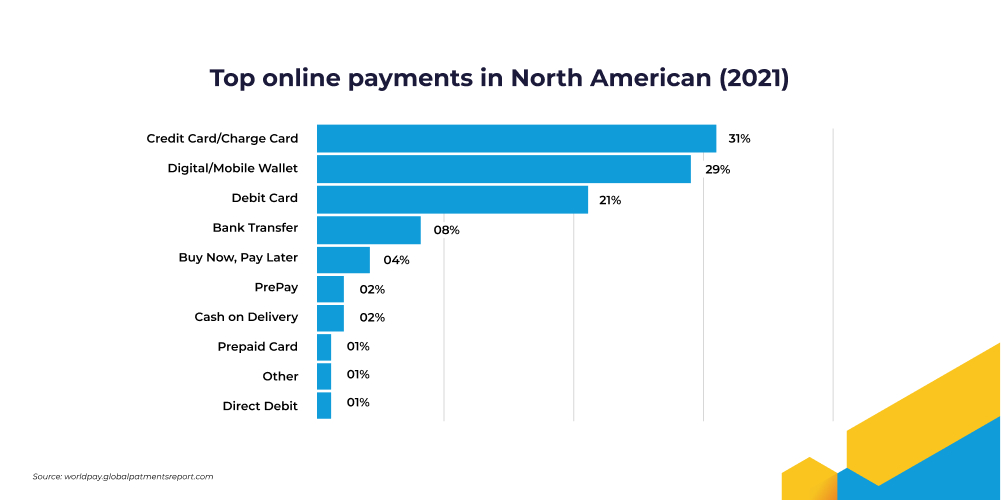 Supporting payment methods aligned with shoppers' preferences is extremely important when you sell globally. Good to know, marketplaces provide you with the relevant info automatically.
6. Categorize products
Take a look at these sleeping bag categories. There are filling and shape ones that should be in the filters list instead.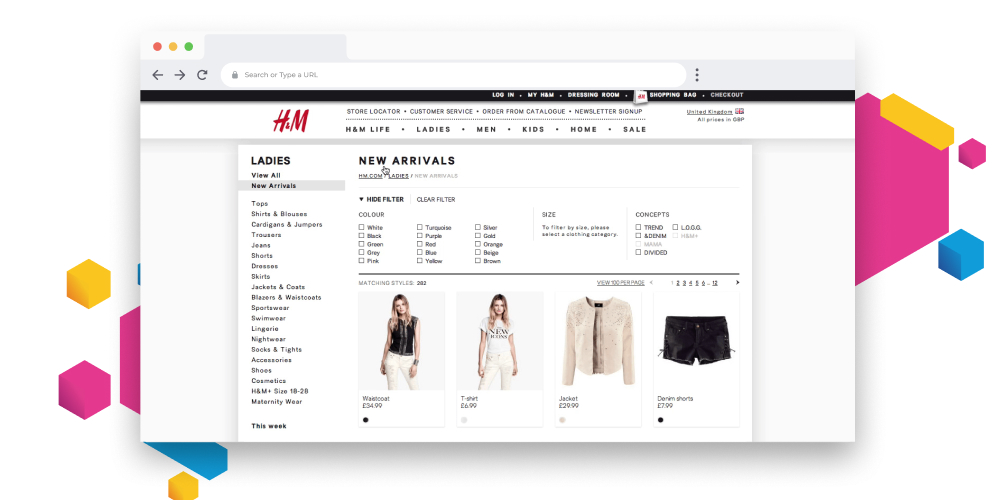 Such an over-categorization led to an 80% site abandonment rate.
This is only one of the categorization issues that may influence your sales. So, check if your taxonomy works at the best possible level. Here are some tips to help you:
Avoid duplicated categories like "sports" and "athletic" apparel.

Automate your product attributes organization to prevent category misidentification.

Rethink your hierarchy structure if your main product categories exceed 15.

Implement geo-categorization if there are locations you don't ship some products to.

Guide shoppers with a product quiz.
Sure thing, you can check it all manually. But if there are thousands of items in your store? Good to know there are automated product categorization solutions with up to 97% accuracy to help you.
7. Provide an opportunity to buy directly from any socials
The easier it is to buy your products, the more sales you have. What is more, it is one of the most effective lead generation strategies as a big number of users are active on social media these days. That's why businesses tend to shorten the sales cycle.
One of the best ways to do that on a marketplace is by integrating it with your socials and providing shoppable content. Here is how it looks: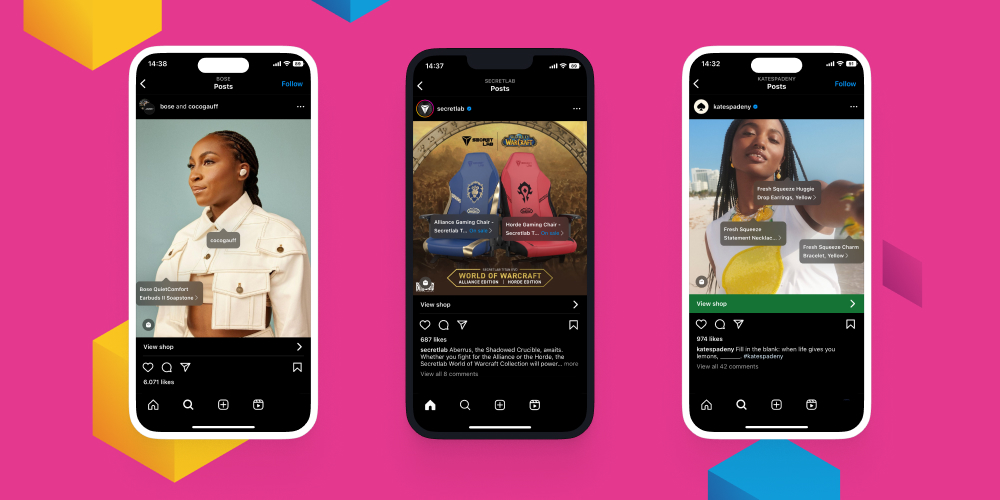 The tap on the Pinterest story or Instagram post will show a link to a marketplace product page. In addition to the mentioned platforms, such a feature is available on Facebook, Snapchat, and YouTube.
8. Get More Client Testimonials
On most marketplaces, positive reviews significantly impact rankings and can quickly move your products to the top of the search results. Encourage your customers to post thorough, positive thoughts that contain images or videos of them using your products if you want to enhance your marketplace sales.
Your online store's sales are highly dependent on reviews. According to studies, 77% of consumers regularly read reviews while looking for things online, and 49% of consumers say they trust online reviews as much as recommendations from their friends and social network connections.
Customers are more inclined to choose the product with more favorable ratings when presented with two identical products.
So how can you replicate it?
Manually ask each customer to provide a review. Most marketplaces let you ask for reviews via a specific review button (like Amazon) or by contacting the customer directly.
If your subscribers have purchased your products, send them emails requesting them to post reviews.
Send each product with a handwritten review request.
The majority of markets don't let you incentivize reviews. However, you may still encourage your customers to share their insights, particularly if you thank them personally and offer an outstanding customer service experience.
9. Perfect Your Branding
There are millions of merchants on Amazon, Walmart, and other major online marketplaces, all of which are vying to be the best.
So how can you persuade a typical online shopper that you're unique, trustworthy, and deserving of their business?
By providing a unique brand experience, communicating your brand values, and luring the right clients.
What makes it effective?
According to a recent study commissioned by Google Cloud, 82% of consumers prefer to patronize businesses that share their fundamental values. Additionally, 39% of consumers said they would boycott their favorite brands if their values conflicted.
For this reason, e-commerce marketplaces allow vendors to develop a unique brand experience.
10. Create Content to Attract Visitors
A marketplace is a rented space; you don't own its inventory.
Therefore, your marketplace approach should concentrate on developing the content you can use to attract traffic to your products to ensure the lowest possible fluctuation in your e-commerce sales.
And why does it work?
The platform's search algorithms and paid advertising are how most e-commerce marketplace sellers generate sales.
This strategy is effective as long as your products appear for the right keywords and draw organic traffic. But the instant your rankings go down, you have nothing to fall back on.
Therefore, share information that is valuable, actionable, high-quality, relevant to your target market, and optimized for search engines.
This content will be hosted on your website's blog rather than the marketplace where your products are offered for sale.
But what do you stand to gain?
According to Conductor's investigation:
After reading an informative blog post from a company, consumers are 131% more likely to make an immediate purchase from that company.
People have a 74% greater sense of optimism after reading a brand's educational content.
But that's not all.
Your brand will become more well-known thanks to the traffic that content marketing helps you generate from organic search results, which can then be directed to your product pages on various marketplaces to boost sales.
11. Filter Your Relevant Products
Less can sometimes be more. You can improve your conversion rate and prevent "shelf-warmers" by sending only your best-selling products to marketplaces rather than your whole inventory. Reduce the number of ineffective CPCs by concentrating on the goods with the best probability of succeeding.
Using Channable's automatic criteria, it is possible to eliminate seasonal products that should only be added during a specific time period, marginal sizes, and less popular versions.
When you incorporate analytics data into your feed management solution, it becomes much easier to define the products that actually belong in your marketplace product catalog. User sessions, transactions, conversion rate, bounce rate, and revenue per item are all visible at a glance. For example, this is how item-level performance is visualized within Channable: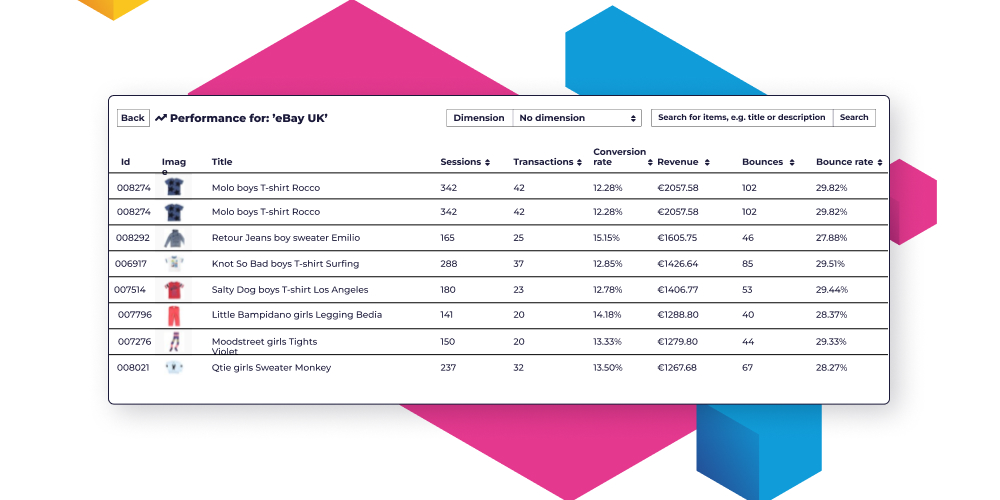 Even large and dynamic product catalogs can be maintained and managed based on item performance with the help of rules based on analytics data. Knowing an item's performance helps you actively incorporate data insights into your business operations. The rule in the example below adds the static text "Top seller!" to any product title with a defined revenue of more than 1000 euros.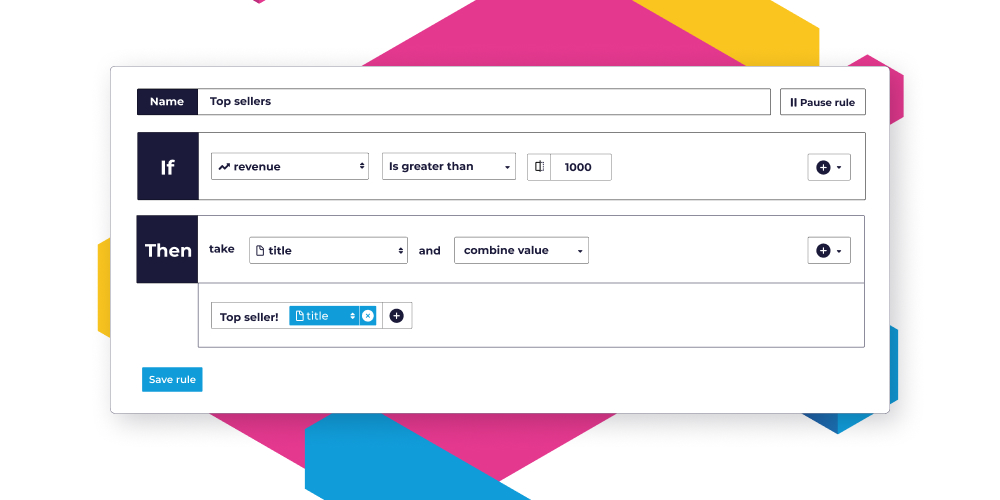 The second performance-based rule example shows how you can easily exclude any products from your marketplace export that have conversion rates that you deem to be (too) low.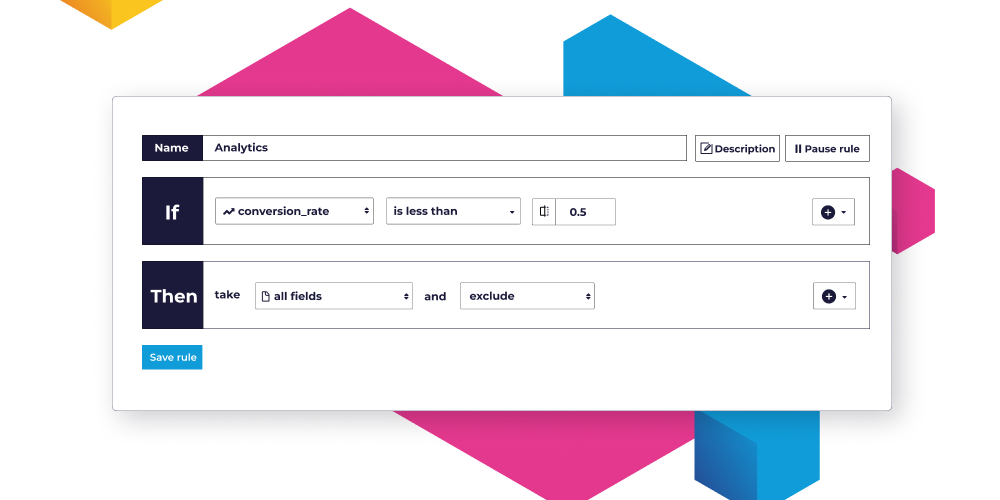 12. Synchronize Your Data
Instead of wasting time manually managing orders and updating stock levels, sync order data from numerous marketplaces to the backend of your online store. Real-time stock adjustments will be pushed to some markets and platforms, and shipping information will automatically be updated.
By integrating your eCommerce platform (such as Shopify) into Channable, you can automatically manage your inventory across channels and make sure that your products are accurately and timely listed on your eCommerce marketplaces. All orders may be controlled from your eCommerce platform once your data has been optimized and the marketplaces have been connected within the feed management tool.
Say goodbye to copying and pasting, and welcome to receiving order information instantly!
So how can you improve all of this?
Now that we've been through the possible reasons for the lack of sales of your products, all that's left for us to do is provide you with a solution!
A data feed manager is a complex name given to a very simple solution. This online tool allows you to import the products from your online store and resolve all of the above-mentioned aspects in a single place. As its name suggests, the tool works with data feeds, meaning it imports the product catalog of your website.
Once your products are imported, you will be able to categorize them, optimize their title and description, adjust their shipping cost, exclude some products, and much more. All of this can be done by creating straightforward 'if/then' rules, such as, for instance, "if stock is lower than 2, then exclude product". Once you've selected and optimized your articles, you will be able to directly send them to the platforms of your choice.
Are you ready to boost your online sales? Then start your free trial now! Our technical team would be happy to help you set up your first feed, all for free!
Final Words
There are ways to increase sales on marketplaces, stand out, and boost conversions in a highly competitive retail environment.
Are you ready to increase sales on marketplaces?
Channable is here to help.
You can easily manage and optimize your product feeds by using our product feed management tool. More than 2500 connected advertising platforms are available, or you can make your own custom feeds.
What are you waiting for?
Start your free trial now! Our technical team would be happy to help you set up your first feed, all for free!