test
Product categorization - creating virtual aisles for your online customers on your ecommerce marketplace.
Most consumers coming to your websites have their expectations set by leading marketplaces like Amazon and eBay.
Even with 1.9 billion businesses on Amazon, customers complete 28% of Amazon purchases in three minutes or less. One of the major reasons?
Their product category tree. Amazon has listed their primary, secondary, and tertiary categories in the form of a tree, branching them according to their specificity.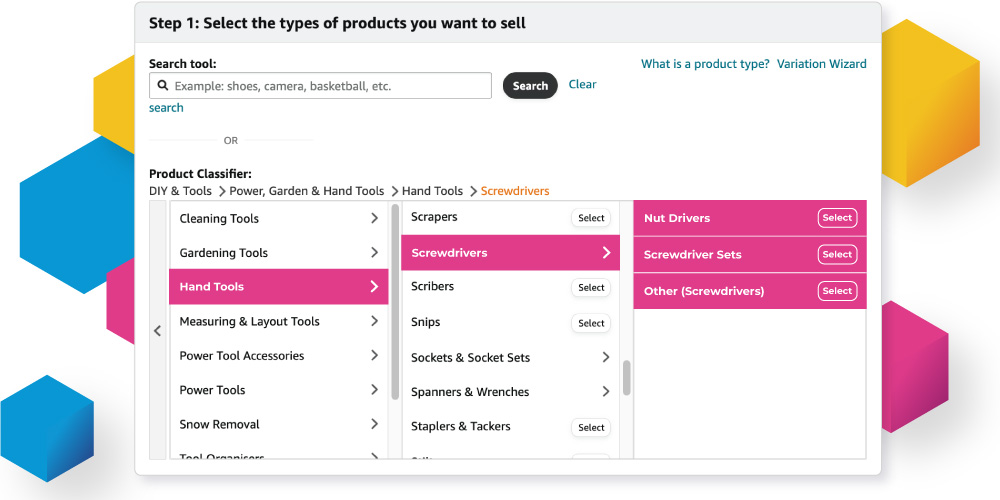 This results in easier navigation for customers, which in turn boosts sales and conversions.
However, research suggests that 90% of ecommerce businesses don't actively address proper product categorization. If that's you, read on.
In this article we'll discuss what exactly is product categorization and how you can improve it. Let's dive in.
What is product categorization?
Product categorization, also known as product taxonomy, is organizing products into specific, hierarchical categories.
Just like you walk in a physical store and browse through different aisles in search of a specific product, product categorization allows online marketplaces to create virtual aisles to help customers find what they're looking for.
The better your product categories, the easier (and faster) it is for potential customers to find what they're looking for and put it in the cart.
Dr Jart+, for example, knows their customers inside out and that has helped them create a highly targeted menu. They've categorized their products in 3 distinct ways to help customers find their desired products with ease.
4 reasons why product categorization is essential for your marketplace
A customer is searching for the right pair of court shoes. They land on your website and click on 'Shoes' in the navigation menu. Under shoes, there's only one option, 'Women Shoes', so they click on that and scroll through pages full of different types of shoes in search of court shoes.
Unable to find what they're looking for, they click the x button before you can scream 'Stop'.
This is one of the reasons why the traffic you're driving to your website isn't converting.
Along with higher conversion rates, there are several other benefits of categorizing your products on your marketplace.
Improves user experience
Your online marketplace is where customers come to shop. The better their experience, the more they'll shop from you and the longer time they'll stay on your website and social feeds.
Studies show that if you're not making it easy for customers to navigate your website, you're missing out on 35% of your sales. Correctly categorizing your products into distinct categories improves your marketplace's overall UX, increases your sales, and boosts customer retention.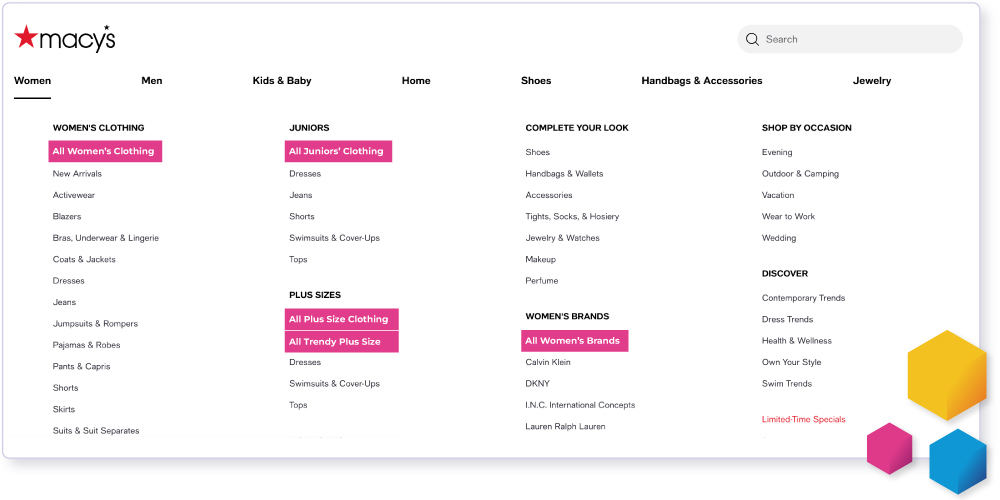 Notice how has not only neatly added all sub-categories in their menu, but under each category the first sub-category is 'All Kitchen', 'All Bath', etc. If users don't find what they're looking for in the sub-category, they have the option to click on 'All products', too.
Increases search engine rankings
Your number 1 goal?
Higher search rankings for your online web shop. Because the higher you rank on Google, the more traffic (and conversions) you get.
This is where product categorization comes in. It allows Google to crawl your site and index pages faster.
As Tank's Senior User Experience Designer, Hilary Basch, explains,* "Being specific in your navigation encourages Google to route searches to your website."*
Having multiple distinct product category pages also helps you rank for long-tail and short-tail keywords which aids SEO.
Allows you to make data-driven decisions
Categorizing products gives you an insight on what's working and what isn't.
Which products are making more sales and which ones are tanking?

What percentage of users go from Category page to Checkout?

How many of them do not navigate beyond the first page of product search results?

Which categories are performing well and which ones aren't getting clicked on?
Armed with this data, you can test for small issues in your website that are tanking sales. You can,
Test website architecture such as placement of categories and subcategories on your website,

Switch up the Sort and Filter list on your Products page from New Arrivals to Best Sellers or Relevance,

Experiment with an infinite scroll and see if that helps to increase conversion rates.
Improves your operational procedures
From helping your teams quickly answer customer queries to managing and streamlining inventory distribution across your marketplace, product categorization can massively improve your operational processes.
5 Easy ways to improve ecommerce product categorization for the marketplace
Product categorization can be challenging. While one product may fall into multiple categories, some super-specific products may fall into no category. Manually categorizing ecommerce products on different sales channels is also a time-consuming process.
So how do you improve and optimize this process?
Work on your product attributes
Start off this process by listing down the product attributes (tangible and intangible, both) of all your products. Some examples include,
Brown faux leather jacket

Large square rattan dining table

Organic plant-based protein almond milk
This makes it easier for you to correctly categorize your products and helps customers to shop from your online marketplace effortlessly.
Once you've listed them all, start categorizing your products accordingly. Some tips to keep in mind:
If you have more than 12 main categories, rethink your hierarchical structure and reduce them to 8 to 10. The more categories you have in your main menu, the more confusing it may get for your customers.

Avoid duplicating your product attributes, categories, and sub-categories. For example, skin-care and face products are both the same.

When working on your website's product menu, don't forget to create a visually appealing interface to ensure a smooth customer experience.

Avoid over-categorization of your products by being too specific about their attributes.
Steal from competitors and leading marketplaces in your niche
Next, take a look at your competitors and popular marketplaces in your industry and observe how they categorize their products. Chances are they've done their research and know exactly which categories to list and where in the menu.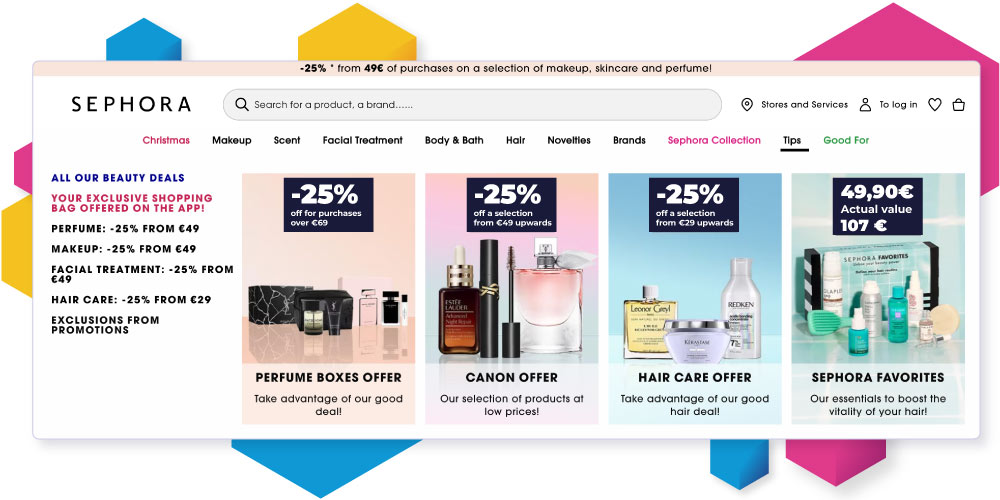 For example, if you're in the beauty industry, look at how Sephora has added multiple sub-categories under their Gifts category.
Adding a price sub-category under Gifts shows that their customers look for differently priced gifts on this website. You can emulate this on your own marketplace, too.
Prioritize mobile optimization
Your product categories will not increase your marketplace conversions if they're not optimized for mobile devices.
With mobile shopping sales forecasted to reach over 700 billion dollars by 2025, creating the best mobile experience for your customers is critical. So make sure your navigation menu, your product hierarchy, and different product categories are fully optimized for mobile.
Regularly update and expand your product categories according to user behavior
Take a look at your customer's behaviors.
Are certain products not getting clicked on despite being well in demand?
Are people searching for categories and subcategories on Google that don't exist on your website yet?
Can you fit your existing products into trending product categories?
Keep a close eye on evolving trends in your industry and user intent. Add new product categories, update products into more specific or trending sub-categories, and create seasonal categories to highlight holiday seasons.
Test and optimize
How do you find out if your current product categorization system is getting you maximum conversions and sales? By testing it.
Evaluate the performance of your product categorization system and find out areas you can improve.
Analyze the following metrics to get a deeper understanding of which product category is most popular, and which ones aren't getting clicked on.
Click-through-rate
Time spent on each category page
Bounce rate
Category Traffic
Once you've identified categories that aren't performing as well as others, test the following,
Different placements in the navigation menu,
Product category name
Amount of products in each category
Amount of sub-categories in each category
Loading time of category pages
Use smart categorization to automatically categorize all your products
Instead of manually categorizing all your products (even the thought feels exhausting), use a platform like Channable that automatically categorizes thousands of products on all your different sales channels within a couple of minutes.
A feed management tool like Channable guarantees that your products will appear in the right category of each export channel you are using to sell online. You can see the number of products that are included in each category and you can even check which products, in particular, have been included.
The best part?
Best customer support team ever. All queries (whether tiny or massive) will be solved within seconds to ensure you have a smooth experience with categorizing your products and keeping your feeds up-to-date!
Ecommerce product categorization is critical for marketplaces
You want more sales. Your potential customer wants to buy from you. Both things can only happen if you provide a frictionless online shopping experience for your customer.
Correctly categorizing your products allows you to do that. It helps customers find exactly what they're looking for immediately, which increases not only sales but also the time they spend on your website.
To make the product categorization process easier for you, use Channable and automatically categorize all your products in minutes.
Channable allows you to create and manage all your product feeds in one place. You can choose from over 2,500 feed templates and build powerful data feeds to reach more customers. It also automatically updates product data like changing prices and stock information, so you can relax knowing your product feed is up-to-date.
The best part?
Channable boasts 97% accuracy rate for product categorization!
Want to start optimizing your product categories today? Request a demo now!