Microsoft Vertical Ads is the new way to go if you want to optimize your advertising strategy. Powered by dynamic data feeds, they offer a more personalized way to reach audiences in specific categories.
Vertical ads focus on the information potential customers are looking for, persuading them to buy your product by presenting them with rich ad experiences that stand out from the crowd. But how does this work and what are the benefits for your business?
In this article, we will not only explain how they work, we will also offer you a step-by-step guide on how to use Vertical Ads with Channable.
What are Microsoft Vertical Ads?
Microsoft's latest addition to their ad solutions are Vertical Ads. These ads are aimed at specific industries and use industry-specific dynamic data feeds to create ads on the Microsoft Audience Network.
The belief that customers search for very different types of information in different sectors lays at the foundation of the new ad solution. A customer looking for a place to buy groceries will have profoundly different search criteria than a customer looking to book a cruise for the summer.
For groceries, store location, opening hours or organic attributes might be important points, the person looking to book a cruise will be interested in departure and destination ports and peer reviews.
Microsoft Vertical Ads have been created to address the needs of specific industries like automotive, travel and financial services. They use search intent data, combined with a deep understanding of user needs, offering a richer ad experience to potential buyers.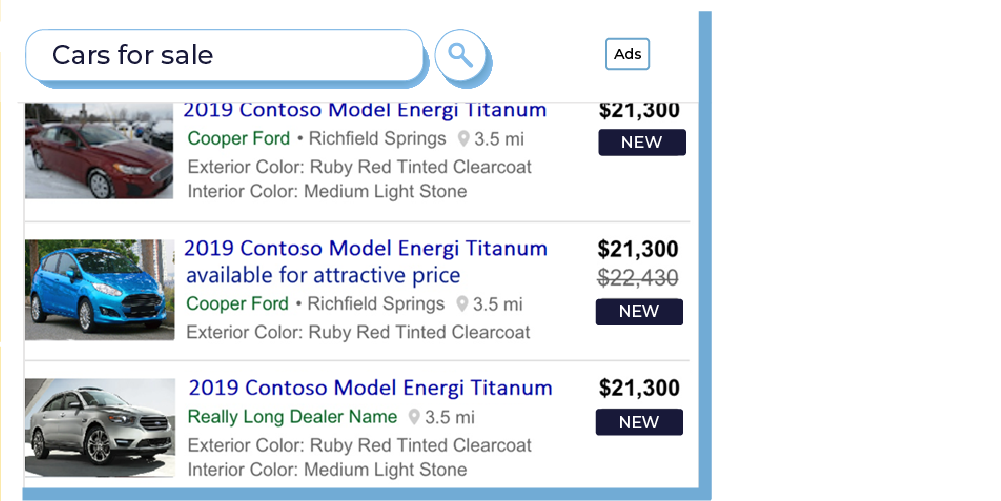 As Microsoft explains:
"Using Microsoft's audience intelligence, you can provide the appropriate content to the right audience at the right time and drive consumers towards being lead-ready by delivering the content that they have demonstrated interest in". At this time, Automotive is the only industry in which Vertical Ads are globally available, but other industries are expected to be added soon.
The power of Automotive Vertical Ads: Delivering high-quality experiences for advertisers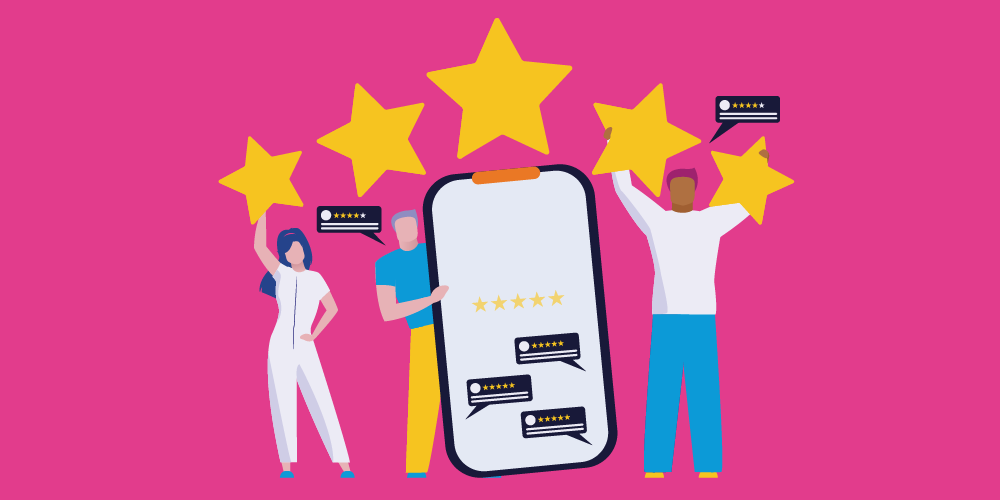 For users in the automotive space interested to start using Microsoft Vertical Ads in order to increase their business, Channable has created dedicated templates to easily feed the right data directly from your database into the ads. The templates will ensure the correct data to automatically be displayed in the correct fields in the Ads, enabling customers to go live faster.
The partnership between Microsoft and Channable enables the automotive industry to break through in this crowded marketplace, while minimizing the time and resources generally required to set up and manage automotive campaigns. As Nitin Hegde, Principal Product Manager at Microsoft stated:
"Microsoft Advertising is committed to delivering rich feed-based vertical ad products that engage consumers and deliver high-quality traffic for advertisers. We're excited to partner with Channable, who have built-in support for our vertical feed formats and have recently added in schema validation and support for Automotive Inventory Ads."
According to Nitin Hedge, with Automotive Inventory ads now generally available in over 90+ markets, customers of Channable and Microsoft Advertising should find it easy to get up and running and begin capturing high-quality leads from across the Microsoft Advertising network.
4 reasons why adding Microsoft Vertical Ads to your advertising portfolio is a great idea
The Automotive industry has been through some challenging times in the past years and unfortunately they are not over yet. However, advertising opportunities for the industry are plentiful.
Research has shown that online searches for automotive are up 17% since 2020 and 48% since 2019 (source: Microsoft internal data, US, January 2019 - December 2021) on the Microsoft Search Network, and Search was the most used digital channel across automotive buyers.
This means that there are many opportunities to reach automotive shoppers in the search for their perfect ride. Imagine what adding personalized contextual ads can do for their experience and decision making process! The benefits of Vertical Ads in this process are clear:
1. Richer experience
In Microsoft Vertical Ads, automotive sellers can increase the click-through-rate (CTR) by offering a richer experience by showcasing good images with timely and relevant information.
Displaying mileage, price, trims, color and other details at a first glance helps potential buyers to shorten the customer journey and decision-making process.
Furthermore, the setup of these ads already enhances engagement before the audience has even clicked the ad.
2. More volume
With these ads, it is much easier to reach car shoppers that are closer to the transaction stage of the customer decision journey where they make a purchase.
Reaching them in the stage where they are making comparisons is the best time to connect, leading to higher volume.
3. Saving time
Vertical Ads save marketers valuable time, as they eliminate the need to create individual ads for the Microsoft Audience Network.
Data and images can be uploaded in bulk and will automatically create audience ads or search ads. If your potential buyer has shown interest in specific items, Microsoft will match the items in your feed by using AI. The feeds are easy to set up.
4. Better results
No keywords are required for these ads, as Microsoft AI dynamically generates them. You can use feeds to generate your ads faster, also ensuring accuracy as inventory and prices change. With tracking templates and conversion goals, you can optimize your Microsoft Vertical Ads.
Tracking templates can be added at different levels; account, campaign, ad, ad group, keyword or feed item. By using URL tracking, you will know precisely how visitors got to your website.
Standard performance reports can be downloaded by navigating to Reports > Reports > Performance > either Campaign, Ad, or Keyword, and feed item reporting is also available for Vertical ads.
In general, the results in Automotive are very positive. A 2021 internal report by Microsoft showed that advertisers running Automotive Ads on average saw the following results:
6-15% incremental click rate lift
3-8% conversion rate lift
28-40% lower cost per click than their corresponding non-brand targeted text ads
Paul Schuurhof, Performance Lead Automotive Mediaventions, Gaspedaal is pleased with the results:

How to create Microsoft Vertical Ads with Channable – a step-by-step guide
Adding new data feeds through Channable is very easy. Below, you will find a step-by-step guide to set this up for your Vertical Ads:
Go to "feeds" and click on "add new feed"


Search for "Microsoft Vertical Ads" and select it.


Choose the country you want to target and select "Automotive Inventory Ads" as the market. Next, give your feed a name and click "Continue".


There is no need to set a category. You can skip this step.


Use the rules to optimize your ads.


Map your fields to the required fields. When you are done, click on "Save and run"


Check the quality of your feed and try to implement the recommendations.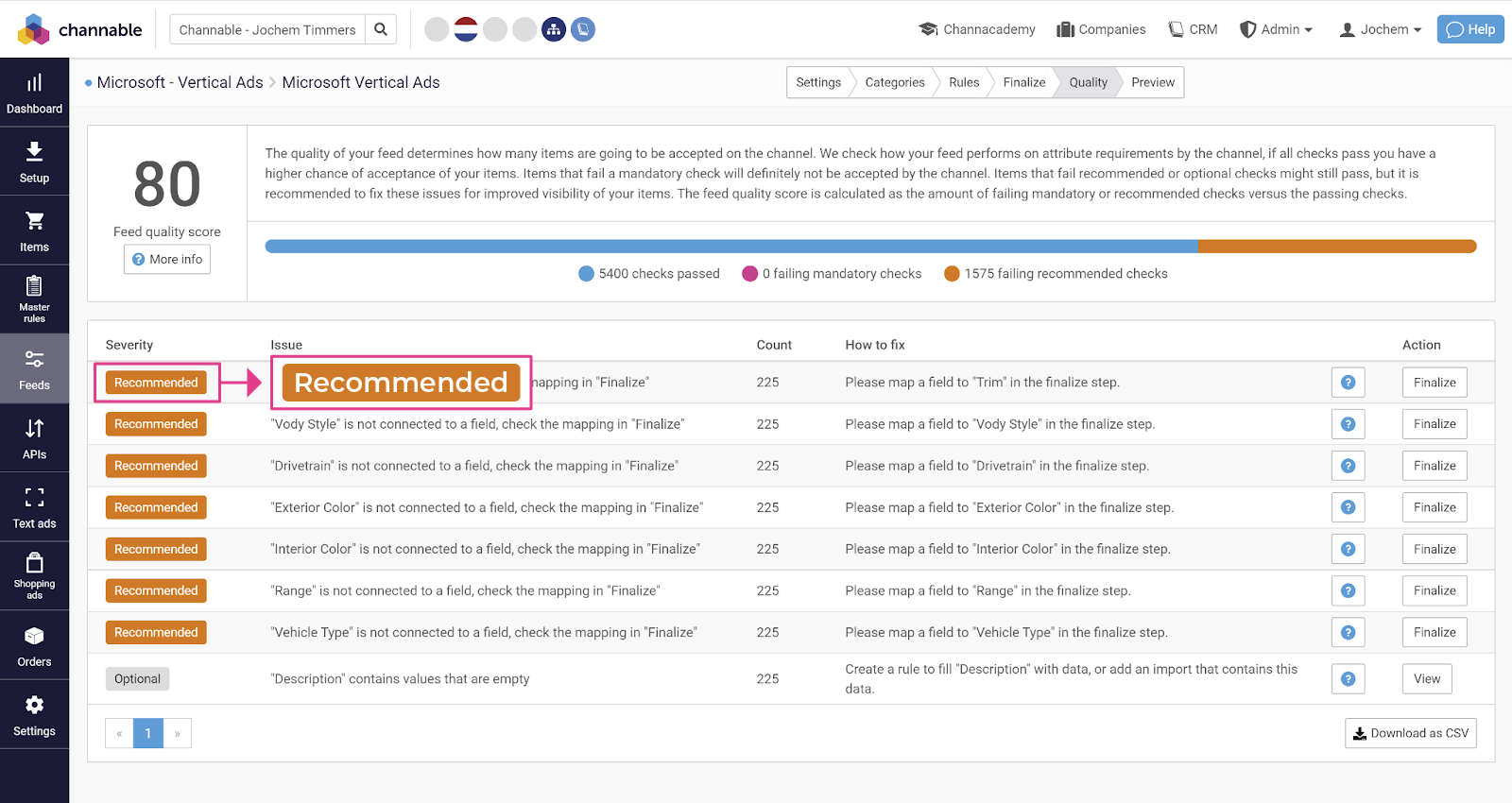 Check the preview of your feed and copy the created feed URL into Microsoft Vertical Ads.

After completing these steps, you are set up for success and ready to start enjoying the benefits of Microsoft Vertical Ads. As soon as the Ads for other categories (Travel and Finance) are released, templates will be made available for those categories as well.
Why wait? Get a head start on the competition and start enjoying the benefits for your business now. Learn more on the website.
If you are not a Microsoft Advertising customer yet, we have partnered with Microsoft Advertising to offer you an introductory coupon to get started. Please visit Contact sales - Microsoft Advertising and submit the form.