Even though the U.S. is currently navigating a period of economic uncertainty, there's no doubt about it; eCommerce continues to grow
In Channable's latest report, The State of eCommerce for Agencies, we shared that social media ad spend is expected to reach a global, record-breaking high of $262 billion. Consumers are still buying, and marketing efforts are accelerating to grab their attention.
In order to stay flexible and adaptable, agencies need to be smarter than ever about their digital marketing strategies.
Below, we explore the biggest eCommerce challenges they're experiencing and some best practices they can put into place.
Key learnings
eCommerce continues to grow despite economic uncertainties, presenting opportunities for digital marketing agencies to overcome eCommerce challenges.

Digital marketing agencies face challenges in navigating consumer diversification across multiple channels, marketplaces, and formats in the eCommerce landscape.

Navigating different selling requirements across channels is crucial for digital marketing agencies to address eCommerce challenges and capture consumer attention.

Managing omnichannel selling for multiple clients is a complex eCommerce challenge that requires adaptation to changing consumer preferences and behaviors.

Measuring campaign success is an important aspect of overcoming eCommerce challenges, with the need to shift metrics and utilize advanced tracking systems.

Understanding GA4 eCommerce and its implications is essential for digital marketing agencies to tackle eCommerce challenges and leverage new opportunities.

Best practices play a significant role in addressing eCommerce challenges, including optimizing product data, catalogs, and feeds, and enhancing customer trust and reducing friction in the shopping experience.

Automation is a valuable solution for digital marketing agencies to overcome eCommerce challenges, offering time and resource savings while improving campaign management and results.
eCommerce challenges for digital marketing agencies
Today, digital marketers are facing distinct eCommerce challenges. Consumers continue to diversify their attention and preferences across an ever-growing number of channels, marketplaces, and formats, and inflation has impacted the number of available marketing roles and the size of digital marketing teams.
Across the board, marketers are expected to do a lot more with less resources.
1. Navigating different selling requirements
On average, a consumer interacts with 20 channels before making a purchase. If your clients choose not to promote on a certain channel—or you don't have the resources or capabilities to offer them the opportunity to promote on that channel—it's a lost chance to snag the consumer's attention.
The more channels where a brand establishes a presence, the greater their chances of conversion.
But each of those channels has its own set of selling requirements, making the process of building and managing multiple channel connections technically difficult and time-consuming.
For example, Amazon has a very complex product taxonomy, which is different from Walmart's or eBay's.
If the product data doesn't meet the requirements, then the listing won't be readily visible to consumers. This becomes even more complex when you're dealing with large inventories.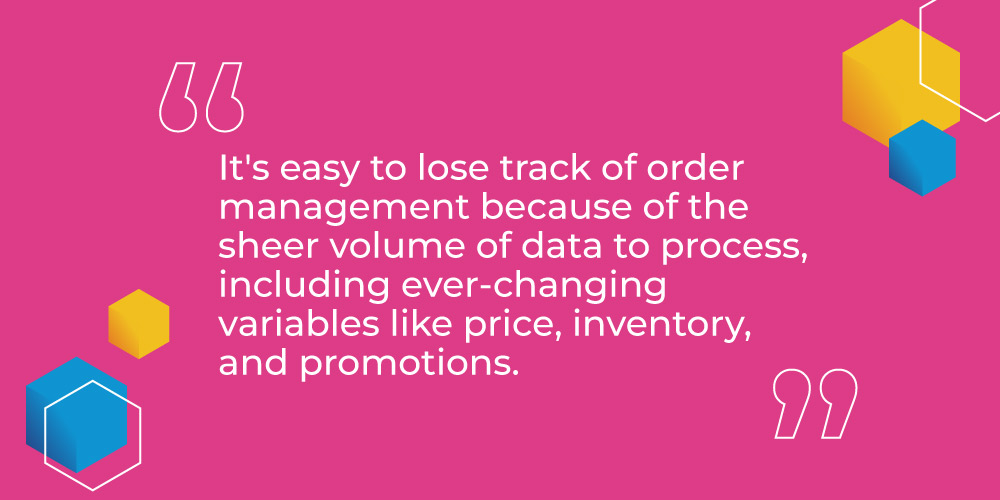 Digital marketing agencies manage individual channels across brands with thousands of stock keeping units (SKUs). That's a lot of manual labor and a greater potential for errors to occur.
It's easy to lose track of order management because of the sheer volume of data to process, including ever-changing variables like price, inventory, and promotions.
2. Managing omnichannel selling for multiple end clients
In addition to tackling the different selling requirements, agencies also have to manage feeds for multiple clients. Imagine keeping all the requirements straight, then turning around and having to repeat the process for dozens and dozens of clients. (It's complex!)
Meanwhile, with the rise of social commerce continuing to drive audience diversification, Gen Z and Millennial consumer preferences are changing.
They're seeking out more personalized experiences and prefer video content on newer platforms like TikTok, where personalization is emphasized. In fact, the number of TikTok users is expected to rise to over 1 billion by 2025.
Omnichannel strategies always need to include new, different social media platforms to reach diverse audiences, amplify brand awareness, tap into viral marketing potential, and cater to individual platform preferences.
Otherwise, agencies risk losing out on key customer segments which, in turn, could put their own client revenue at risk.
3. Measuring campaign success
Even the measurements of success are becoming more complicated. Most companies who used to rely on return on investment (ROI) as a basis for success started to focus more on return on ad spend (ROAS), which yields a more immediate, short-term view of how distinct ads or campaigns are performing. Now, companies are shifting again—away from ROAS and towards profit on ad spend (POAS).
POAS takes both cost and order combinations into account allowing more visibility into the total conversion value of the customer lifecycle.
However, this metric requires a more advanced tracking system that is capable of attributing profits to specific ads or campaigns, in addition to a team that is knowledgeable about these metrics and feels confident in their calculations.
eCommerce marketers have also been preparing for the transition to GA4 by exporting data and setting up eCommerce events in the Google Tag Manager container.
GA4 will have codeless event tracking and enable marketers to have a unified view of website and mobile data in the same property, but the switch from UA to GA4 is still a structural overhaul. Understanding GA4 eCommerce will require different approaches to the data sets, plus the time and resources spent on the new learnings, setup, and implementation.
Top 5 best practices for eCommerce challenges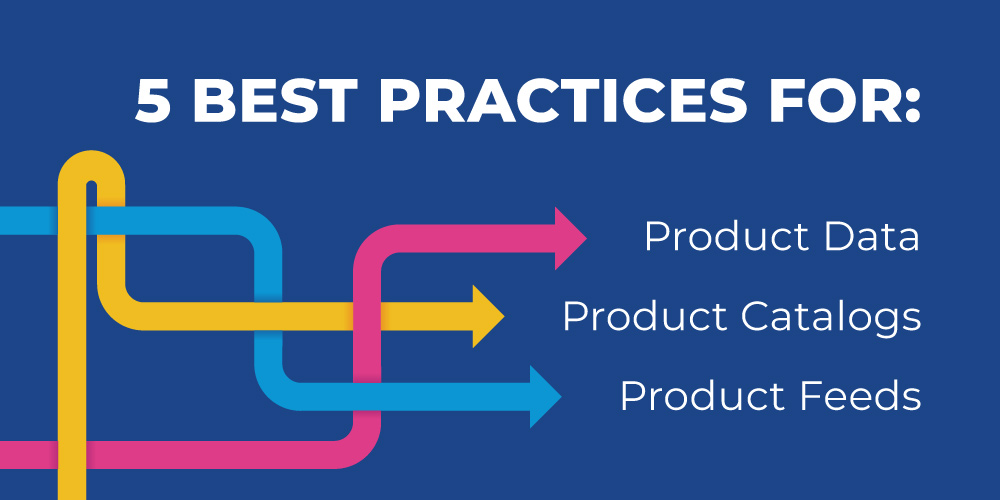 As we've demonstrated, managing multiple eCommerce feeds across multiple channels and marketplaces is a daunting task, but there are best practices to guide you.
First and foremost, it's essential for products to be accurately listed across channels and marketplaces. Optimizing product data, product catalogs, and product feeds helps you develop a more effective approach to overall campaign optimization. Each of these elements play a critical role in your campaigns' success.
By understanding the differences between them, you can better allocate your time, resources, and efforts.
Automating the creation and optimization of ad campaigns is another way your team can quickly scale their efforts, optimize campaigns based on real-time performance data, and personalize campaigns based on consumer behavior, preferences, and demographics—all while continuing to cut back on manual tasks.
1. Increase customer trust, drive sales, and improve product discoverability through optimized product data
Optimizing product data is all about paying attention to the details and helps improve the accuracy of product information, which can drive more sales and improve product discoverability.
Here are some tips:
Use descriptive and accurate product titles that include relevant keywords people are using to search for the product.

Provide complete and detailed product descriptions including features, benefits, and specifications such as size, color, material, and any other relevant information.

Use high-quality product images that are clear, well-lit, and show the item from multiple angles.

Keep pricing information consistent across all channels and clearly communicate any discounts or promotions.
Optimizing the product catalog is all about organization. This ensures a user-friendly, intuitive shopping experience that helps increase consumer loyalty and retention. Below are some tips for optimizing product catalogs:
Ensure that products are categorized correctly and all relevant attributes are included to help consumers find your products when they're filtering search results.

Use a hierarchical structure, such as subcategories, to make the catalog easier to navigate.

Include consumer reviews and ratings on the product pages to help potential buyers make informed decisions about quality and suitability.

Make sure the product catalog has a mobile-friendly design and fast load-times.

Continuously test and refine your categorization as you track consumer behavior and identify areas of improvement.
3. Improve product visibility and performance
Optimizing product feeds is all about requirements. It involves preparing and formatting product data so it's compatible with the rules of different channels and marketplaces to increase product visibility and performance. Check out some tips for optimizing product feeds:
Regularly review and update the product data to remove any out-of-stock items, update pricing information, and add new products.

Use standardized product identifiers, such as global trade item numbers (GTINs), to help improve the accuracy of feeds.

Localize product feeds if your clients are selling products in multiple countries or regions by providing translations of the product data.

Consider using a feed management tool to switch to a dynamic feed setup and streamline the process with product data mapping, feed formatting, and channel-specific optimization.
4. Automate the creation of advertising campaigns
Using a feed management platform to automate the creation of your ad campaigns provides your team with more reliable data, greater ability to track more complex metrics like POAS, and more time to focus on strategy instead of manual tasks.
For example, a pay-per-click (PPC) solution allows you to automate the creation of campaigns in one place across different formats like responsive search ads (RSAs) and dynamic search ads (DSAs), while adhering to the rules of different channels and marketplaces.
You're also able to utilize reporting and optimize the campaigns on an as-needed basis by:
Automating bidding strategy

Ensuring you have proper audience segmentation

Utilizing all ad placements

Retargeting based on real-time performance data
5. Take a realistic approach to automation
While dynamic feed setup can offer more flexibility and customization options for campaigns, digital marketing agencies may first need to invest some dedicated time and resources to fully leverage these capabilities.
But the benefits of automation result in so much time- and resource-savings that—simply put—it's more than worth it in the end.
For example, once Savvy Revenue started using a dynamic feed setup and PPC automation solutions, they saw a 50% decrease in campaign creation time and a 50% decrease in monthly hours achieved for eCommerce stores with more than 10,000 SKUs.
Likewise, Roots Network established a multi-market PPC strategy for their client Otrium, an online fashion outlet that sells hundreds of thousands of products across nine markets throughout the U.S. and Europe.
Once the PPC strategy was put into place, Roots Network went from allocating eight full-time employees to manage Otrium's feeds to only two full-time employees and saved approximately 50% of their time on feed maintenance across their client base.
Those are just two examples of the many success stories digital marketing agencies have with a dynamic feed setup.
Put best practices into action with Channable
At Channable, we're a partner that understands the unique challenges of digital marketing agencies. Sign up for a free demo account today, and subscribe to our newsletter and stay up to date on the latest eCommerce news and trends.