What are online marketplaces, and what is their role in eCommerce?
An online marketplace is a virtual market where third parties provide products and services, but the marketplace processes the transactions.
The marketplace acts as an "online department store" with a certain category range but (in the vast majority of situations) does not own the products that are shown and offered. On an eCommerce marketplace, real-time access to information about stock, price, delivery, and any other kind of product information is possible.
Online marketplaces are a playground of opportunity.
According to a recent study, 1 in 5 people who look for products online start there. Another study found that 65% of customers are comfortable purchasing on a marketplace from a brand they have never heard of.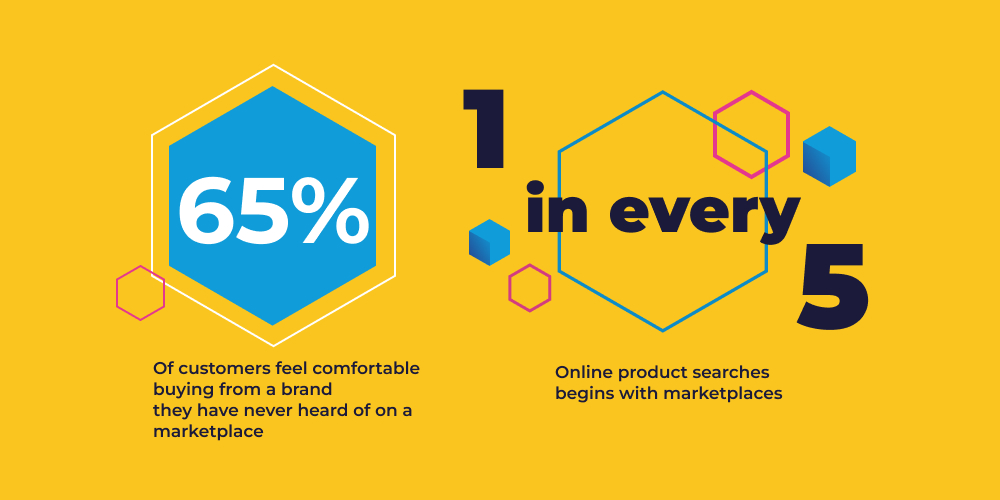 Therefore, the main challenge for sellers and the platform itself is the seamless and correct integration of product data into the online marketplace.
Why should I list the top ecommerce marketplaces?
A closer look at the main reasons and motivations for shoppers to use eCommerce marketplaces offers a great starting point to align your online marketing strategy accordingly.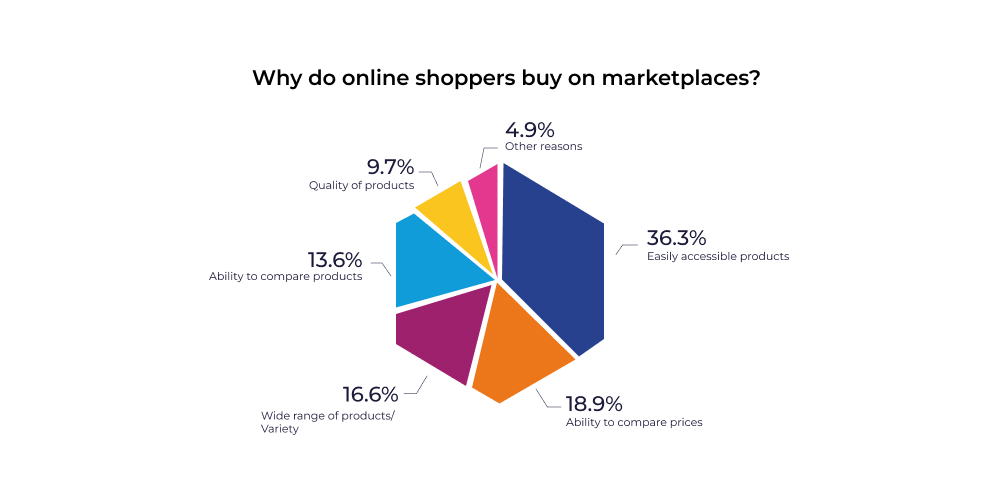 Benefits of Selling on Online Marketplaces
The expanding number of services and offerings for retailers selling on online marketplaces displays many advantages in addition to the enormous incentive of improved visibility and exposure to the appropriate target groups: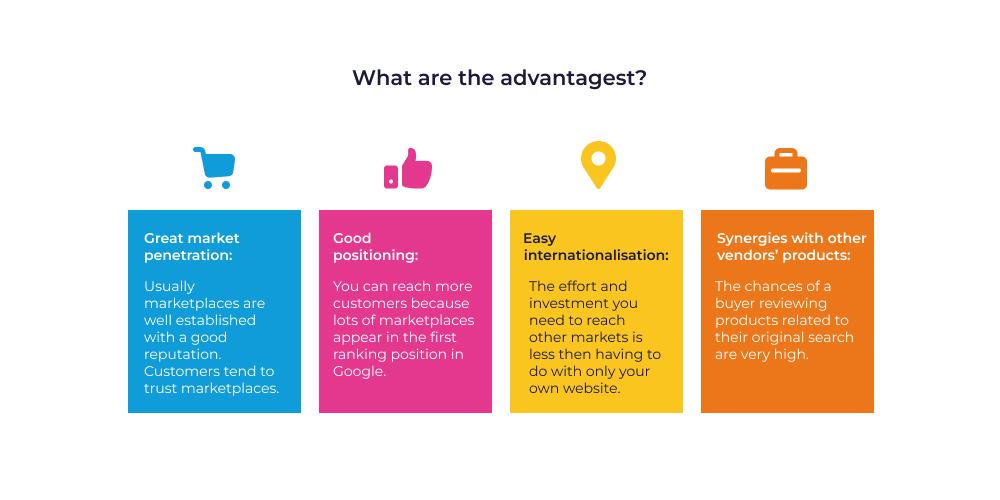 Top 10 Marketplaces to Sell Online in 2023
To help you with your research, here are ten of the top eCommerce marketplaces available. They are all distinctive in their ways. So use this guide to select the online marketplace that will help you stand out and earn like a pro based on your brand requirements, budget, and overall eCommerce goals.
1- Amazon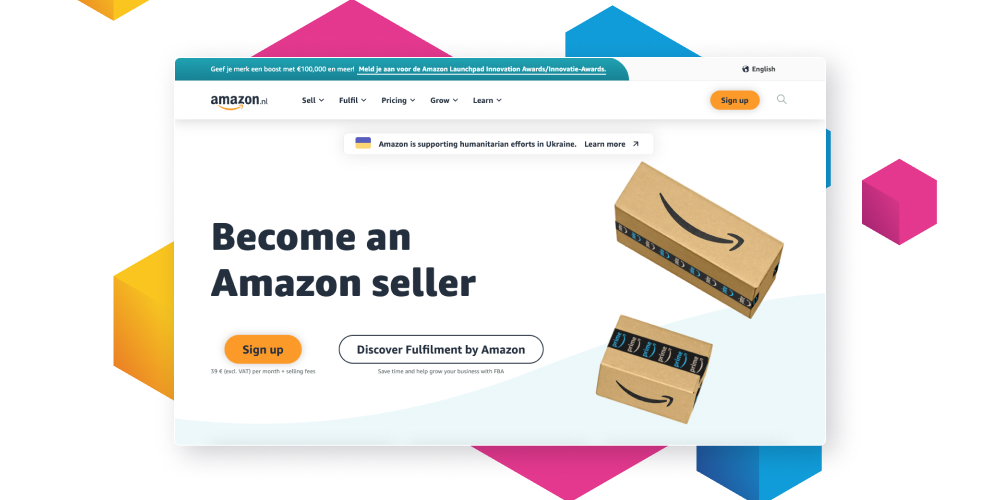 We can't talk about online markets without discussing the current leader, Amazon. It is, without a doubt, the biggest eCommerce market in the country. After all, Bezos' supremacy is unbeatable.
Amazon has a staggering 300 million users in its client base. There are a ton of potential clients perusing the online aisles at this time!
In 2022 alone, Amazon's net sales increased dramatically, reaching an astounding $386 billion.
Yeah, you heard that right.
To begin selling on Amazon, simply create an account on Seller Central with your name, address, phone number, tax ID, and other necessary information, and then select the marketplace or marketplaces you wish to sell on. When authorized, your selling journey might begin after seven business days.
So, if you're trying to build a name for yourself in the online selling world, hitching your wagon to the Amazon train might just be the key to your success.
You might also like: How to make awesome listings on Amazon
2. eBay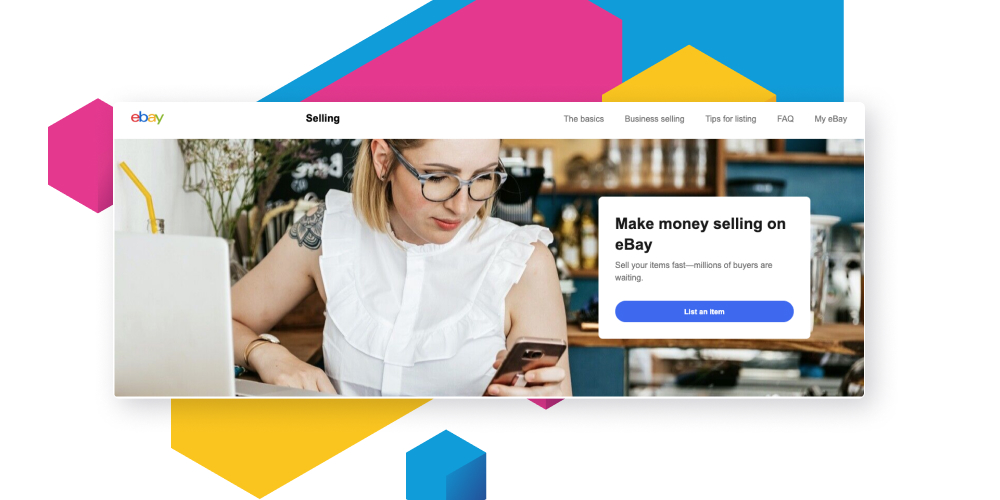 Ah, eBay! It is a legendary online store where auction thrills and the delight of finding a fantastic deal collide.
Since its first introduction in 1995, eBay has grown from a website that only offers second-hand goods to one of the biggest eCommerce retailers in the world. The vendors who sell new and refurbished goods and are willing to auction them at higher prices do well in this marketplace.
With eBay, you can join the marketplace without submitting any applications. Create an account by simply creating your first listing. With a whopping 183 million active buyers around the globe, you can bet there's an audience for almost anything you want to sell.
The best thing about eBay is that the eBay Seller Hub will assist you in running your business as easily as ever, even if you're a new seller without a website or setup. For instance, you might print your mailing labels and place ads on eBay.
3.Walmart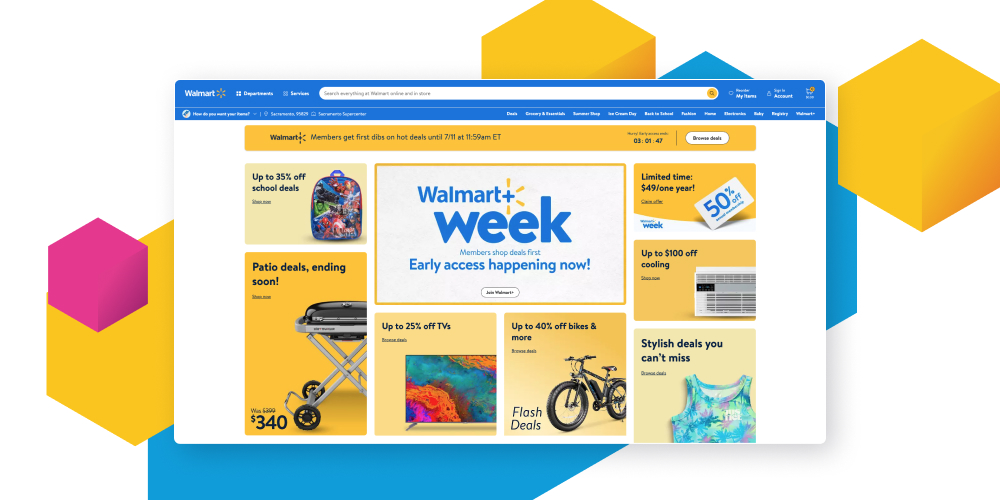 Now, we can't overlook the retail giant: Walmart!
It is one of the most prominent merchants in the world, having entered the eCommerce market in 2000. In 2022, Walmart's eCommerce sales skyrocketed to a whopping $102 billion.
Similar to Amazon, the Walmart marketplace is ideal for owners of small and enterprise-level businesses who wish to take advantage of the enormous traffic generated by these eCommerce giants and present their products to the appropriate market.
To sell at Walmart, you must submit an application. If approved, you can display your products to more than 110 million customers who shop online monthly.
In order to be accepted, you must have quick fulfillment capabilities, a large selection of high-quality products, and aggressive pricing. Remember that you can only sell as a seller or a drop-ship merchant, not both. Additionally, Walmart has its guidelines for drop shippers. As a seller, you can take advantage of this marketplace's massive amount of traffic.
4. Etsy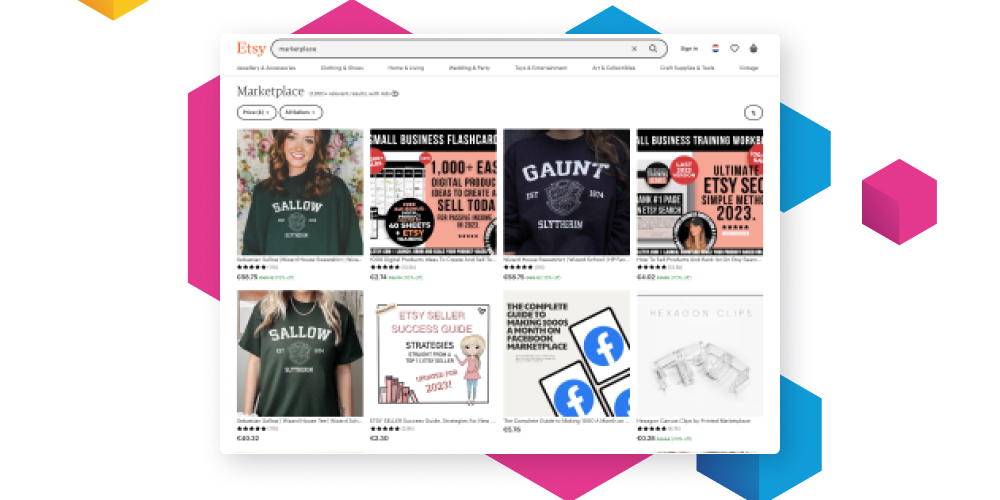 Calling all creative souls!
Etsy is the place to be if you have a talent for handmade, antique, or unique products. It's similar to a virtual artisan market where talented artisans display their products.
Unlike vendors on other marketplaces, Etsy sellers sell items independently of the Etsy brand. Customers need to know that when they purchase from you, they get your products, not those sold by Etsy.
Customers are brought to your unique Etsy storefront when they click on your brand name on product pages. Customers who click on your brand name will be redirected to your storefront, even if you don't have a website.
This is a great way to establish your brand's identity and attract loyal customers. Etsy can give you an advantage if you're new to the industry and looking to increase awareness of your products and brand.
With 33 million consumers browsing for things like vintage apparel, jewelry, and handmade goods, you will surely find the ideal customers who will relate to your niche.
5. Shopify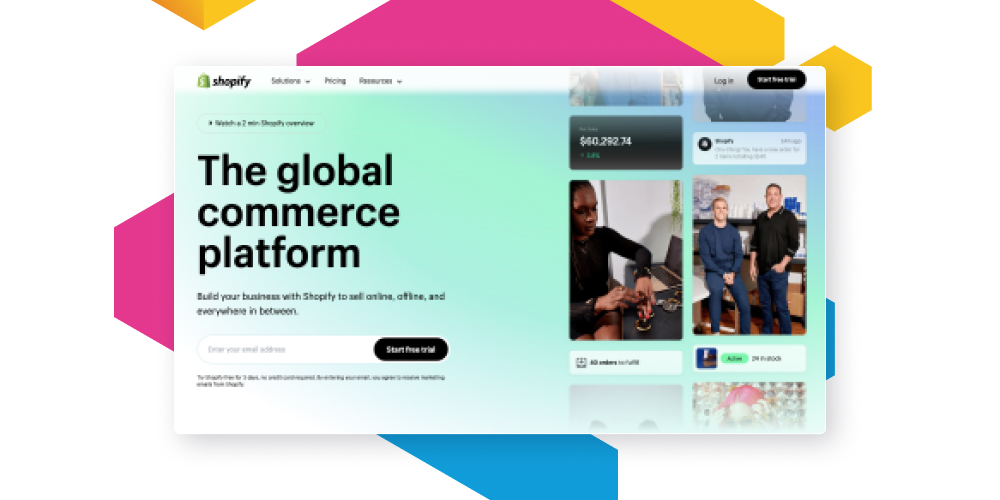 Do you yearn for the lovely sound of independence? That's what Shopify, a platform enabling vendors to build their online stores, offers.
If you want to create a website to sell goods, Shopify is a popular and highly recommended eCommerce platform. Over half of Shopify store owners receive repeat business annually, and the platform holds a market share of nearly 11%.
Your website, blog, SSL certificates, abandoned shopping cart recovery, and many other benefits are included in the standard Shopify charge that you must pay. Shopify doesn't charge a one-time setup fee or any other unforeseen costs. You can use Shopify's 14-day free trial to sell, ship, and accept international payments.
Shopify is known for its beginner-friendly features, allowing sellers to customize their storefront to look like their website. It also provides a selection of Shopify apps that can be used to personalize your store.
6. Alibaba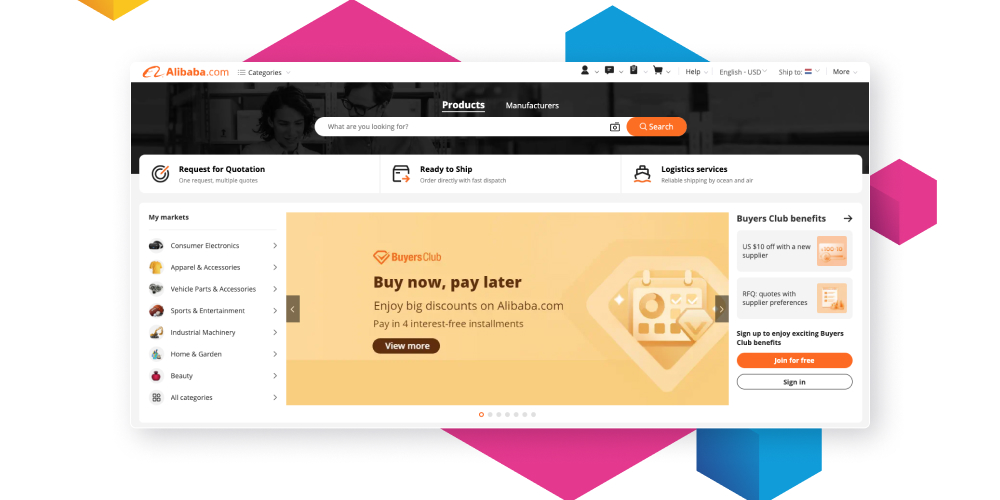 Welcome to the land of opportunity, where the dragon of online commerce, Alibaba, reigns supreme. It is a Chinese global corporation with technology, e-commerce, and retail expertise. It is among the biggest online retailers in the world.
The business operates marketplaces for C2C (Taobao), B2C (Tmall), and B2B (Alibaba.com). Every year on China's Singles' Day, which is the biggest online and offline shopping day globally, Alibaba breaks sales records without fail.
Alibaba is a B2B platform. The best-selling products are typically those that can be mass-produced and sold at wholesale prices to restock inventories for businesses.
7.Facebook Marketplace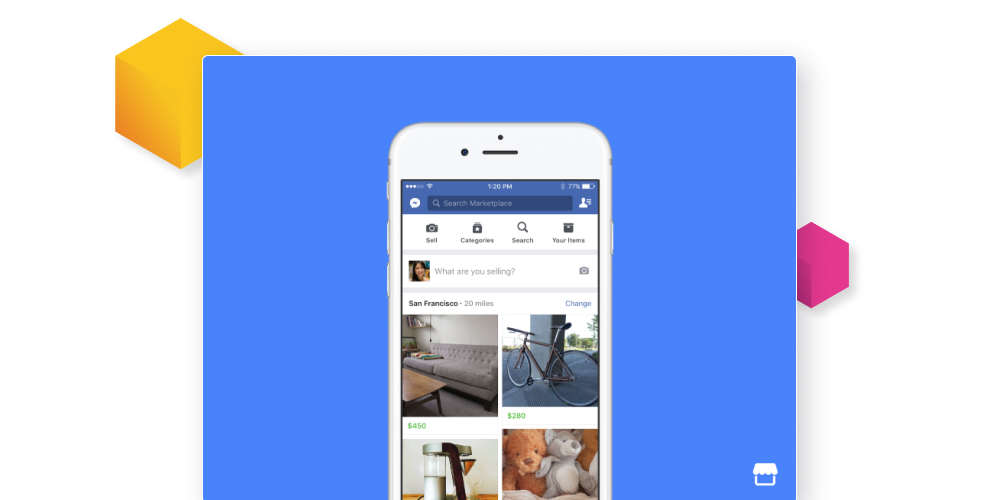 Let's now explore the thriving Facebook Marketplace, where social media meets e-commerce.
In October 2016, Facebook introduced the Facebook Marketplace to encourage users to participate in its platform and facilitate the buying and selling of goods. Amazingly, Facebook Marketplace provides assistance to small business owners without charging them a listing fee. Anyone can launch a Facebook Marketplace company without any prior e-commerce experience.
For online sellers to be present on Marketplace, Facebook has also worked with online selling systems like Shopify. There are specific requirements and rules that you must abide by as a seller on Marketplace, but there are no listing costs.
8. Newegg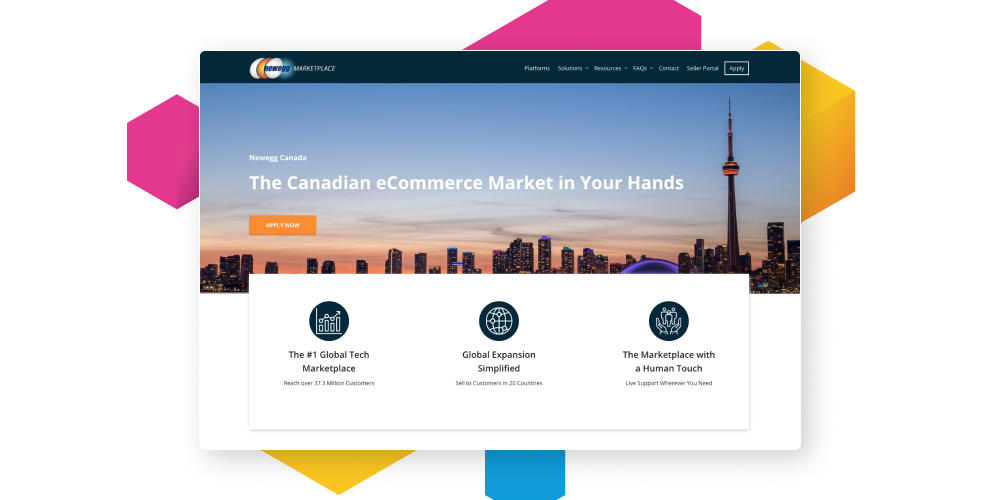 Newegg is a haven for all things electronics, making it a go-to destination for tech-savvy shoppers. It is an excellent fit for seasonal sellers because electronic products are frequently in demand throughout the holiday season, such as around Christmas and Black Friday.
By giving sellers access to marketing and merchandising services, Newegg enables you to attract the most relevant traffic to its site. Over 20 million Newegg customers can see your products through banner advertisements and email marketing campaigns. As a result, this increases your likelihood of growing your sales.
Similar to Amazon FBA, Newegg also established its own fulfillment alternative called Shipped by Newegg (SBN) to streamline your shipping procedure. When there are orders, Newegg will keep your inventory before packing and shipping. This is one of the greatest platforms for merchants who are prepared to expand but lack the financial means to handle drop-shipping right away.
9. Rakuten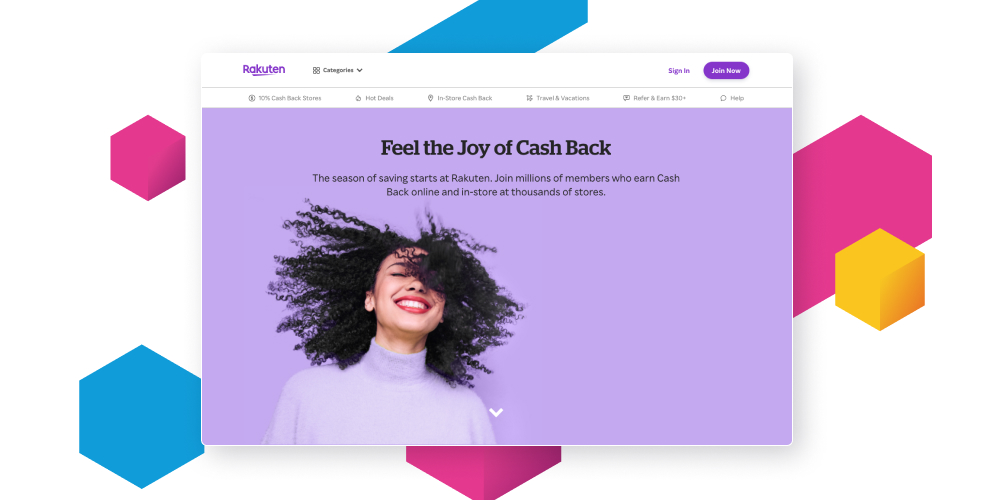 Rakuten is a Japanese e-commerce giant with a global reach. This company is often called the "Amazon of Japan" because it sells a diverse range of products across many different categories. Rakuten stands out for its customer incentive program, Rakuten Super Points, which encourages customers to purchase.
Here's a statistic that will catch your attention:
In 2022, Rakuten's marketplace generated astonishing gross product sales, surpassing five trillion yen.
Within the Rakuten ecosystem, there are a lot of transactions happening. Therefore, joining Rakuten's active marketplace could be wise for your company if you're trying to penetrate the Japanese market and increase your international presence.
10. Nextdoor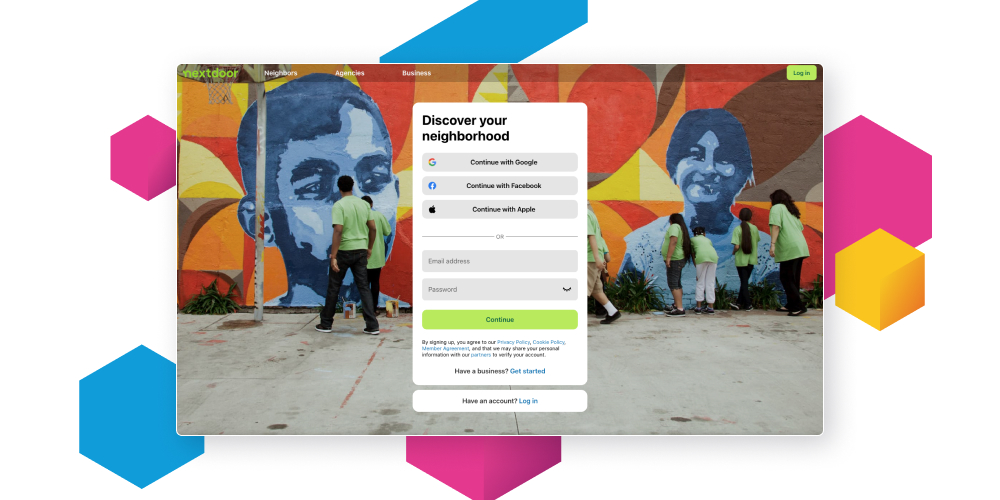 On Nextdoor, you can sell things and share information with your friends and community. It serves as a forum for neighbors to communicate about neighborhood events, from promoting a party to raising concerns about trash collection.
Nextdoor offers more than just a community forum; it gives users a free online marketplace. Like Facebook Marketplace, there is no listing fee, but you must meet your customer in person to complete the deal.
Over To You
Selling online is becoming a must rather than a choice.
Marketplaces are your platform if you want to broaden your exposure, connect with the proper target market and new audiences, and earn money from products and services that make your life as an online retailer easier.
At the same time, marketing automation makes selling your products on marketplaces simpler than ever.
Your online sales will increase thanks to Channable's deep integration, direct data exchange, automatic product updates, feed administration, and PPC tool, which also helps you save time that you can use to develop your ultimate eCommerce strategy.
Contact us to learn more about how feed management and PPC tools can be the asset you've been searching for!
Up until the point at which you are ready to activate your first export feed, you may even test out Channable's features with a free trial account.