Amazon is the largest retailer in the world. Yes, you read that right, in the world.
In 2022, Amazon generated a whopping $220 billion from online store sales, and third-party sellers account for more than 60% of Amazon sales.
Whether you're an established retailer or a budding entrepreneur selling products out of your apartment, listing your products on Amazon can help you reach millions of customers.
This guide will cover everything you need to know to get started, including product feed requirements, fees, and charges, as well as tips to optimize your product pages and boost sales.
Let's jump right into it.
The basics of selling on Amazon
If you want to start selling your products on Amazon, the first thing you need to do is set up your Amazon seller account. We'd recommend doing this as soon as possible as Amazon's verification process can take a couple of weeks.
Amazon pricing plans
The next step is choosing your pricing plan. Amazon has two selling plan options: individual or professional.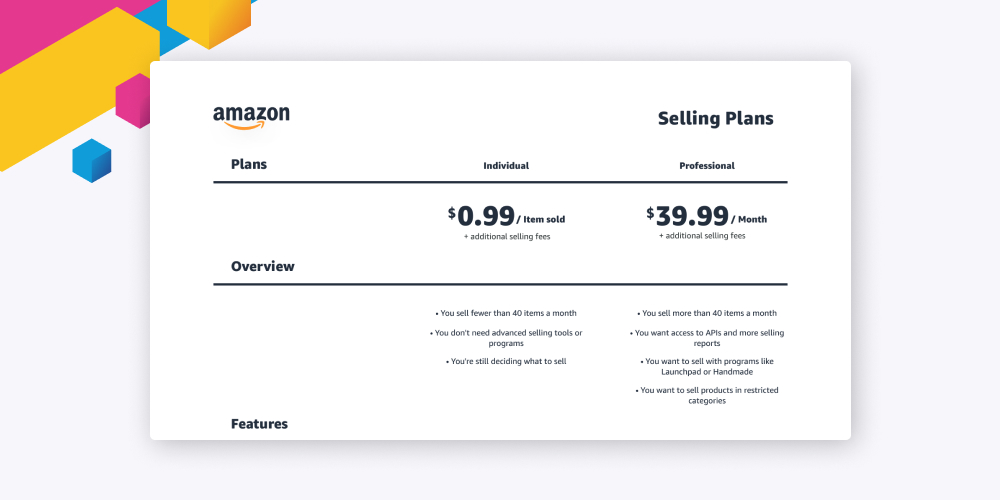 Deciding which plan to choose depends on how many items you think you'll sell per month. If you plan to sell more than 40 items per month and want access to advertising, we recommend signing up for the professional plan.
Amazon fulfillment options
Amazon offers two main fulfillment options for sellers: Fulfillment by Amazon (FBA) and Fulfillment by Merchant (FBM). Here's a brief explanation of both:
Fulfillment by Amazon: Amazon handles the storage, packaging, shipping, and customer service. When you select this option your products will display the "Prime" badge and be eligible for Prime's one-day delivery.

Fulfillment by Merchant: You manage the storage, packaging, shipping, and customer support. If you prefer to keep all your eCommerce operations in-house, then this is the best option for you. You can still sell to Prime customers if you can provide 1-to 2-day shipping with Seller Fulfilled Prime.
Amazon's fees
Here are a couple of fees on Amazon that you might need to pay as a seller:
Amazon referral fees: This is the commission you pay for every item you sell. It changes depending on the category, but usually falls between 12% to 40%. For most products, the referral fee is around 15%.

FBA fulfillment fees: If you sell using FBA, you'll be charged a fee for each product sold to cover the costs of getting the order ready and shipped. The amount you pay depends on the weight and dimensions of your product.

FBA storage fees: Every month you'll be billed for inventory storage. This charge is calculated based on the average amount of space your inventory occupies in Amazon's fulfillment centers.
How to sell internationally on Amazon
Do you already sell your products in multiple countries? Or fancy maximizing the growth of your Amazon sales by selling internationally? Amazon makes it easy for sellers to sell internationally from one single account.
6 steps to selling internationally on Amazon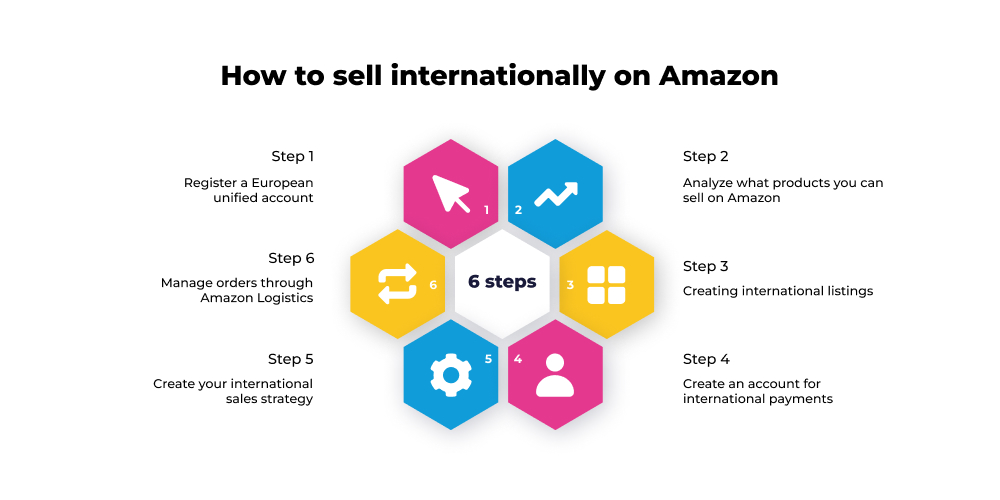 Register for a unified seller account
Amazon offers a "single sign-on" (SSO) method for sellers. This allows you to use a single seller account to create and manage offers across the international Amazon sites. With SSO, you can handle international shipments and customize your sales strategy across these platforms using a unified login

Analyze what products you can sell on Amazon
Each country has different legal and commercial requirements for the sale of products. You should keep these in mind as a seller if you want to expand your business internationally:
Taxes and tariffs
Intellectual property rights
Export controls
Brands and label
Environment and safety
Amazon has a help page where you can learn more about tax and regulatory considerations for selling internationally.
Create international listings
Managing new listings and keeping product information current on Amazon can be complex, especially with a dynamic product catalog. A streamlined solution is integrating your online catalog with Amazon through marketplace integration tools like Channable.
This enables easy optimization, including adjusting prices, applying discounts, enhancing titles and descriptions, and removing out-of-stock items—ensuring that your product information remains consistently updated.
You can also copy existing listings from one Amazon marketplace to another if you have linked the accounts. Amazon has a tool called 'translate your products' in its seller central making it easy to have your listings in a number of different languages.
Create an account for international payments
There are three options for receiving international payments for the sale of your products:
Open a bank account in the country where you plan to sell.

Use the Amazon currency converter to receive payments directly in your main bank account.

Use the Hyperwallet service, which allows you to receive payments in the currency of your country or region by linking it with your bank accounts.
Currently, Amazon accepts bank accounts in the U.K., U.S., and all the countries in the Eurozone. Refer to Amazon's help center to check the types of currencies for each region, and learn how to set up the Hyperwallet service here.
Define your international sales strategy
When you're stepping into an international market, it's helpful to think about the '4 Ps of Marketing', which you can use as a starting point for your international marketing and sales strategy.
Product: Assess the demand for your top-selling products in the market you intend to expand into. If you're uncertain about demand, consider launching multiple products and see which ones are popular with Amazon's customer base.

Price: Check out how much your competitors are selling the same product for, and then set your price accordingly. Make sure to take the following costs into account: shipping, customer service, currency conversion, translation, taxes and tariffs, etc.

Place: Optimizing product listings, using Amazon's fulfillment services, and targeting relevant categories can help to improve the visibility of your items, making it easier for potential customers to find and purchase them. There are even smart categorization features to help you manage large catalogs and work more efficiently.

Promotion: Increase the incentive to buy your products by using smart promotion techniques such as free shipping, seasonal discounts, 2 for 1 offers, etc. You can also boost the exposure of your items by using Sponsored Products, part of Amazon ad's cost-per-click advertising service.

Manage orders via FBA or a marketplace integrator
As we mentioned earlier, if you choose FBA, Amazon handles the collection, packaging, and shipment of your products on your behalf, ensuring the safe delivery of your shipments to your customers' doorsteps.
Amazon currently offers its logistics service to vendors in Germany, Canada, China, France, India, Italy, Japan, Spain, the Netherlands, the United States, and the United Kingdom.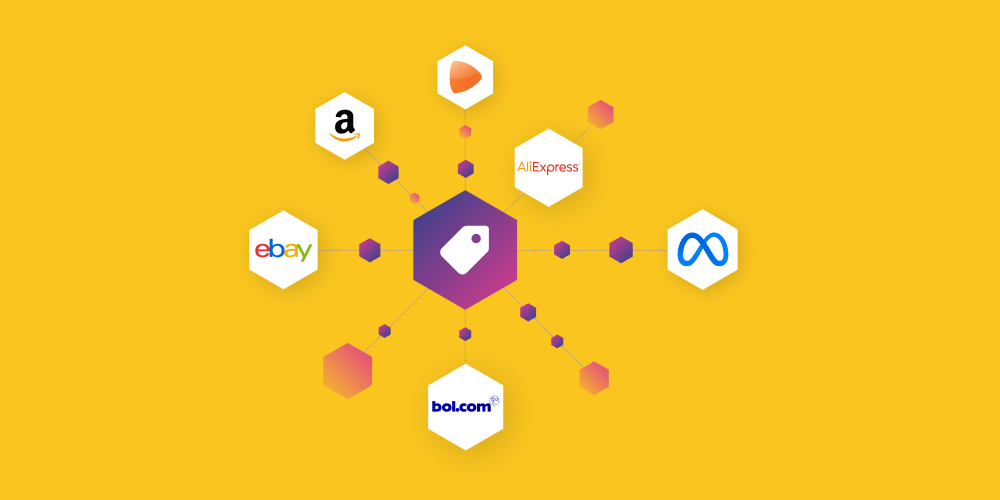 If you prefer to keep your order management in one place, you should consider a marketplace integration tool—especially if you use PrestaShop, Shopify, Magento, or WooCommerce for your online store.
With a marketplace integrator, you can automatically send all your orders from Amazon directly to your eCommerce platform, where you can manage everything from one place.
Choosing the right product(s) to sell on Amazon
Amazon holds great sales potential, but how can you turn a profit? The key is picking the right products to sell. Some items might not do well on Amazon, while others are very popular. So, choosing wisely is crucial. Here are some tips to help you decide what to sell on Amazon:
Easy to ship products
Opting to sell small and lightweight products can reduce shipping expenses. For example, if you sell a product that fits in a mailbox package (such as jewelry, small electronic gadgets, or phone cases), your shipping costs will be much lower.
The shipping cost significantly influences customer purchase decisions: the lower it is, the higher the likelihood of selling the product. Even better if you can absorb the shipping costs and offer free delivery, as 83% of shoppers will be more likely to buy from you.
Affordable selling price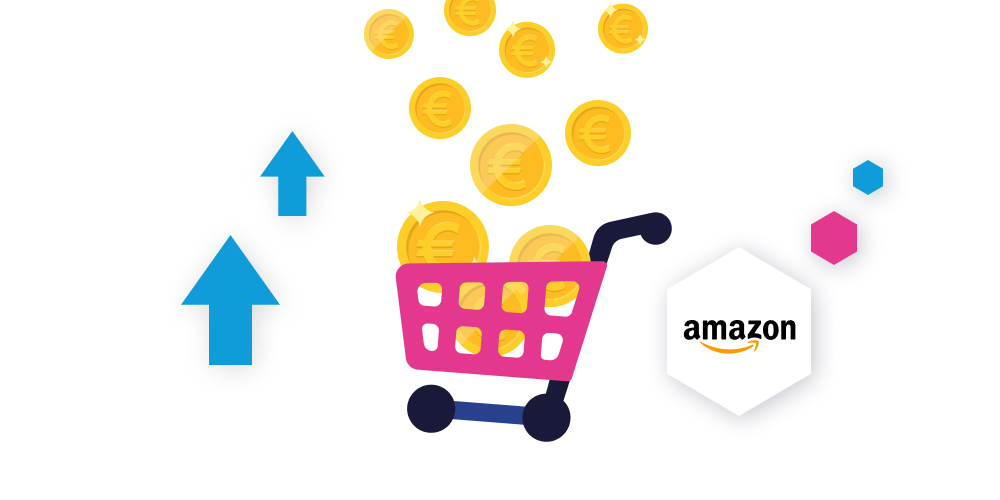 Unless your plan is to sell luxury products at a high price point, we'd recommend selling products in the €20-50 range. This is a good price point for 'impulse purchases' which is hugely beneficial when you're just starting out as most customers tend to hesitate when buying pricier items from unfamiliar brands.
This price range also gives you the opportunity to achieve a healthy profit margin, even after COGS, Amazon's seller fees, and advertising costs. Most products in this price range should have fairly low production costs too.
Descriptive product titles and descriptions
It's much easier to sell a product called "15-inch MacBook Black Laptop Cover" than "Laptop Cover". Why? Although the second title might match various keywords that users search on Amazon, it's likely to get lost in a sea of results.
Always try to give a complete description of the product, by listing its model, color, size, and so on, so that users already have an entire overview of the item before clicking on it.
The same goes for product descriptions: write detailed, engaging descriptions that highlight the benefits and features of your products, and include relevant keywords to boost search visibility.
Are you ready to start selling on Amazon, the world's largest retailer?
Discover how Channable can help you upload your products in minutes, manage your listings, and automate the ordering and ads process.