Skyscanner
Skyscanner, a global leader in travel, faced a significant challenge when the COVID-19 pandemic hit and the travel industry came to a standstill.
With their SEM activity paused, they needed a strategy to bounce back and capture renewed demand as travellers began planning trips again. That's when they turned to Channable.
Scaling and Overcoming Challenges
Channable's Feed Management functionality provided Skyscanner with the tools needed to build keyword-focused campaigns at a global scale.
This feature allowed them to adopt new broad match options and incorporate pricing and price extensions into their ads. By standardizing, enriching and automating their data, Skyscanner was able to scale at a rapid pace.
The platform empowered Skyscanner's SEM team to become self-sufficient in creating new attributes, resulting in extensive keyword coverage across all Skyscanner routes.
Using Channable for just under a year, Skyscanner witnessed significant advantages. The platform saved them time and provided ease in building campaigns, allowing for efficient updates at scale.
If any errors are detected during quality assurance, updating campaigns at scale is a breeze. Skyscanner anticipates creating more compelling, relevant and traveller-first ads for their audience by leveraging the information in their Feeds over the next 12-24 months.
Impressive Results: Increased Sessions and Traffic with Skyscanner's Feed Management Strategy
The results of Skyscanner's effort speak for themselves. In January 2023, after launching their first 10 markets using Feed Management via Channable, Skyscanner experienced remarkable growth.
YoY Paid Search and Direct traffic increased at a similar rate, except for markets that were utilising Feeds automation, which grew +58%-points faster than Direct.

Feed markets contributed 80% of total YoY traffic growth from Google SEMs campaigns.
Channable has unlocked immense potential for Skyscanner, enabling them to achieve milestones that would have been difficult to reach otherwise.
The platform has become instrumental in their ongoing expansion plans, with Skyscanner now expanded Feeds into Car Hire.
Unlocking Potential and Expanding Horizons: Skyscanner's Journey with Channable
The decision to choose Channable was influenced by several factors. The tool's intuitive interface and user-friendly functionality, and ability to standardize and consolidate data and workflows set it apart from competitors.
Additionally, the availability of the PPC ad generation and features like Price Extensions, paved the way for Skyscanner's success.
Skyscanner had confidence in Channable's ability to deliver results thanks to the in-depth research and understanding displayed by the Channable team.
Through multiple calls, Skyscanner gained reassurance about the level of service and support they would receive, and those expectations were fulfilled.
The Decision Point: Why Skyscanner Chose Channable for Scalability and Support
Skyscanner's partnership with Channable has proven to be a resounding success, allowing them to overcome challenges, achieve scalability, and drive substantial growth.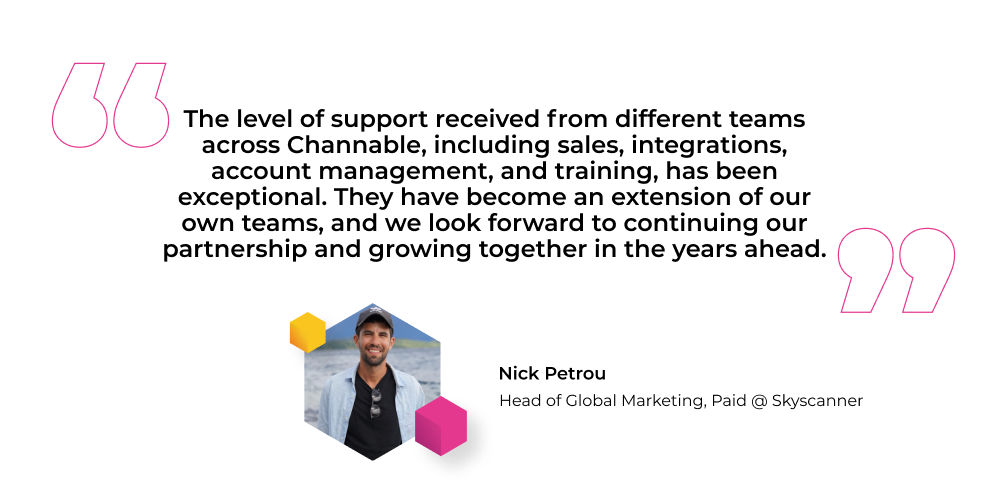 As they continue to leverage Channable's capabilities, Skyscanner is confident in their ability to provide more compelling and tailored experiences for travellers in the months and years to come.
Key Learnings:
Channable's Feeds functionality enabled Skyscanner to build keyword-focused campaigns at scale and incorporate pricing and price extensions into their ads, resulting in extensive keyword coverage across all routes.

Skyscanner witnessed strong growth and increased sessions paid search, with markets utilizing Feed Management, experiencing even higher paid search session growth.

Traffic generated from these focus markets accounted for a significant portion of total traffic, contributing to a remarkable 75% YoY increase in Click Coverage on Google.

The decision to choose Channable was influenced by factors such as the tool's intuitive interface, user-friendly functionality, and the possibility of integrating PPC into their strategic roadmap.