The Stone is a significant fashion brand in the Netherlands, with 54 physical stores and a robust online presence.
Despite their success, The Stone was grappling with a pervasive issue in online retail: high return rates. These high rates not only disrupted their logistics but also ate into their profits.
Enter Multiply, a retail-specialized Agency, that used Channable to transform this challenge into an opportunity, successfully decreasing The Stone's return percentages and increasing profits.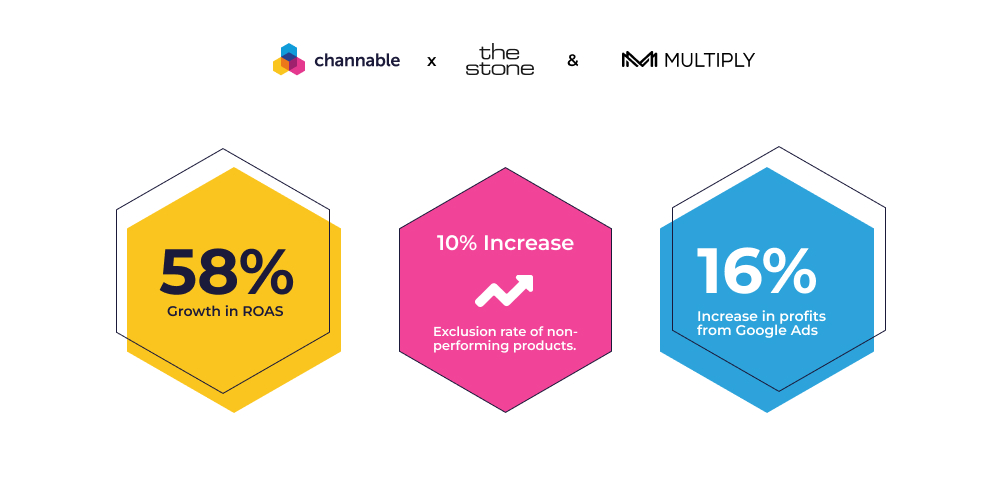 The Challenges Before Channable
Prior to the collaboration, The Stone had a problematic high return rate affecting the profitability of their webshop. Their online platform seemed to perform well on a pay-per-click basis, but in-depth analysis showed that returns were causing a dent in their net profit.
Some of the key challenges included:
High return percentages, up to almost 50%, threatening the profitability of their online shop.
Lack of a comprehensive strategy to identify and exclude low-performing products from advertising efforts.
No mechanism to track performance on an item-level basis, resulting in a lack of actionable insights.
Introducing the Channable Solution
Multiply, in partnership with The Stone, leveraged Channable to bridge the gap between their ERP data and their advertising strategies. They used Channable to label products based on return rates and sales volume, both online and in stores.
Thanks to Channable's capabilities, a complex but efficient rule system was developed, allowing:
Time-sensitive data collection: ERP data for returns and sales volumes for periods of 14, 30, and 90 days.
Product Segmentation: Products were classified and divided into buckets based on their return percentages and overall performance both online and offline.
Dynamic Ads: Channable's dynamic ad capabilities were utilized to generate ads with the most current product data, ensuring accuracy and relevance.
Implementing Channable
Multiply established product labels within Channable, segmenting products into categories based on their return percentages and sales performance both online and offline. These segmentation buckets played a key role in dictating the ad strategies for each product category.
For instance, products that performed well in physical stores but had high return rates online were strategically advertised to drive in-store traffic. Conversely, products with strong online performance were pushed aggressively in online campaigns.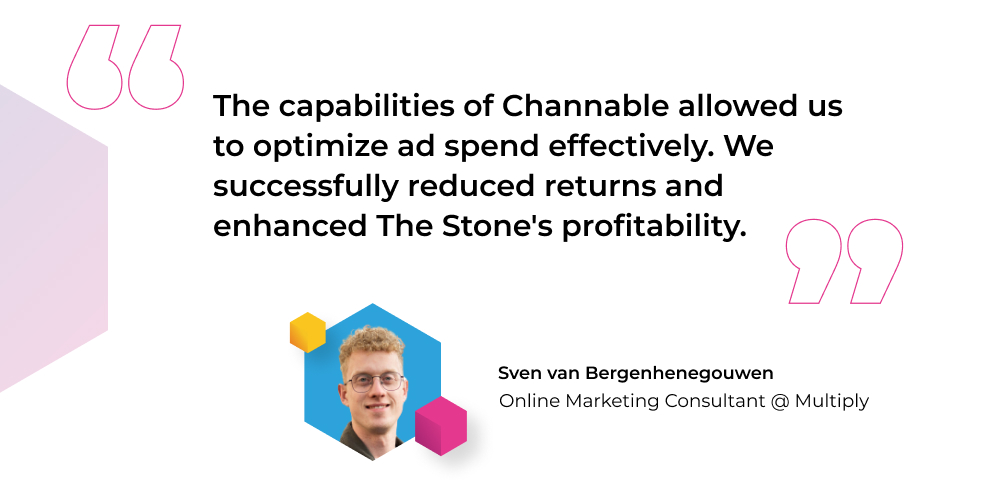 "The capabilities of Channable, coupled with our expertise in utilizing ERP data, allowed us to optimize ad spend effectively. We successfully reduced returns and enhanced The Stone's profitability," said Sven van Bergenhenegouwen, Online Marketing Consultant at Multiply.
A Fully Automated Setup
One of the most significant advantages of implementing Channable by Multiply was the automation achieved on an item-level basis. Channable's rule-based system and dynamic ad capabilities allowed The Stone's campaigns to be updated automatically based on real-time ERP data, like return percentages and sales volumes.
This automation not only optimized the campaigns but also freed up countless hours that would have otherwise been spent on manual tasks. In a business where time is money, this was an invaluable gain.
Results: From Wasted Spend to Winning Strategy
With the implementation of Channable's advanced features, The Stone saw some impressive results:
Return on Advertising Spend (ROAS) saw a surge of 58%.
Exclusion of non-performing products was increased by up to 10%.
Net profits from Google Ads increased by 16%.
A Success Story Made Possible by Channable
Multiply, in collaboration with The Stone, showcased how Channable's advanced features can not only integrate seamlessly with ERP data but can also turn challenges into opportunities.
"With Channable, we were able to turn data into actionable insights, making a marked difference in our profitability," states Sander Goedhart, Manager Omnichannel at The Stone
Ready to Transform Your Online Business?
Join the ranks of successful brands like The Stone, who have turned their challenges into success stories. With Channable's advanced toolset, the sky's the limit. Get started today and start your journey to online retail success.