Introduction
Vouchers are a popular marketing tool for online merchants to sell on idealo, attract customers, and increase sales. Merchants can also use vouchers on the idealo price comparison portal to market their products more effectively and thus increase their visibility on the platform.
In this article, we present the advantages of vouchers for merchants who want to sell on idealo and discuss the technical integration options in detail.
But first, a question: why should merchants on idealo give more consideration to the use of vouchers, now more than ever?
Inflation and other influences mean that delivery times and other parameters are becoming less important for consumers, with price an increasingly important decision-making criteria.
Customers want to save more and are increasingly comparing prices on idealo. Vouchers can be a powerful tool for attracting customers on idealo and achieving goals such as increasing sales or generating sales in select segments.
Advantages for merchants
As an online merchant who would like to sell on idealo, the use of vouchers offers many opportunities. One of the most important benefits is the ability to achieve price advantages over competitors.
By using vouchers, merchants can offer their own products in a targeted manner, at lower prices than competitors, and thus gain a competitive advantage.
After all, customers search for the best price on idealo and are more likely to buy from a merchant who is offering a product at a cheaper price.
Increased visibility on the platform is another benefit of using vouchers when selling on idealo.
If, as a merchant, you mark your products with a voucher, this will make your offer appear higher up, and therefore more prominently, in the search results.
This increases the attention received by your offer on idealo and will result in more customers becoming aware of your products. Allowing you, as a merchant, to generate more traffic to your products on idealo and thus increase sales.
Vouchers on idealo also offer the possibility of targeted advertising of certain segments. For example, if, as a merchant, you want to promote a certain product category or a certain product on idealo, you can use a voucher.
This way, the product is displayed even more prominently in the search results and will attract the attention of more customers.
Technical integration possibilities with vouchers
The integration of vouchers on idealo is easy and can be realized via various channels. Merchants can integrate their vouchers via the CSV feed, XML DOCS, and the PWS API.
To do this, the voucher code is simply entered into the corresponding feed. When clicking on the product, the voucher code is automatically copied to the clipboard, and a notification informs the user accordingly, and the code can be redeemed as with other codes in the store.
In order to successfully integrate vouchers on idealo, these instructions should be followed
CSV Feed:


1. Insert "VOUCHERCODE" column in the feed:
Specify the name of the voucher code.
Code at the beginning and the optional description in brackets after it, e.g.:
"WINTERSALE2023 (10% discount on this offer / valid until 31.12.2023)"
2. Specify the discounted price:
Enter the discounted price in the"SPECIAL PRICE" column.
The original price will be automatically overwritten.
Undiscounted prices do not need to be copied to the new column. They will be read from the regular price column (PRICE).
Integration of vouchers into XML Docs and API/PWS
More detailed information can be found here.

Example of an XML document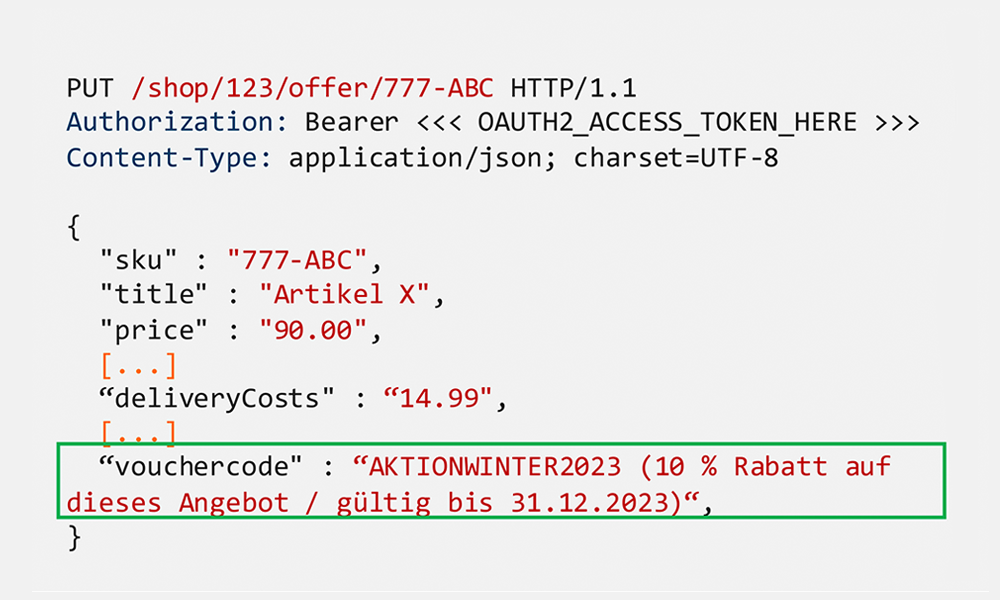 Example of an API/PWS: PUT request
These are the most important points to consider in order to successfully add vouchers to the data feed on idealo:
The "VOUCHERCODE" and "SPECIAL PRICE" attributes should be integrated at the end of the offer feed.
Vouchers may not be submitted in advance and must be removed from the feed at the end of the promotion period.
Prices should be submitted in "15.00" or "15,00" format, depending on which decimal separator you also use for price and shipping costs. All information should be stated in Euros.
Configuration by the idealo staff is only necessary once. As soon as the new attributes are enabled, you can fill and clear the columns yourself.
If you are integrating a voucher for the first time, you should contact technical support at tam@idealo.de so that the new columns can be configured.
Use a maximum of 200 characters for the voucher text.
Only one voucher is permitted per offer, even if there are multiple vouchers in the file.
If multiple vouchers are eligible for an offer, please transfer the relevant voucher.
These instructions are also available on the idealo website, via this link and provide step-by-step instructions on how to integrate vouchers into the various feeds.
The use of voucher promotions on idealo is a useful way for merchants to promote products in a targeted manner and generate more sales.
Advertising measures such as the integration of vouchers can increase visibility on idealo and set your offer apart from those offered by competitors. By using vouchers on idealo, products can be presented more effectively, and sales figures can be increased.
The technical integration of vouchers on idealo is simple and straightforward. Merchants can post products on idealo via the data feed and also integrate vouchers.
You can choose between various options such as the CSV feed, XML DOCS, and API PWS. Customers can simply redeem these vouchers in the shopping cart and benefit from attractive price advantages.
By using vouchers on idealo, you, as a merchant, can increase visibility, boost your sales and sell within chosen segments in a targeted manner.
If you do not yet have a presence on idealo, this is something you should consider. Idealo is the largest price comparison portal in Germany and offers a wide range of ways to present and sell your products.