Meet HD-Tools, a leading supplier of professional tools in the Netherlands, with the ambition of tapping into the immense potential of online sales.
Despite their existing online sales efforts, they grappled with the challenges of handling a massive product range and managing multitudes of advertising campaigns. But then, they partnered with Online ID and started using Channable's powerful toolset.
This move turned the tide, optimizing their marketing budget, refining ad targeting, and ultimately, growing their revenue by an impressive 128%.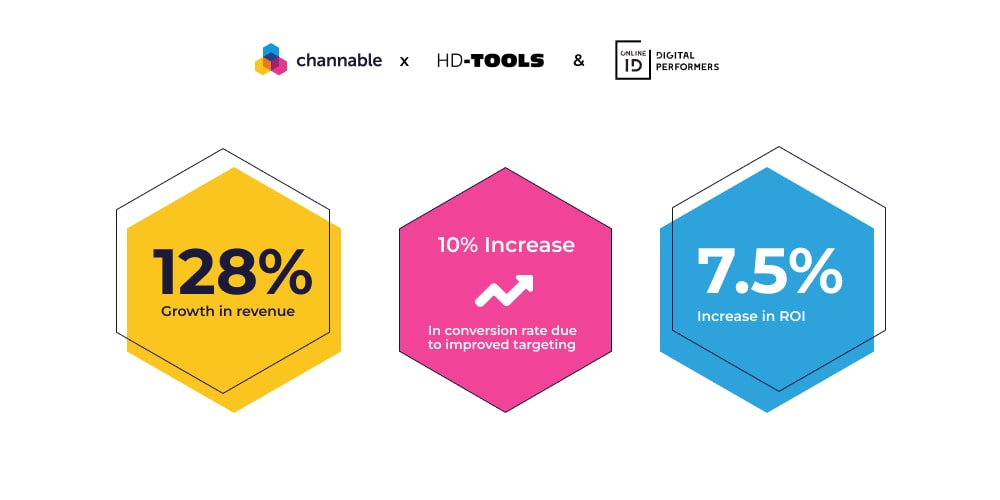 The Challenges Before Channable
Before Channable, HD-Tools faced multiple challenges in managing their extensive product catalog and creating targeted advertisements for their diverse range of products.
Their marketing efforts were constrained because they couldn't advertise all their products. Moreover, they lacked an efficient method for combining automation with data-driven decisions.
Joost Stekelenburg, co-owner and managing director at HD-Tools, stated, "We were struggling to manage our large assortment of products effectively and create targeted advertisements that would drive sales. The process was cumbersome, and we needed a better solution to make the most of our marketing budget."
Some of the struggles they faced included:
Manually creating and updating ads for their 4,000+ products was nearly impossible, leading them to advertise only a select number of products.
Not able to identify and exclude low performing products in their Google Shopping campaigns, resulting in wasted marketing budget.
Lack of data-driven insights to inform and improve their marketing strategies.
Introducing The Channable Solution
HD-Tools partnered with Online ID, a performance-driven online marketing agency, to overcome their challenges and achieve their online sales ambitions. Online ID, a Channable Gold Partner, introduced HD-Tools to Channable, recognizing the platform as the perfect solution for their client's needs.
Jari Saes, SEA Specialist at Online ID mentioned, "We knew that Channable's powerful automation and optimization features would enable us to maximize HD-Tools' marketing budget and drive impressive results."
Implementing Channable
Online ID implemented dynamic rules within Channable, streamlining and customizing HD Tools' product feeds for targeted advertising of their best-selling brands.
"With Channable's smart feed management at our disposal, we could focus our efforts on HD Tools' best-selling brands, managing to advertise 1,000 products rapidly," said Saes. "What would have been a monumental task if done manually is turned into a seamless operation with Channable".
This efficient way of advertising also allowed them to optimize their text ads, creating engaging headlines, and keeping the ads relevant with the most accurate price and information. These rules could be effortlessly duplicated to new campaigns, resulting in a highly efficient advertising process.
Taking the success a notch higher, Channable also enabled HD-Tools to advertise based on product categories. By bundling products together, they could dynamically display the lowest price.
Boosting Results with Channable Insights
For HD-Tools, Google Shopping serves as a vital advertising channel for their entire product assortment. However, they struggled to identify low-performing products to better allocate their marketing budget. Here, Channable Insights & Analytics, a feature designed to provide data-driven insights, came into play.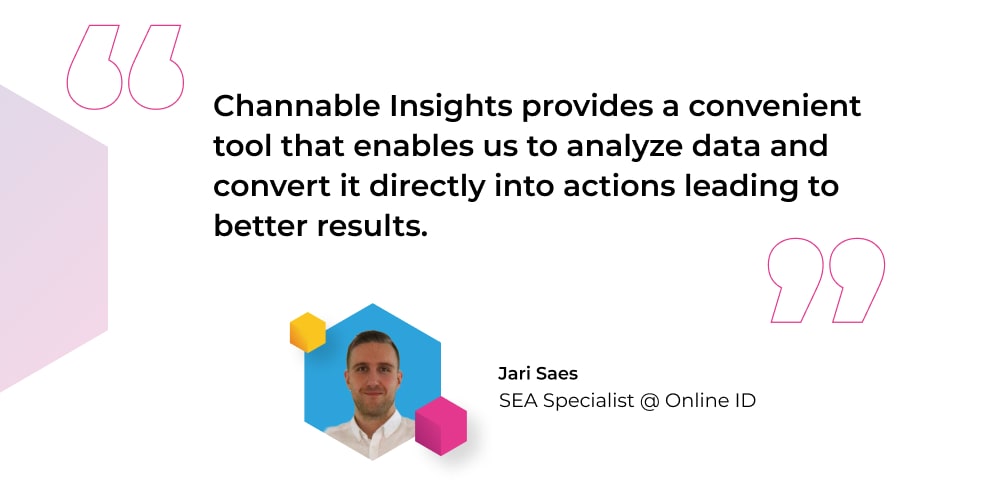 As stated by Saes, "Channable Insights provides a convenient tool that enables us to analyze data and convert it directly into actions leading to better results."
By analyzing the data from Channable Insights, Online ID could pinpoint which products fell short of client's expectations. The identified products were then automatically labeled in Channable and detached from the campaigns.
This strategic move delivered an immediate uplift in results. Plus, the time saved compared to doing this manually was considerable.
Results
By implementing Channable's advanced features such as PPC Optimization and Insights, Online ID helped HD-Tools to not only reach but exceed their online sales goals. They unlocked some remarkable achievements:
There was a notable 10% growth in conversion rates, thanks to more precise and relevant targeting of products.
Revenue soared by 128%, with more products targeted in Google Search leading to 5,000 additional orders compared to the previous year.
The ROI increased by 7.5%, showcasing the efficiency of budget allocation.
Above all, the use of Channable led to a highly satisfied customer for Online ID. In a short span, Channable enabled a large amount of work to be accomplished, resulting in great results.
Level Up Your Business with Channable
The future of online retail is data-driven. With Channable's suite of tools, marketers can not only gather data but also quickly act upon it. Through their partnership with Online ID, HD-Tools demonstrates how Channable can revolutionize online marketing strategies.
Are you ready to take your business to the next level, just like HD-Tools? Why wait? Get started with Channable today, and embark on your journey to success.